Student Engagement
The Kentucky Derby, Springboard to Lessons in American Culture
May 1st is the 135th running of the Kentucky Derby in Louisville, Kentucky, known around the globe as "the most exciting two minutes in sports." For my money, it's also a treasure chest of inspiration for social studies and other interesting class discussions.
With one or two degrees of separation, you can pivot off the Derby to discuss with your students everything from Abraham Lincoln's love life (legend has it that when his future wife temporarily dumped him, his best friend brought him to Louisville, Kentucky to seek new prospects) to a savory Kentucky culinary concoction known as "burgoo."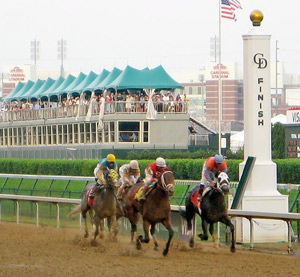 For instance, the Derby, while one of the oldest consecutively running sports events in history, is a relatively recent incarnation of the enduring human passion for riding fast horses in competition. It all began more than six thousand years ago when the prehistoric nomadic tribesmen of Central Asia first domesticated the horse about 4500 BC. To check out the connective tissue attaching today's Run for the Roses and those early contests on the steppes of Eurasia, try this link.
Or perhaps you want to explore more recent roots of the famous Louisville race. Get started with how British colonists, back in the 1600's, began breeding and racing descendants of the speedy Arab stallions English armies brought back from the Crusades centuries earlier. Today we call them thoroughbreds.
The Derby also offers a trove of historical Kentucky connections. It was founded by Col. Meriwether Lewis Clark, Jr., the grandson of William Clark of the famous Lewis and Clark expedition. In fact, the city of Louisville, itself, was founded in 1778 by William Clark's brother George Rogers Clark, famed brigadier general of the American revolution and uncle of the Derby founder.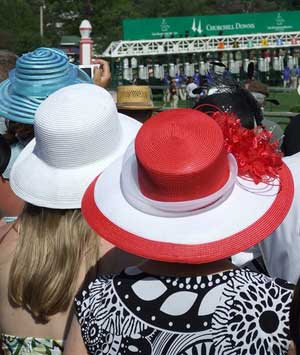 The first Run for the Roses was on May 17, 1875. Ten thousand people watched a field of 15 three-year-old horses dash a mile and a half. Of the 15 jockeys competing, only one was Caucasian, and most were former slaves. The victorious jockey, Oliver Lewis, rode the winning horse, Aristides, who was trained by an ex-slave and future Hall of Fame trainer, Ansel Williamson. Williamson, himself, was once owned by the same man who owned his winning horse. The Derby and other races of the time provided an important opportunity for some former slaves to move on from their bondage, and in retrospect created an unusual lens on the social transitions of the time.
The ghosts of the Civil War long hovered over the Derby where in the early years former slave owners and Confederates not only dominated the crowd but the politics of Louisville, itself. Kentucky had remained loyal to the Union in the war, though many men went off to join the Confederate army. The state did not abolish slavery until after the conflict. The joke of the time was that while the Confederates could not seize Louisville in war, they had no trouble taking over after the South surrendered, and they returned to fill all the posts in City Hall.
Just one year after the first Derby, Louisville became home to another historic sporting entity -- the Louisville Grays, one of the first teams to be installed in major league baseball's National League. And while the Grays didn't last long as a team, the tool of their trade, the bat known as the Louisville Slugger, is now an icon of the sport. The Louisville-based company, which manufactures the bats, Hillerich & Bradsby, produces two of every three wooden bats in use in the world today.
Getting back to Derby delights, one of its most revered traditions is the mint julep, a bourbon, mint, and sugary syrup cocktail often served in a silver cup. While perhaps not an appropriate focus for classroom discussion, every hard-working educator owes him or herself at least a sip one day, just to savor this delicious Kentucky treat. Bourbon whisky, after all, is one of America original commodities, and has brought fame and notoriety to Kentucky from around the globe.
Or, if you would rather a less intoxicating but equally tasty treat, try burgoo, best described as Kentucky's answer to chile con carne, though very different in taste. It's a meat-based stew that has sated locals for years. Original versions included squirrel, venison, and opossum. Today those recipes have given way to pork, chicken and lamb.
And, of course, no Derby comes and goes without the frequent performances of it unofficial anthem, songwriter Stephen Foster's classic creation, "My Old Kentucky Home." Foster was one of America's original and most brilliant popular composers. His tunes, which often called for white performers to appear in "black face," are rife with the racial incongruities and insensitivities of their day. And yet they remain some of the richest and catchiest songs in America's rich musical heritage. An interesting ironic Foster note: he never set foot in Kentucky or almost anywhere else in the South. He was from Pittsburgh.
One famous American who had both feet firmly planted on the streets of Louisville is Muhammad Ali, formerly known as Cassius Clay, perhaps the best known boxer of all time. In 2006, Ali, long known for his outspoken views on white racism and his much publicized Muslim faith, served as grand marshal of the Kentucky Derby Festival's Pegasus Parade, and received a hero's reception.
So, there is practically no end to the classroom connections you can make on the wings of America's most famous horse race. And just in case you're interested, here is a review of this year's field of colts and fillys. Favorites look to be Eskendereya, Lookin at Lucky, Sidney's Candy, Ice Box, and American Lion. Enjoy the race and all the places it can transport you and your students.