Mobile Learning
Resources for Using iPads in Grades 6-8
Looking for advice on integrating iPads in middle school classrooms? In this curated guide, we've compiled resources to help you find apps, learn about best practices, and explore ideas for engaging activities.
May 5, 2014
Updated March 15, 2016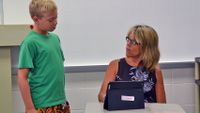 Photo credit: Kevin Jarrett via flickr (CC BY 2.0)
There are many resources from Edutopia and across the web for middle school teachers who are integrating iPads in their classrooms. At this age, students can use iPad apps in different subject areas and become content creators using their devices. Teachers can introduce a variety of skills to students, and students can demonstrate their understanding of concepts using innovative iPad technology. Check out the list below for suggestions on amazing apps and to browse tips from teachers on how to use iPads throughout the school day.
Favorite Apps
Best Practices
Engaging Activities
Plate Tectonics: Moving Earth Science (Kevin Morrow, 2015)

This science unit is organized as an iTunes U course and includes lots of resources for teachers. Created by Apple Distinguished Educator Kevin Morrow, middle school teachers are sure to find inspiration for lesson ideas.

Digital Storytelling and Authentic Assessments (Edutopia, 2014)

Children love telling stories. These apps will keep them creatively engaged and provide a means for assessing and sharing their products.

TechChef4u on Pinterest (Lisa Johnson)

Blogger and Apple Distinguished Educator Lisa Johnson has dozens of Pinterest boards that focus on technology integration. You'll find lesson ideas and inspiration for activities that use iPads to elevate and energize learning in your classroom.
Have you used iPads with students in sixth, seventh, or eighth grade? Do you have a favorite online resource for gathering ideas? Share your favorite activities, apps, and websites below!