Mobile Learning
Resources for Using iPads in Grades K-2
Looking for advice on integrating iPads in K-2 classrooms? In this curated guide, we've compiled resources to help you find apps, learn about best practices, and explore ideas for engaging activities.
April 23, 2014
Updated February 29, 2016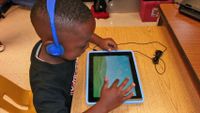 Photo credit: Amanda Golden via flickr (CC BY 2.0)
If you are teaching with one, a few, or a class set of iPads, finding the right apps and project ideas for your students can be a challenging task. We've organized some of the best resources from Edutopia and beyond to help you figure out what tools are best for your early elementary school students. Explore different ways to integrate technology into your instruction!
Favorite Apps
Best Practices
Common Core in Action: Manipulating Shapes in the Elementary Math Classroom (Edutopia, 2014)

In this post you'll learn how to develop a tech-friendly task that addresses the Common Core State Standards. Read about an iPad app that helps first and second graders create and identify geometric shapes while developing higher-order thinking skills required by the Common Core math standards.

10 Tips for Smarter iPad Use in the Classroom (TeachThought, 2015)

This article provides insight into thinking about the iPad as a learning tool, not just a device to play games. It includes best practices for integrating iPads into everyday instruction.
Engaging Activities
Have you used iPads with students in grades K-2? Do you have a favorite online resource for gathering ideas? Share your favorite activities, apps, and websites below!