Professional Learning
NASA Resources and Teacher Training Help Students See Stars
Discoveries from the Hubble Space Telescope inspire astronomical interest and down-to-earth lesson plans.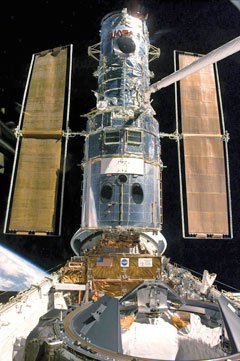 Credit: Courtesy of NASA
There's nothing final about the final frontier. We live in a seemingly infinite universe, full of new things to learn and discover. And for young astronomers just beginning to learn about space, the Hubble Space Telescope is an ideal jumping-off point.
Though the May 2009 visit to Hubble by astronauts aboard the space shuttle Atlantis was the last scheduled servicing mission for the orbiting observatory (which is expected to remain in orbit until at least 2014), the National Aeronautics and Space Administration has already collected galaxies of data from it. In fact, NASA and its partner organizations have created rich Web-based and print classroom resources for educators based on that data.
Hubble, about as big and heavy as a school bus but a lot faster -- it orbits some 350 miles above Earth at 17,500 miles per hour -- is much more than a swiftly careening camera, and it gets much better resolution than earthbound telescopes because there's no terrestrial atmosphere in the way.
According to the Space Telescope Science Institute (STScI), a NASA contractor, Hubble has informed our understanding of the evolution of the universe. It has revealed that the expansion of the universe, triggered by the big bang, has sped up relatively recently. It has boosted our knowledge of and corrected misconceptions about black holes.
And it's an active agent in the hunt for extrasolar planets -- worlds that orbit other stars. To help in that exploratory effort, Hubble recently took the first visible-light photograph of a planet outside our solar system.
Teachers can use the STScI's two Web sites, the public-interest HubbleSite and the education-centric Amazing Space, to infuse their curriculum with cutting-edge data and images. In addition to presenting games and activities for kids, the institute offers professional development in which its scientists and master educators team up to develop workshops for training K-12 teachers to teach about the telescope and about space science in general.
"It's amazing to see what people can do with good learning," says Bonnie Eisenhamer, who oversees the Hubble Space Telescope formal-education program at STScI, located in Baltimore. Eisenhamer has seen a variety of classroom work samples that include poetry about the telescope, Microsoft PowerPoint presentations about how it works, and models of it made from recycled materials.
"When teaching about space, the biggest challenge is presenting the content in a way that makes it real for the students," says Jamie Welebob, a science teacher at the Odyssey School, a learning environment for dyslexic students in Stevenson, Maryland, who has used Amazing Space resources.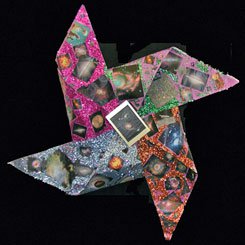 Credit: Jamie Welebob
Star Turn: Teacher Jamie Welebob's class created a giant pinwheel collage of stellar images from the Hubble Space Telescope.
Welebob says her students entered an STScI contest in which they had to decide which direction Hubble should be pointed, make a collage of telescope images showing their choice, and submit a persuasive argument for their choice in written or video form. After completing research projects and holding an election to determine their choice, the students wrote and produced a video and also created a giant pinwheel-shaped collage (see above).
Mary Bishop, who conducts STScI workshops and has taught at Saugerties Junior Senior High School, in Saugerties, New York, for all but two of her 42 years in education, says she uses both HubbleSite and Amazing Space with her eighth- and ninth-grade students. She describes how she uses Amazing Space: "Students start out with several questions to answer from different parts of the site, and then they have about ten minutes to choose one topic or game, go through it, critique it, and submit the final product as an email to me."
Bonnie McClain, an education specialist at NASA's Goddard Space Flight Center, in Greenbelt, Maryland, and colead for the Hubble Education Plan, says the space agency partnered with the National Institute of Aerospace for a pilot project in which university-level engineering students teamed with teenagers to solve a real-life design challenge related to a Hubble servicing mission. Participants gave presentations to NASA officials, and the winning team was treated to a visit to Goddard.
McClain notes that in fall 2009, NASA will release images and data from new instruments installed during the most recent servicing mission. "Hubble now has some 30 times the capability it had before," she adds. An IMAX film about Hubble will open in 2010.
Mark Nichol is a freelance writer, editor, and Web producer, and a former senior producer at Edutopia.