Career & Technical Education
Immigrant Students Aim for College
A Texas high school on the Mexican border settles for nothing less than success.
Joel Trevino wakes up at 6 a.m. to get ready for school. By the time lunch rolls around, the junior has taken Advanced Placement English, chemistry, calculus, and U.S. history. Then he commutes to a local college for three hours of aviation science courses, the foundation for his intended career as a commercial pilot. By his senior year, Trevino will have accrued credit for more than ten college courses.
Trevino doesn't attend a tony suburban school. He goes to Hidalgo Early College High School, in Texas's Rio Grande Valley, less than 2 miles from the International Bridge, which leads to Reynosa, Mexico. In the hour-long bus ride to college, Trevino passes agricultural fields and distribution centers for products assembled across the border. Of Hidalgo's students (almost 100 percent are Latino) more than half have limited English proficiency, most of their parents didn't finish high school, and 94 percent are economically disadvantaged. Trevino himself works at McDonald's at least five hours a day after school to help his family. But he's a kid with a dream, and his school is moving him toward it. "I'm not afraid to go to college," he says. "Every day, I wake up excited."
Hidalgo Early College High School -- in fact, the entire Hidalgo Independent School District -- simply won't allow demographics to dictate the future of its students. It is committed to graduating its students from high school and giving them access to, experience with, and success in college courses while they're there -- and it's living up to those goals. In the past two years, more than 95 percent of Hidalgo students completed high school, and, starting with the class of 2010, students can earn enough college credits to graduate with a high school diploma and an associate's degree.
Starting Early
Since 2006, Hidalgo has been part of the Early College High School Initiative, a national movement that minimizes obstacles for those traditionally underrepresented in higher education, like low-income students. Early College High Schools partner with colleges and universities and often go through a curriculum redesign to help students earn up to two years of college credit free while still in high school.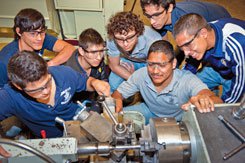 Credit: Gregory Phelps
Tools of Change: Hidalgo students earn college credit in a dual-enrollment machinist class held on the high school campus.
But Hidalgo is the first U.S. high school to offer such opportunities to all its students. In fact, because the school was determined to involve every student in college work, the Bill & Melinda Gates Foundation awarded it $1.2 million over four years to ramp up its program.
Beginning with the class of 2010, all Hidalgo students have the option to take college courses. They start with art, health, and computer classes and can go on to take up to 12 college hours in core University of Texas courses before they have to pass the college-readiness exam (the Texas Higher Education Assessment, or THEA). Once they pass, they can take more UT courses. This year, there are 23 dual-enrolled courses (where students get high school and college credit), some taking place on Hidalgo's campus.
Others of these classes take place at the University of Texas-Pan American (UTPA), in Edinburg, at nearby South Texas College, or at the Harlingen campus of Texas State Technical College. Some of these classes are very academic: Kids who pass THEA can take college courses in English, math, and other subjects. Other courses (not constrained by THEA) give students skills they can use to find work right out of high school in high-wage, high-skill careers, such as nursing, electronic and computer maintenance, or heating, ventilation, and air conditioning.
Edward Blaha, Hidalgo's former principal and now the district's assistant superintendent for college readiness, says, "We're creating a success path for every student. If my first success for a student is a 30-hour certification program, making a relevant connection for him or her, then after high school, the hope is that the drive to continue will be very strong."
Hidalgo's college track predates Early College and the Gates funding. The school has offered AP courses and dual enrollment for years, though previously kids and the school had to cover more of those costs. Sandra Martinez, a year ahead of the first Early College cohort, has taken full advantage of Hidalgo's programs. She's earned at least 30 college credits, takes five AP courses, and will enroll in a class at UTPA this summer, she says, "to get the feeling of college" before attending Texas A&M University in the fall.
Personal Is Practical
Above the din of whirring grinders in a machinist class at South Texas College, senior Nestor Amaya describes how his peers are working with metal components to build a vise. "First of all," he says, "it's hands-on experience. We work as a team here." The senior fully recognizes the connection between his classes at Hidalgo and this vocational class. "Mostly, we use a lot of math and measuring, stuff you might use when you find a job in the industry," he adds. Amaya wants to get his certificate in metal trades, while his peer, Mauricio Saldana, wants to study at Texas A&M and sees the certificate as a way to land high-paying summer jobs.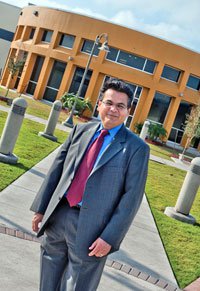 Credit: Gregory Phelps
Eduardo Cancino, the Hidalgo Independent School District's superintendent, believes in individual help for at-risk students.
This combination of practicality and rigor distinguishes Hidalgo, which plays to its community's needs -- and strengths. College and career pathways match student interests and future job opportunities. For instance, the district's Edward Blaha puzzled over the shortage of bilingual nurses in the Rio Grande Valley, noting that there are thousands of Spanish speakers in the area. So the high school added a program to train certified nurses last year, as he puts it, as "a first step in the medical field." And Hidalgo builds student capacity in its AP courses: Of the 13 such classes offered at the school, those with the highest enrollment by far are Spanish language and Spanish literature.
The school and the district take to heart a no-excuses philosophy. They have more than 950 students this year; a majority speak predominantly Spanish at home, a minority have had interrupted schooling in their pasts, and many are recent immigrants. Thirty-five students who entered Hidalgo this year just moved from Mexico; another 28 live in Mexico and commute daily, each paying a $3,000 tuition to attend Hidalgo. The school assesses every recent immigrant who enrolls as well as those commuting from Mexico, scheduling them into language-appropriate classes: bilingual, sheltered, English as a Second Language, or full English-immersion classes. "It's a hybrid of systems," says district superintendent Eduardo Cancino, "that is tailored to each student's needs."
Dropouts, and those the school has identified as at risk, also have programs targeted at them. The district created a separate alternative high school, the Hidalgo Academy, for students to recover credits and graduate from high school. In 2007, Hidalgo Early College High School created the Success Initiative Academy for students who continually scored low on the yearly Texas Assessment of Knowledge and Skills (TAKS) test, providing separate teachers and very small classes for these students most at risk for dropping out. To those who might balk at separating these low-performing students, Cancino asks, "Do we leave them alone in a traditional classroom and wait for them to fail? Or do we intervene and work in small groups and hire additional staff? Anyone can criticize what we're doing here, but we're going to make sure every student is successful."
All in the Family
The school gets results, for both its lowest-achieving and highest-achieving kids. In 2006, according to the Texas Education Agency, the completion rate was 93.9 percent. Last year, it was 98.7 percent. Attendance hovers around 95 percent. And of last year's 157 graduates, 79 entered certification or associate degree programs, 76 went to a university, and two entered the workforce.
Of course, not every minute of every class is spent on engaging, student-centered curriculum. Some lessons use test-prep worksheets, and six to seven days are spent in a whole-school practice for the TAKS tests. But in general, instruction is both lively and practical, such as in one classroom where a biology teacher, donning a lab coat, leads a lab on extracting DNA from strawberries, or a ninth-grade math class in which a teacher integrates a Texas Instruments navigator system into every part of her lesson; she has her class turn assignments in via a graphing calculator and checks for comprehension with every student in real time.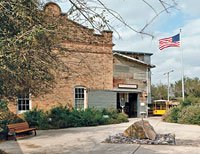 Credit: Gregory Phelps
Hidalgo Early College High School's façade reveals its Southwestern roots.
A big piece in Hidalgo's puzzle is how the school and the district involve parents -- no matter what their educational history or degree of English-language ability. Blaha points to the esteem in which families hold teachers as an opportunity to have schools, communities, and families work together. "The school can no longer function as an island," he says. "It's got to have those bridges, and that's what we build here, with the parents."
Sandra Martinez, like her high school daughter of the same name, has taken advantage of Hidalgo's programs. When her youngest child entered kindergarten, she started volunteering -- simultaneously helping and learning. "The teacher, mi enseño, she taught me how to help my children," says Martinez. When her daughter entered junior high school, Martinez began taking English and computer classes at the school. Because of the programs, she says, "I am more sure in my person. I can understand when a teacher tells me something, when report cards come for my daughters." She plans to earn her general equivalency diploma and go to college.
By valuing and educating parents, the district is ensuring more successful students. "My little daughter," says the elder Martinez, "she told me, 'Mommy, I would like someday that you and me go to college together.'" Pondering that prospect, her daughter tears up. "I'm speechless. I don't have words. She's doing things for herself, and that's a great example."
Lisa Morehouse, a former teacher, is now a public-radio journalist and an education consultant.