Technology Integration
Digital Equality: Empowering Underprivileged Youth in India with Information and Technology
A nonprofit organization helps children in the Mumbai slums and other impoverished areas improve their futures by training them to use computers.

Before computers were available in Meghpar Titodi, a dusty, impoverished village in Gujarat, India, students such as eleventh grader Hemant were destined for menial jobs as street sweepers, domestic workers, and field laborers. But in 2003, a nonprofit program called Digital Equalizer created a computer lab at the local high school, giving Hemant and his peers access to eight computers, a dot-matrix printer, and a digital camera. It was there that he touched a PC for the first time.
The American India Foundation, primarily funded by Indian Americans and corporations, aims to empower underserved children through technology by sponsoring Digital Equalizer. In addition to providing equipment, AIF staffers support schools for three years, training teachers to incorporate computers into their curriculum and helping students like Hemant develop the tech skills they need to pursue careers they would never have dared to consider before.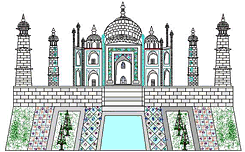 Drawn to Art: A teenager in a poor rural village in India learned to draw with computer software, producing this sketch of the Taj Mahal.
Casting Off the Caste System
Many philanthropists, numerous nongovernmental organizations, and the Indian government believe technology is the portal to upward mobility, a means for students to escape poverty and the legacy of the caste system. In December, Daggubati Purandeswari, India's minister of state for human resource development, issued a public statement that warned that her nation's information technology industry will create nearly 4 million jobs but face a shortfall of 500,000 skilled workers in the next few years.
Programs such as Digital Equalizer, one of many launched in the past decade, aim to fill this gap -- to bridge the so-called digital divide -- by supporting India's neediest children, who live in poor rural villages and urban slums.
"India has a multitiered education system," explains Geetha Murali, the Digital Equalizer program officer in Santa Clara, California. "There are millions students who cannot even begin to afford what a private school charges, so there's overcrowding of public schools. And often, most children don't see the benefit of going to school. If these students graduate, they graduate with suboptimal or no education at all. So the idea behind Digital Equalizer is to target students who would otherwise have no choice but to go into the same low-paying sectors their families have been working in generation after generation."

Hemant, for example, had shown an interest in art and could be found doodling on the back pages of his tattered school notebooks. Yet becoming an artist was never something he seriously considered as a career. Like most kids in Meghpar Titodi, his focus was on finding any job that would help feed, clothe, and house his family.
But when Hemant started applying his skills in the school's new computer lab, using a software program called Microsoft Paint, he found his niche. Digital drawing came to him easily. As the students around him struggled to draw straight lines with a mouse, Hemant produced an intricate illustration of the Taj Mahal. Digital Equalizer staffers say Hemant is now aware of -- and shows real potential for -- careers in fields such as digital animation.
Gateway to Digital Literacy
Stories such as Hemant's, in which underprivileged children gain professional skills that expand their career options, are part of the AIF's overall mission to accelerate social and economic change in India. "The computer screen becomes a gateway to something beyond the dusty road that these students are used to walking on every day on their way to school," Murali explains.
"They're allowed to see the world differently," Murali adds. "Building these skills and completing these projects provides them with such a sense of self-worth. Not every one of these children is going to be able to have a high-powered career, but the program does allow each of them to think about being something beyond what they're used to seeing in their immediate family environment."
Because of logistical considerations, the AIF primarily works with schools that have the basic infrastructure required for a computer lab, such as the necessary space and at least sporadic electricity. The organization has grown rapidly in the past two years and now operates Digital Equalizer programs in 1,342 schools in India.
Since the program's inception in 2002, it has worked with 557,500 students and 17,000 teachers from the country's poorest schools. In cities like Mumbai, home to the world's largest slum, the AIF works with seventeen schools that primarily serve impoverished children. Given the prominence of the Indian film industry in Mumbai, Murali says she'd like to see AIF-supported students there doing internships with production companies.
This hope isn't as far-fetched as it may seem, because Digital Equalizer's project-learning program provides skills far beyond basic computer literacy. For example, the group asked students in the state of Karnataka to prepare a report on water pollution. Their assignment: Use the Internet to research various purification systems employed around the world, then compare them with the methods used in India.
Making Movies, Making Moves
One school, through a partnership with the philanthropic initiative called Adobe Youth Voices, created a documentary film on water pollution and the lack of drinking water. (This is a topic close to the students' hearts, because their parents have to line up to collect water in large pots, the community's only chance to get running water.) After they completed the documentary, a local politician attended a local event where they showed the film, sparking activism around water pollution and access.
In another assignment prepared by Digital Equalizer and Adobe Youth Voices, students in a government-aided school in Sadarpur (a village in Noida, Uttar Pradesh) made films to examine the challenges their community faces. After lessons on the basics of filmmaking and a discussion on societal issues, a team of sixth-grade girls produced a film about Ali Razza, a man who lives in a small jugghi, or tent house, next to the school. Razza makes a subsistence living by filling plastic balls with small stones, which he sells as toys at the local market.
Interspersing interviews with Razza and images of children living in the village, the documentary, The Life Next-Door, went on to win an honorable mention in an online film festival sponsored by Listen Up.
"We're not just teaching the kids how to use PowerPoint or what we traditionally think of when we talk about IT literacy," Murali notes. "Technology can help kids think about society and how they can change and impact their community in meaningful ways."
"The documentary was such an experience for the girls in Sadarpur," Murali adds. "They could use media to speak about their own environment and share it with the world. In India, where the population is so high and the schools are so crowded, it can be difficult for a child to feel the extent of his or her self-worth, but these programs make them feel like they have contributed, and they're developing skills that can provide them with a means of livelihood."
Bernice Yeung is a contributing writer and editor for Edutopia.