Project-Based Learning (PBL)
Edutopia's Greatest Hits!: A Short List of Your Favorites
Our audience has spoken — check out your top-ten Edutopia articles and videos.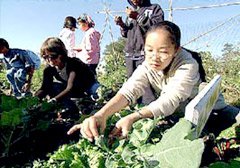 Credit: Edible Schoolyard, Martin Luther King Jr. Middle School
It's spring; flowers are blooming, love is in the air, and what's not to love about a list? Filled with that spirit, we offer a top ten list, a barometer of Edutopia.org users' chief interests from April 2005 through April 2006. It's an interesting inventory in its own right -- for what it says about the concerns of Edutopia.org visitors -- and it provides an easy, fast way to peruse some of the most popular content on this Web site. But don't stop with these ten fine examples. A wealth of runners-up every bit as worthy of your attention awaits you.
Enjoy, and don't hesitate to let us know what your favorite Edutopia.org articles and videos have been over the last year.
Top Five Articles
1. The Virtual Classroom Redefines Education Virtual schools make available a world of new courses that challenge students intellectually and open up new doors educationally. And, thanks to the anytime, anywhere nature of online courses, students with a range of special needs don't have to fall behind or drop out.
3. NatureMapping Takes Kids — and Technology — Outside and into Active Learning Before my fourth-grade class began collecting data in 1997, there were fewer than a hundred documented sightings of short-horned lizards, and most came from projects in the 1930s and 1940s. In just a few years, my students have quadrupled the number of documented sightings and shown that the lizards thrive on farmland.
4. Taking a Deeper Look at Assessment for Understanding Every spring, millions of school-age children throughout the United States sharpen their No. 2 pencils and prepare to take a battery of standardized tests. It's a ritual that has come to represent the nation's commitment to high academic standards and school accountability.
5. Grant Wiggins: Defining Assessment A nationally recognized assessment expert shares his thoughts on performance assessments, standardized tests, and more, with responses to questions such as "What distinctions do you make between 'testing' and 'assessment'?" "What is authentic assessment and why is it important?" and more.
Top Five Videos
1. Newsome Park: Worms, Pets, and Plants Star in Projects At Newsome Park Elementary School, in Newport News, Virginia, where projects dominate classroom work, learning takes twists and turns rarely possible in a more traditional, fixed-curriculum setting. Learning by conceiving and completing projects, advocates say, is far superior to the often-dreary textbook-based lessons that stay planted in the mind only until the next test.
2. The Virtual Classroom: Online Learning Not surprisingly, a top-rated video and a very popular Edutopia article are on the same subject: virtual schools. Read the article, then watch the video, or watch the video first. It's your call. Either way, you've got two treats in store.
3. Technology Empowers Student Fieldwork: NatureMapping Nipping at the heels of "Highschool.com," this terrific video about how NatureMapping brings real science to the classroom -- and startles the professionals -- was also the third most popular Edutopia article.
4. Media Smarts: Kids Learn How to Navigate the Multimedia World For this digital generation, electronic media is increasingly seductive, influential, and pervasive, yet most schools treat the written word as the only means of communication worthy of study. Therefore, most American students remain poorly equipped to think critically about, and express themselves through, the media that defines them.
5. The Edible Schoolyard Yields Seed-to-Table Learning Welcome to the kitchen at the Edible Schoolyard, located on the campus of Martin Luther King Junior Middle School, in Berkeley, California. This 1-acre urban garden and fully equipped kitchen are the home to a thoughtful, curriculum-based program designed to connect students with the earth, the environment, and an eclectic group of adults outside the traditional classroom.