Project-Based Learning (PBL)
Edutopia's Earth Day Challenge: 5 Days to a Greener Classroom
Take action this week! Check in daily for big and small ideas for your classroom or school.
Shouldn't every day be Earth Day? We think so. And with that in mind, we challenge you to join our 5-day improvement plan for making classrooms and schools greener.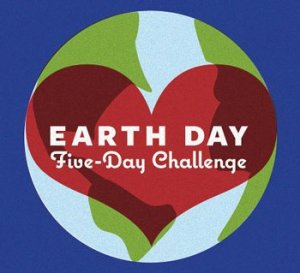 Credit: Edutopia
Day One: Try a green project in your classroom.
Environmental awareness and stewardship is a worthwhile lesson anytime during the year. Whether you teach biology, history, or language arts, the Web is a rich and ever-growing resource, with curriculum ideas for integrating environmental issues into lesson plans. But where to begin? Check out this Free Guide to Green Lesson Plans.
Then be sure to check out and contribute to Edutopia's Go Green Guide, our ever-expanding trove of environmentally-conscious teaching tools. Search for lesson plans, Web sites, and educational resources by topic, grade level, cost, or location, or add your resource.
Day Two: Replace cleaning supplies, paper, pens, and other classroom supplies with affordable green products.
Greening your classroom supplies is a lot easier than you think. Get the latest facts and recommendations for stocking useful, effective, and environmentally responsible products at your school without getting duped—or going bust. Use our Green Product Guide
Day Three: Explore going paperless.
Learn how a high school in El Paso, Texas tossed traditional textbooks and revamped their curriculum with open source education resources. Then learn more about the Teach Paperless movement and imagine how giving up paper can offer a golden opportunity to rethink and remodel old-school teaching habits.
Day Four: Connect with other educators who care about going green.
Join Edutopia's Green Schools Group. See how other educators are teaching kids to be green and creating greener schools. Ongoing discussions include experience, ideas, and resources—from quick fixes to larger, system-wide implementations.
Day Five: Congratulations, you've done it! Now, spread the word!
We've created a FREE guide for classrooms (it's a paperless download!) with inspiring ideas and classroom-tested resources to help educators plan green projects that encourage deeper learning. Get a copy of Think Green: Tips and Resources for Earth-Friendly Learning Projects TODAY. And be sure to tell a friend!
BONUS RESOURCES: Encourage your students to take action on environmental issues.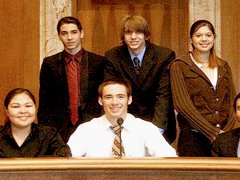 Time: 05:13
VIDEO: Stand Up for Alaska
Members of this high school environmental education and leadership program of the National Wildlife Federation created a PowerPoint presentation about climate change, gathered more than 5,000 signatures from fellow students, and went to Washington, DC, to persuade one of their senators to take action on global warming.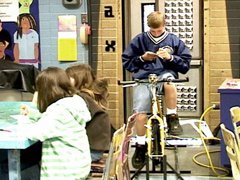 Time: 05:53
VIDEO: Out of This World
At Redwood Middle School, in Napa, California, teacher Sharon Campbell uses integrated studies and a focus on energy conservation to bring the sciences to life in her art class, while students generate power for the classroom with a stationary bicycle.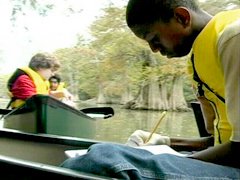 Time: 07:46
VIDEO: EAST -- A Way Forward
Students in the Environmental and Spatial Technology program, at Horace Mann Magnet Middle School, in Little Rock, Arkansas, connect with nature through technology-rich projects that serve their community.