Professional Learning
Resources From Connected Educator Month 2015
Explore Edutopia's guide to websites, events, tools, and other resources from Connected Educator Month.
October 2, 2013
Updated November 2, 2015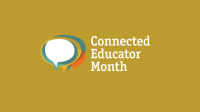 Edutopia was one of the many organizations, companies, and communities participating in the fourth annual Connected Educator Month (CEM), a celebration of online communities of practice originally developed by the U.S. Department of Education with partners. As with previous years, October 2015 included an array of rich opportunities for informal professional development, both for educators with established professional learning networks (PLNs) and for those just getting started.
Though the month has concluded, the need to connect has not. Consider using some of the resources below to engage in do-it-yourself professional development all year long.
Getting Started
Visit CEM: Getting Started and consider downloading the Connected Educator Starter Kit by Powerful Learning Practice, a guide with 31 days of online activities -- including relevant tips, tutorials, and ideas -- that will help you along your professional-learning journey, no matter where you're starting from. As you build your PLN, make sure to click the +Follow button on Edutopia's Professional Learning Network page to receive email updates about additional guidance and tips. Linked from that page, "My Journey Into Connectedness," by Rafranz Davis, and "How Do I Get a PLN?" by Tom Whitby, are two great places to start.
video
You might want to consider attending an edcamp. Why? In "Why Edcamp?" Kristen Swanson discusses how these educator-driven "unconferences" present invaluable opportunities for learning, growing, connecting, and sharing. You can find the complete edcamp calendar on the edcamp website or on Edutopia's events page, updated weekly.
If you missed one of the hundreds of events during CEM 2015, visit the CEM Archives for access to recordings, transcripts, and other professional-development resources from October. The archived events are searchable by audience, event type, and topic. The Connected Educators website also maintains a showcase of opportunities for sustained professional development in the form of courses, classes, and clubs.
Five Ways to Connect
2. In Online Communities: Online communities are another great avenue for connection and collaboration with colleagues, since they generally support deeper discussions in groups and threads on specific issues, and questions. Connect with other educators in Edutopia's community or via other learning communities listed in the CEM Community Directory. If you'd like to exchange ideas about books online with other educators, join the Connected Educators book club or start your own; "Online Teacher Book Clubs: Promoting a Culture of Professional Development" includes tips on how to get started.
4. With New Tools: Experiment with connection tools and technologies. If possible, find a colleague to join you. The Connected Educator Starter Kit guides you step-by-step through many of the ways you can connect and collaborate via social media, wikis, blogs, and multimedia tools. Here are a few other ideas to explore:
5. By Sharing Your Work: Sharing information publicly about your work as an educator, including news, reflections, successes, struggles, or resources, can be a powerful way to connect to other educators or community members. Consult the following pieces on Edutopia for advice and guidance: "Find Your Digital Space," by Andrew Marcinek, and "Start Your Teaching Blog: Resources, Advice, and Examples," by Matt Davis.
Do-It-Yourself (DIY) Professional Development
By getting connected, educators can self-construct their own professional learning and development. These resources explain how:
More Resources From Edutopia
Additional Resources on the Web