Project-Based Learning (PBL)
Collaboration Generation: Teaching and Learning for a New Age
Our future success depends on our cooperative agility.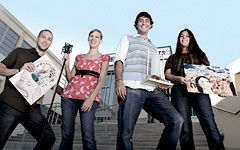 Credit: David Julian
Humanities teacher Spencer Pforsich, digital arts/sound production teacher Margaret Noble, humanities teacher Leily Abbassi, and math/science teacher Marc Shulman make lessons come alive on the High Tech campuses in San Diego.
Information age, rest in pieces. This is the Collaboration Age.
We can all connect instantly across time zones and oceans. Previously impossible partnerships now produce startling innovations. And the four walls of your classroom no longer limit your students' reach.
To thrive in this always-on community, students and teachers must become agile learners, creators, and collaborators. Their success and our country's future depend on it.
It's tough for educators to meet this challenge when the No Child Left Behind law feeds a national obsession with the what of knowledge, not the how. But they can. They must. And some already do.
Collaboration Generation: Special Report -- Contents
Explore articles, videos, audio, and more:
Articles
Videos
Audio
Form and Function: The Sights and Sounds of Science-Art Projects
Beyond Technology: A School District Refocuses for This Century (audio slide show)
Resources
Grace Rubenstein is a senior producer at Edutopia.