Project-Based Learning (PBL)
From Bricks to Mortarboard: Teens Plan and Build Their Own Learning Environment
One way to design better classroom space: Have the students do it.
Credit: Jamie Stillings
Open Education: Students at Robert F. Kennedy Charter High School, in Albuquerque, New Mexico, designed study areas that reflect the belief that true learning cannot be compartmentalized by subject.
Don't mess with Sheldon Trujillo's school. The boy's sweat is in the very walls of Robert F. Kennedy Charter High School, located in a once-dilapidated post office in a poor neighborhood on the south side of Albuquerque, New Mexico. His ideas are reflected in the curved contours, the open spaces, and the inviting entryway.
Kennedy is more than just a building to Trujillo. Every time he looks at one of the 5,000 adobe bricks he helped to lay, he is reminded of the fellowship and team spirit there. The school is a product of his own creation, and he is ready to defend it against "taggers" or other vandals who don't understand what a special place it is.
Trujillo, a senior at the small public charter school, is a beneficiary of a program called Architecture and Children, which helps students build their own schools. It's the brainchild of University of New Mexico (UNM) School of Architecture and Planning professor Anne Taylor and architect George Vlastos, and is a collaboration between the UNM and K-12 schools throughout the Albuquerque area. The program provides students with the background and tools to understand how the built environment (including their own classroom) affects them, and encourages them to create an interdisciplinary space for the study of math, science, history, and art.
"It's about learning how to think," says Taylor, director of the Institute for Environmental Education, at the UNM School of Architecture and Planning. "We use the architecture of the school classroom, museum exhibits, and the landscape to demonstrate how the natural and built environments reveal the ideas, laws, and principles we are trying to teach children from textbooks."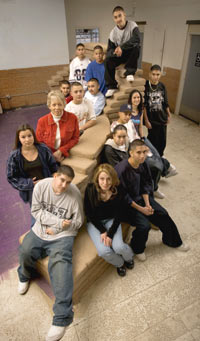 Credit: Jamie Stillings
Building Motivation: Students' attitudes toward education got a boost from their experience as school architects.
The Dirty Deed
Rhonda Stanfield, a teacher at Kennedy, has integrated Taylor's tools into her classroom and collaborated with the UNM students for several years. But last year, when school officials decided to convert a long-empty post office into their new facility, she and her students put their newfound knowledge of design into practice. The job required as much brawn as brain and a real willingness to get dirty. Students had to haul out two Dumpsters full of debris and use a power sprayer to erase years of grime before they could even think about redesigning the post office space.
With the cleanup complete, the brainstorming and early planning sessions began in earnest. Students asked questions like, What do we need from the new school? What kinds of spaces do we want to include? Do we want spaces where students can work in teams? How about traditional classroom spaces? How should the traffic flow? What kind of atmosphere do we want? Shall we include open spaces where students can work on different kinds of projects? Do we want curves, or straight lines? Which is more pleasant? Every question led to more brainstorming and, ultimately, designs for the unique space.
Students from throughout the school move in and out of the project, but a core group of about twenty have been involved from cleanup through to the final design stage, which has taken two years so far. The team decided against a traditional design with classrooms branching out from a single corridor -- what Stanfield calls a "Santa Fe prison." Instead, they chose a plan with more flow and movement: The building now consists of four doorless work areas, including a computer center, separated by artistic adobe partitions, some reflecting the profiles of the nearby mountains.
They also selected adobe for the interior walls, in part because the team's architect and mentor, former UNM student Matt Pacheco, is an expert on construction using the sun-dried brick. The students created architectural sketches, putting into practice several concepts they'd been studying, from scale and building-material stress to perspective and proportion. They learned about the history of adobe, and used math and physics to determine how to design and build sturdy walls.
Students drew their plans to a one-quarter-inch scale, and Pacheco transferred their designs to the floor of the soon-to-be school building, using spray paint to translate their scaled designs.
"They got it instantly," recalls Pacheco, who grew up in the same poor area as his students and knows what it's like to be bored and uninterested in school. "I love to learn by touching, seeing, and feeling," he says. "If I can get them interested, they're going to want to learn."
Pacheco's plan worked for Trujillo. "It made me like school," says the once-disaffected student who is now working with his schoolmates on phase two of the project -- improving the acoustics and beautifying the outdoor spaces, including refurbishing a large porch area that will one day serve as an amphitheater.
The Nature of Design

Credit: Jamie Stillings & Rhonda Stanfield
Brains and Brawn: School is more than a physical building to students who conceived the spaces, created plans and models, and did the grunt work.
When the UNM mentors work with younger students, they incorporate lesson plans created by Taylor and Vlastos that cover elements of design, using items from nature like twigs or rocks to build model structures, they cut fruits and vegetables to illustrate the concept of cross sections, and they discuss how and why animals like beavers are really architects. The kids also learn how the plumbing in their school or house relates to the overall building plan, and they design their own dream house and ideal classroom, in the process becoming familiar with such building terms as truss, dome, vault, perspective, tension, compression, and post-and-beam.
"I liked the nature sculpture best," says Connie, a third grader in Keri Piehl's class at Monte Vista Elementary School, also in Albuquerque. Her classmate Bobbie enjoyed designing and drawing her own robot-like structure, which included windows as eyes and doors on the feet. Noah, another student in Piehl's class, is fascinated with the idea of perspective and likes to draw tunnels for fun when he isn't building new structures.
The UNM students-turned-teachers say they witness great leaps in learning and enthusiasm when younger students can take their architectural interest wherever it leads them. Much of what the Monte Vista students learn in the architecture and design lessons can be applied to other subjects. For example, Kathryn McClenin's third graders transferred the outline skills they learned using bubble diagrams (a visual way of organizing data) to their writing assignments. Now, she says, many use bubble diagrams to create outlines to make sure they know what they want to say before they start writing. They also learned a "different way of looking at things, a different way to analyze," she says.

Credit: Jamie Stillings
Taking Steps: Adobe partitions, which echo the profiles of nearby mountains, honor New Mexico's Native American culture and create a space within a space.
The students aren't the only ones benefiting from the program. The UNM mentors gain course credit -- and a whole lot more. Alfred Becenti, a Navajo, had the opportunity to teach architecture in the Navajo language to Navajo children, satisfying both his love of culture and of building design. Walt Gill says he fine-tuned how to share his architecture acumen with a lay audience. "I realized I dumbed it down too much," he says.
McClenin also says her experience working with students helped prepare her for working with clients. Unlike Gill, though, she discovered she needed to provide more, rather than less, information." There's so much you just assume other people know," she says. "It showed me what I take for granted."
The UNM's Taylor, whose program has spread to other states, as well as to Japan, Mexico, and other countries, says that learning about the interdependence of things will help children understand the consequences of their actions, whether as designers or as citizens.
"Children are telling us, 'Make our education real,'" Taylor says. "We can do that through architecture and design."
Diane Curtis is a veteran education writer and former editor for The George Lucas Educational Foundation.
Developing Tomorrow's Designers and Architects
Throughout the country, schools and architects are partnering to provide opportunities for students in grades K-12 to study design and architecture. Here's a sampling.
Architecture by Children (ABC), Cincinnati, Ohio. Each year, the American Institute of Architects (AIA) Cincinnati chooses a theme for its ABC program, which matches schools with local architects. Past themes have included Sacred Spaces, Skyscrapers, Transportation Stations, and Cool Schools. These professionals make a presentation to the students, who then use the chosen theme for their own design projects. At the end of the school year, an AIA Cincinnati committee chooses the best projects for display at a weeklong exhibit. Prizes are awarded for excellence in several categories.
Architecture in Education, Philadelphia, Pennsylvania. For eight weeks during the school year, volunteer architects and university architecture students work with teachers around Philadelphia to help integrate architecture into the curriculum. Architects and college students visit the schools each week to discuss key building concepts and work with students on projects that integrate architecture instruction into math, science, social studies, and language-arts instruction.
Build SF, San Francisco, California. The San Francisco Unified School District teams up with the Architectural Foundation of San Francisco to offer high school juniors and seniors an opportunity to study architecture in combination with other academic subjects. Students can also be mentored at local design and architecture firms. Through the program, started in September, enrolled students attend their regular high school during the morning, then participate in the program in the afternoon, working in internships and taking architecture and design or urban-sociology classes. To bring a real-world perspective to their study, participants also work on architectural projects related to developments in the city.
Messages of the Built Environment, Washington, DC. The American Architectural Foundation and a nonprofit Washington, DC-area group called Learning and Leadership in Families have partnered to create Messages of the Built Environment. This program encourages parents and teachers to integrate learning about design and the built environment into the curriculum. Activities are described in a series of booklets aimed at preschool through elementary students and available to teachers throughout the area. Among the topics studied are window design, basics of construction, structures in nature, and a history of American architecture.
Tampa Through Time, Tampa, Florida. Since 1979, more than 200,000 fourth graders in the Hillsborough County School System, in Tampa, Florida, have learned about the city's history and built environment through a program started by Tampa Preservation. Teachers who take a training course are given materials designed to enhance a walking tour of historic Ybor City. Students receive notebooks, as well as activity and coloring books.
For more information about these and other architecture programs for students around the country, visit the AIA Web site.