Project-Based Learning (PBL)
Zombie-Based Learning — "Braaaaaaains!"
May 17, 2013
Updated October 17, 2014
You read that correctly: Zombie-Based Learning. When I started learning about it, my inner geek squealed with joy. I've always loved zombies. I've watched all the movies and even read the original Walking Dead Comics before it became a hit series in the classroom.
One Teacher's Curriculum
Geography has always been a learning target for social studies teachers, and David Hunter, who teaches at Bellevue, Washington's Big Picture School, decided to create a curriculum using Kickstarter as its funding source. He sought to make geography relevant through engaging scenarios and stories with a zombie theme tying it all together. The whole curriculum is standards-based and includes over 70 lessons where students must "consider how to duck the undead invasion, secure their supplies and, eventually, rebuild society" through a variety of activities, worksheets and discussions.
Mr. Hunter's story was featured on an NPR affiliate if you would like to read more. In addition, he has made available one of the comics he created which serve as the textbook for the curriculum. Mr. Hunter created this work in order to engage students, and I believe we can use the topic of zombies to explore further curriculum areas.
English and Language Arts
While much of the world of zombies is portrayed in comics and films, ELA teachers can use these various texts to engage students in learning important reading standards. Even the Common Core calls for reading a variety of texts and comparing and contrasting those texts (such as a film and a comic). These stories feature compelling, complex characters under extreme situations that many of us can identify with. Students could analyze the various features of the comic/graphic novel genre, or engage in character analysis. Consider using these zombie-based materials as scaffolding for more complex texts.
Science
Many in the zombie community (did I just write that?) believe that people become zombies due to a virus, and many of the films and literature echo this as a possible method of transmission. This being the case, students could investigate the subject of viruses and bacteria using zombies as the disease being passed. They might come up with scientific methods for eradicating the disease or simply mitigating its effect. They might even hypothesize the biology behind zombies. Again, the topic of zombies is an entry point to engage students in learning significant content.
Math
Related to the science component of zombies, many diseases increase at an exponential rate. Students could analyze different population centers and predict its spread using exponential functions. They could determine when everyone is infected and map the spread using the math data they calculate, or even explore rate of decay. Students could also investigate what happens when a certain number of people are vaccinated to help prevent the spread.
These are some ideas I have either implemented as part of a PBL project or believe might be a good entry point for zombie-based learning across the curriculum. What are your ideas for zombie-based learning to teach content and 21st century skills? (And if anyone could instructionally integrate Michael Jackson's "Thriller" video, that would be awesome!)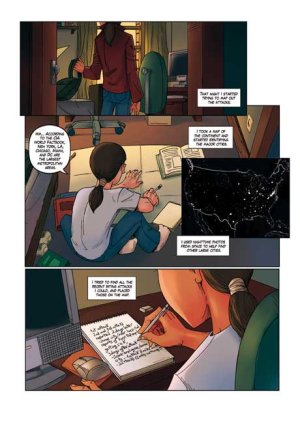 Credit: David Hunter
Zombie-Based Learning in action