Education Equity
What Can Schools Do to Address Poverty?
Schools can address poverty through teaching social justice, offering equal academic opportunities, and discreetly providing school supplies, snacks, clothes, and other basic necessities.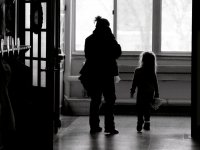 Childhood poverty rates are higher in the United States than in any other industrialized country, and this rate is on the rise. As of 2014, 33 percent of all people who live in poverty were children -- more than 15.4 million, or 21 percent of all children in the United States. Another 15 million (21 percent) reside in low-income families. Between 2000 and 2014, the number of children living in poverty increased from 11.6 million to 15.5 million, or by a factor of 33 percent (U.S. Census Bureau, 2014 -- source: Table 3). The number of people in poverty in 2014 climbed to 46.7 million -- one in seven Americans -- the largest number since poverty rates have been published (U.S. Census Bureau, 2014 -- source: Table 2). Equally startling, a study indicated that between 60 and 75 percent of Americans will live below or near the poverty line for at least one year of their lives (Neuman, 2008).
Whose Problem Is Poverty?
James Coleman's (1966) conclusion that schools could have only a limited effect on students who live in poverty began a debate that has continued for decades. In an article published in Educational Leadership (April 2008), Richard Rothstein, research associate at the Economic Policy Institute, asked the question, "Whose problem is poverty?" He suggests that schools can have only a limited influence on closing the achievement gap between students who live in poverty and their more affluent peers unless school improvement is combined with broader social and economic reforms. Without such a combined effort, he claims, the mandate for schools to "fully close achievement gaps not only will remain unfulfilled, but also will cause us to foolishly and unfairly condemn our schools and teachers" (p.8). He is not alone in this logic. David Berliner (2007, as cited in Rodriguez & Fabionar, 2010) argues, "Without careful attention to the social conditions beyond schools, we will continue to encounter limitations in advancing educational equity and high achievement among diverse student populations within schools" (pp.58–59). (See also Anyon, 2005.)
Others assert that schools can, and do, make a significant difference in the lives and the academic outcomes of students who live in poverty (Barr & Parrett, 2007; McGee, 2004). Kati Haycock contends, "It is very clear to me that even as we work to improve the conditions of families in this country, we can in fact get even the poorest children to high standards of achievement if we really focus in our schools on that goal" (in Holland, 2007, p.56).
What Can Schools Do to Address Poverty?
Eliminating poverty is a both/and proposition -- reforms must occur in both the broader society and in schools -- and schools do make a considerable difference. We encourage educators, and particularly educational leaders, to both become knowledgeable about issues related to eliminating poverty, joining forces with others who advocate for social and economic reforms, and summon the courage to do the much-needed work closer to home -- in their own schools and communities. Successfully educating all students to high standards is critical to ultimately eliminating poverty. If, as educators, we feel powerless to address bigger issues such as living-wage jobs and health care reform, Gorski (2008) proposes that we ask ourselves, "Are we willing, at the very least, to tackle the classism in our own schools and classrooms?" Gorski (2007, p.35) provides the following ten suggestions as a starting point:
Assign work requiring a computer and internet access or other costly resources only when we can provide in-school time and materials for such work to be completed.
Work with our schools to make parent involvement affordable and convenient by providing transportation, on-site childcare, and time flexibility.
Give students from poverty access to the same high-level curricular and pedagogical opportunities and high expectations as their wealthy peers.
Teach about classism, consumer culture, the dissolution of labor unions, environmental pollution, and other injustices disproportionately affecting the poor, preparing new generations of students to make a more equitable world.
Keep stocks of school supplies, snacks, clothes, and other basic necessities handy for students who may need them, but find quiet ways to distribute these resources to avoid singling anyone out.
Develop curricula that are relevant and meaningful to our students' lives and draw on their experiences and surroundings.
Fight to get our students into gifted and talented programs, to give them other opportunities usually reserved for economically advantaged students, and to keep them from being assigned unjustly to special education.
Continue to reach out to parents even when we feel they are being unresponsive; this is one way to establish trust.
Challenge our colleagues when they stigmatize poor students and their parents, reminding them of the inequitable conditions in our schools and classrooms.
Challenge ourselves, our biases, and our prejudices by educating ourselves about the cycle of poverty and classism in and out of U.S. schools.
The need for broader social and economic changes in our country does not provide an excuse for maintaining the status quo in schools. Three decades of research have demonstrated that schools can improve academic outcomes and other measures of success for children who live in poverty (Barr & Parrett, 2007; Education Trust, 2002; Teddlie & Stringfield, 1993). As Horace Mann asserted, public education is the most universal of institutions, and it can shape young minds and hearts. It is still our best hope. Although improvements in public education alone will not eliminate poverty, such improvements are an important part of the solution. The question is not whether too much is being asked of public schools, but rather, have we held up our end of the bargain?
Notes
Anyon, J. (2005). "What 'counts' as educational policy? Notes toward a new paradigm." Harvard Educational Review, 75(1), pp.65-88.
Barr, R.D. & Parrett, W. (2007). The kids left behind: Catching children of poverty. Bloomington, Indiana: Solution Tree.
Chau, M., Thampi, K. & Wight, V. (2009). Basic facts about low-income children, 2009: Children under age 18. New York: National Center for Children in Poverty.
Coleman, J.S. (1966). Equality of educational opportunity. Washington, D.C.: U.S. Department of Health, Education, and Welfare.
Education Trust. (2002). Dispelling the myth . . . over time. Washington, DC: Author.
Gorski, P.C. (2007, Spring). "The question of class." Teaching Tolerance, 31, pp.26-29.
Gorski, P. (2008). "The myth of the culture of poverty." Educational Leadership, 65(7), pp.32-36.
Haycock, K. (2010, November). Taking charge of change: Effective practices to close achievement gaps and raise achievement [keynote address]. Taking Charge of Change conference, The Education Trust, Arlington, Virginia.
Holland, H. (2007). "Can educators close the achievement gap? An interview with Richard Rothstein and Kati Haycock." Journal of Staff Development, 28(1), pp.54-58.
McGee, G.W. (2004). "Closing the achievement gap: Lessons from Illinois' gold spike high-poverty, high-performing schools." Journal of Education for Students Placed at Risk, 9(2), pp.97-125.
Rodriguez, G.M. & Fabionar, J. (2010). "The impact of poverty on students and schools: Exploring the social justice leadership implications." In C. Marshall & M. Oliva (Eds.), Leadership for social justice (pp.55-73). Upper Saddle River, New Jersey: Pearson.
Rothstein, R. (2008, April). "Whose problem is poverty?" Educational Leadership, 65(7), pp.8-13.
Teddlie, C. & Stringfield, S. (1993). Schools make a difference: Lessons learned from a 10-year study of school effects. New York: Teachers College Press.
U.S. Census Bureau. (2014). Income and Poverty in the United States: 2014.