Project-Based Learning (PBL)
We Don't Like "Projects"
So I recently quit my job and started my own school with the support of a local media company, the second largest school district in Iowa, and a groundswell of community interest.
Our philosophy boils down to a fairly liberal project-based learning environment. As I began the marketing push to enroll students, I uncovered some frankly stunning assumptions that many students have about learning:
The word "project" is not a happy word. When I say project-based learning, most students grimace as they imagine prescribed PowerPoints.
If a teacher doesn't plan it, it's not learning.
If there isn't a test, it wasn't real.
Their personal interests cannot inform their learning. Learning is sterile, and the actual usage of the word "learning," to them, is quite different from what a professional might consider learning.
I'm not complaining -- in fact, these assumptions are the reason that I struck out on my own in the first place -- but I was flat-out surprised by their ubiquity.
Let's break each assumption down.
1. "Project" is the Noun-iest
The word "project" gets thrown around quite a bit and literally could mean any person, place or thing depending on who's doing the talking. I asked a focus group of 16-year-olds what a project was.
Over 90% included descriptions mentioning the word PowerPoint and/or a presentation.
Over 75% included descriptions relegating projects to the end of a course.
Hardly any students indicated doing something project-like as a way to enter into new content.
In short, we seem to have students who believe that projects are for assessment purposes only. This is a pretty serious marketing problem for the concept of project-based learning -- or, as my team refers to it, "learning."
To appeal to the concreteness of most teenagers, we've begun sharing examples, workflows and projects with potential applicants. I'm exceedingly proud of a project that combined programming, math and psychology. It began when a student approached me to discuss a psychology article he'd read about researchers attempting to mathematically figure out what describes a beautiful face. This conversation lasted about seven minutes and took some serious turns. This is the work of a project-based teacher.
We ended up asking a question about emotions. We went deep into some social concerns the student had about how people misinterpret each other, or how other cultures clash facially. We devised a project where the student would program a face that could randomize the position of its features. We would then ask a test subject to classify this face.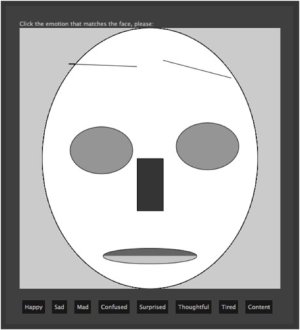 Credit: Shawn Cornally
PBL student facial expression project
This project is exactly the kind of work that I want students doing.
2. What If the Teacher Doesn't Do All the Planning?
The only problem with the face project was that this student had never programmed or designed anything like this in his life. So we set to work figuring out what technologies the student would need to learn, and where I would step in to bridge gaps for him. We made a plan of what felt like a reasonable amount of workload and frustration. He took on creating the face graphics, and I promised to do most of the database heavy lifting -- although we agreed that he should be able to explain how the data flows through his project once he finished.
This was the kind of co-planning that I love, and so did the student, as he gave the project the highest praise a teenager can give anything: he stayed up until 2:00 AM working on it.
3. Was the Test Hard?
The culture of testing is not something worth commenting on, simply because we all know it's a problem. However, there's a derivative issue -- many students have been convinced that, if learning isn't accompanied by the psychological stress of an exam, then they're somehow "let off the hook" and can devalue the content.
The face project is the assessment and the learning simultaneously. I don't really have to wonder if my student learned some programming. He did, and you can see it here. I don't really have to wonder if my student learned about slope, ratios and statistics; his data set is right here.
4. Codifying What Learning Has Happened
The biggest question people ask the faculty at my new school is, "How do you make sure they learn everything they need to learn?"
The answer is almost always that we eclipse the standard curriculum sometime in the winter, simply because so many big ideas are packaged together.
It's truly amazing to watch a student dig into something he or she loves. That sentence has been written hundreds of times on education blogs around the Internet, but it's no less true for the wear. Before granting resources to our students to begin working on their projects, we ask the following:
Is this something you'll be proud of in five years? Or will you at least be proud of the younger you for taking this on five years ago?
Does this combine two or more disciplines?
Will you work on this when no one is watching over you?
Who else cares about the results of your project?
What content do you think you'll learn?
The best part is question five. No matter what, that list expands nearly tenfold by the end of the project, to the point where we have to call time on their final presentations.