Professional Learning
Can PD Be Virtual? Technology and Trends
Virtual professional development increases access, creates meaningful connections, and supports educators with the help of virtual tools for video conferencing, live sessions, and online courses.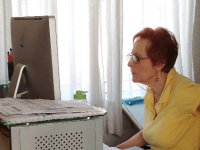 As an edtech and curriculum consultant, I spend a lot of time visiting schools across the country. Presenting to a group of teachers, leading grade-level team meetings, conducting observations, and teaching demonstration lessons are all part of my job description. Being on the ground, in the building, and in front of teachers are important components of connecting with a group of educators. Spending face-to-face time is a necessary part of building relationships with schools where gaining trust and teacher buy-in are crucial for success.
But what if professional development sessions could be virtual? There are a handful of factors motivating us to explore this question. Professional development costs can be prohibitive for schools without the budget to cover travel expenses for a one-time guest speaker or a consultant that works with a district throughout the school year. From a logistical perspective, picking a day when all teachers are available for a workshop, or locating substitutes for a large number of teachers, can be a challenge for administrators looking to use everyone's time effectively.
Virtual PD, when combined with face-to-face PD, is an option that's gaining traction thanks to the growth of the education technology sector. With an increased availability of free web conferencing software and other tools, this tech-friendly idea is becoming a reality for many teachers.
Video Conferencing
Now that most new computers and smart devices come with a built-in camera, video conferencing is fairly easy to set up. Using free tools like Google Hangout and Skype, an off-site presenter can beam into a room to lead a PD session. The PD facilitator and location where the meeting is taking place both need a computer with a webcam and internet access. Someone logs in on both sides and initiates a Google Hangout or Skype call. Teachers and the PD facilitator can connect virtually using equipment -- laptop, projector, internet access -- that most schools already have in place.
Video conferencing can bring in guest speakers or PD facilitators without taking on travel costs. It gives everyone the flexibility to schedule the amount of time needed to meet with teachers on that particular day and use everyone's time efficiently. Schools can decide to convene large or small groups in an onsite location and have an offsite PD facilitator present information or lead the group in a discussion. Teachers might also join in from home or watch a recording of the event. Since video conferencing with Google Hangout or Skype is as simple as making a phone call, you can schedule virtual office hours or just-in-time PD sessions. This will help meet teachers' needs on a more regular basis than a monthly faculty meeting or training.
This year, I've had the opportunity to try this out firsthand as a consultant with LitLife. We've been able to host grade-level team meetings and virtual office hours with a school located hundreds of miles away. Having visited this school and met with teachers in the past, I found it a lot easier to connect with staff members through a computer screen.
Live Sessions
Using video conferencing to ease the cost and logistics of PD is a great way to bring a guest speaker and expert into your school for customized professional development. There are also lots of ongoing webinars and live sessions that teachers can tune into for learning more about a subject. Many organizations offer monthly or weekly webinars that cover a variety of topics. SimpleK12 is one example of a company that hosts a combination of free and premium webinars for teachers to watch live or on their own time.
In addition to PD sessions offered by educational organizations, many companies host webinars and live virtual presentations that show how their products work. This is a great option for teachers looking to better understand how to use a learning platform while eliminating the cost of bringing a trainer on site. One of the hurdles that schools are starting to address is how to give credit to teachers who attend these live professional development webinars. Some companies offer certificates of completion for teachers who need to meet a PD hour requirement in their district.
Online Courses
In addition to video conferencing and live sessions, online courses are another way for teachers to engage in virtual PD. Graduate education programs frequently offer an online option for some or all classes required for a degree. Besides these formal online courses, there are a handful of free and low-cost professional development options for teachers.
iTunes U is one provider of high-quality PD materials for teachers. The courses within iTunes U cover a wide range of topics from earth science to the ancient world. Teachers using technology in their classrooms will love the courses in the Apple Learning Series, like Learn and Teach with iPad, which provides lots of information on developing learning activities for students.
Virtual professional development is an exciting area to explore. Instead of considering virtual PD as a replacement for traditional teacher learning, let's focus on how this pathway can enhance professional practice. New technology can make connecting educators and experts from across the world quick and easy. We can increase access and availability, create meaningful connections, and support educators in their PD with the help of virtual tools.