Student Engagement
Using New Technology to Rediscover Traditional Ways of Learning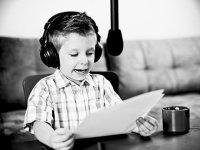 Older, more traditional forms of learning resonate with students because they connect with something deep within our human psyche. They engage the full person, not just the part of the brain that can decipher words on a page. They evoke a time when all of our ancestors were more alike than different in their cultural practices.
Learning through movement and the senses is becoming easier to do as bulky, stationary technology has become more mobile. Also, we are seeing the beginnings of a trend in which technology is becoming practically invisible and more integrated into our everyday environments. Digital technology such as tablets can help teachers and students rediscover traditional ways of learning by using touch, movement, sound, and visuality.
Rediscovering Oral Traditions
The oral tradition of teaching is not just about speaking out loud, but how one speaks and the narrative style used to convey meaning. It is how we shared our first stories and philosophical ideas.
One can start by having students listen to the amazing amount of free audio available through podcasting. Hearing the Dalai Lama in an interview can light up the history of modern China or ancient Buddhist thought in ways that are not available through reading.
One of my most memorable moments this summer was listening to Sir Ian McKellen recite Shakespeare on Marc Maron's podcast. In this podcast, McKellen reminds us that much is lost in reading Shakespeare instead of hearing his work spoken and performed.
In addition to the free audio that is out there, I would also recommend that we let students listen to literature instead of reading it. I would even argue that, in some instances, the written versions of short stories, literature, and biographies (Barack Obama's Dreams from My Father comes to mind) are the substitutes -- not vice versa -- for the richer, deeper experience of having the story read out loud.
Oral-based resources can work in other subjects as well. As an example, I think it is more illuminating for students studying physics to hear Richard Feynman speak than to read him. Feynman brought old, oral traditions of teaching to new heights through his vocal inflection and tone, narratives, and humor -- all aspects of oral-based traditions for transmitting knowledge to those gathered around the fire or in the cave.
Rediscovering Gestures, Dance, and the Body
Long before humans began speaking to each other, our gestures and facial expressions served as ways of transmitting knowledge and expressing experiences, emotions and wisdom. Dance developed at this time, and may be older than the oral tradition of storytelling. Now, with movement and gesture-based technology such as Wii and Microsoft Kinnect, it is possible to re-introduce these ways of learning back into the classroom.
We often fall into the trap of judging our students' performance by how well they can sit still, stand in line, and sit down when we tell them to. We should encourage direct learning through movement, gestures, and dance by first making our physical control of students less a priority of classroom management, and secondly, by exploring ways that technology frees us to use gestures and movement as a means for learning.
Mobile technology frees teachers to re-think the use of learning spaces, allowing students to have more control over their own bodies and be more interactive with their environment. Also, with mobile technology, teachers can move beyond formal learning spaces into the world outside of the classroom.
Touch screen has made interacting with data, lists, and virtual environments more intuitive to human gestures -- a main reason why kids take to tablets so readily. By incorporating these natural gestures and touch, the barrier between the knowledge in front of them and their learning nearly falls away.
Finally, educators should explore cutting-edge movement- and gesture-based technology, as well as virtual reality tools such as Oculus Rift, so that we can return to learning methods that allow the whole person -- the whole body -- to become engaged with learning. Humans are wired to learn this way; it is not a "primitive" form of learning, but requires higher-level brain functioning and critical thinking.
Rediscovering Visual Learning
One of the ways that we have long learned about the world around us is by direct observation. However, when we place a higher emphasis on reading as a direct source of knowledge, we indirectly affect our ability to learn by observation, and overall, inhibit our ability to learn visually.
Recent studies out of Brown University show that gamers have a higher capacity for visual learning than do non-gamers. I have taught students to better understand light, shadow, and color through digital photography and Photoshop. Developing observational skills by using interactive visual technology, as well as digital photography, 3D modeling, and video assignments allow students to better understand their real-world environment.
Embracing digital technology that uses sight, sound, touch, and movement is a terrific way of rediscovering traditional cultural practices and will help us better educate the whole child.