Professional Learning
High School Students Develop Life Skills and Financial Literacy in "Harsh Reality" Program
A first-hand account by high school junior Lily Boyar
Real World Reality Check
I fell in love with school when I found out about a hidden gem called the Team Program. The Team Program is a rare experiential wilderness education program designed to get juniors in high school out of the four walls they have been accustomed to in the traditional classroom, and into the real world. Twenty-four students from the three major public schools in my county are accepted each year into this public school program. The program is held at a small public high school and the diverse group of juniors spends the year there, before returning to their "home school."
Some of the activities we've participated in include working at a community service placement, leading and facilitating a ropes course in San Francisco, participating in a documentary film series, helping lead backpacking trips in several beautiful California locations, building trails, hiking, and learning wilderness medicine. During our second semester, students work each Tuesday at an internship placement of our choice.
Life Skills Training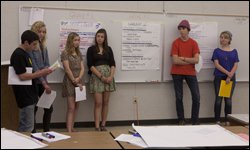 Team Students Practice Speaking Skills
Through this program, we receive real world experience by networking and writing a resume. We go on interviews and learn about the job market in our particular fields. Through the thirteen weeks spent at our internships, we're able to learn business skills and explore the workplace. It is easy to hand students a book that teaches them about physiology, but you cannot match the experience of assisting in a surgery. Students in my program are receiving first-hand experience and learning whether or not they want to pursue a career in these fields.
Harsh Reality
One of the major cumulative assignments regarding our internship is called The Harsh Reality Project. Although the title sounds frightening, it is a way for students to learn about the cost of living. I like to think of it as playing Sims with your life. Each student has the freedom to pursue the lifestyle they want to lead, within the parameters they are given.
First, we find our supervisor's salary and title, and then we extrapolate what our estimated salary and expenses will be. We calculated our benefits, including insurance and retirement plan. With our calculated budget in hand, we flesh out the costs of living (rental vs. home-owning) and go through the house-hunting process. We find roommates, search for houses on craigslist, and even go to an onsite open house. Students learn what to look for when buying a home and how to be realistic. Typical nightly Facebook conversations among peers in the program have changed from "Where do you want to get lunch tomorrow?" to "Where do you want to live?" and "Are utilities included?"
Second, we gauge our transportation costs. We look for cars and compute the expenses for gas and our commute to and from our internship. Third, we figure out our health care and monthly expenses. And finally, we put it all together in an oral presentation for our peers at the end of the semester.
The oral presentation links two different subjects: Workplace Learning and Oral Rhetoric. Using visual aid like a PowerPoint or iMovie, we present our Harsh Reality Project. It is almost like going to "Career Day" and learning about each profession through a student's perspective. We show the class our expenses and the life we have built for ourselves.
What I Learned
I have been asked, "What do you want to be when you grow up?" throughout my academic career, but for the first time I actually know the answers to these questions. I realized that before this project I had unrealistic expectations for my quality of living. This project and this program have showed me that there are different occupations that breed different lifestyles. Although I must admit the Harsh Reality project was a rude awakening that made me want to be a kid forever, it was a much needed reality check.
I learned the importance of working hard for what you want. As cliché as that sounds, I identified what it feels like to work an eight-hour job and what kind of benefits and salary someone in that position will receive. I watched the adults I worked with and they showed me, by example, important skills to possess in the workplace: such as ability to write, collaborate and share ideas, formally speak or hold a meeting, and problem solve.
Most importantly, I realized you ought to to love what you do. If you work in a positive environment, doing something interesting that you enjoy, it never has to feel like work. Just like school, I want to find an occupation that makes me excited to wake up each morning. I realized I want to be in a profession that makes an impact, and I want to communicate and interact with people more then my computer. These are all important realizations before embarking on a career path. I think I have an advantage by knowing this early.