Student Engagement
To Teach Effective Writing, Model Effective Writing
June 10, 2014
Updated July 14, 2015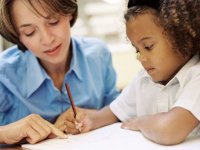 I strive to teach my high school students the value of criticism, especially when it comes to improving their writing.
To do so, I model how criticism continues to help me become a better writer. Earlier this year, for example, I shared a draft of one of my education feature articles, which included detailed feedback from an editor at a prominent media company. I asked my classes for advice on how to address several edits, dealing with sources, transitions, terminology, and structure. A few days later, I directed my budding writers to the much-improved final draft. This easy but worthwhile activity helped more of my students feel comfortable receiving criticism, and not view it as an affront. As a result, they improved their writing by taking the time and care to consider and respond to reader insight.
I want my students to feel secure in the knowledge that nobody is beyond criticism (even their teacher), and that the bigger challenge is developing the good sense to acknowledge and successfully respond to feedback.
Along those lines, I also offer the suggestions below about teaching writing:
1. Writers are the Best Writing Teachers
To teach effective writing, we must be effective writers ourselves. We can't teach what we don't know, and when it comes to writing, it's important to continue honing our craft. If you haven't engaged in much formal writing since college, you will remain a less effective writing teacher. No matter what subject you teach, try starting a blog, writing articles, or developing short stories -- all terrific ways to engage the mind and keep your skills sharp. Reading is important, but reading alone isn't enough to strengthen your writing skills, or to make you a credible authority on the subject. I am not proposing that every teacher write online every day (though if you do, that's excellent). But even if just once or twice a month, in some way, shape, or form, teachers should produce writing to be read by others. It's at least that important to practice what we preach.
2. The Value of Sharing
No matter what you teach, share your written work. I always share with my students and ask for their feedback -- even their criticism. In that respect, it's essential for students to recognize not only your skill, but also your interest and engagement in constantly refining a crucial life skill. For one lesson, I even share with students some of my high school, college, and graduate school essays, and they analyze what I improved upon over time. I'm excited about sharing my work, and that in turn helps to get my students excited about doing the same.
3. Write for Your Students
No matter what you teach, write in front of students. When I am teaching about formal introductory paragraphs, for instance, my history students think of a worthy historical question for me to tackle. With the projector on, I then write out the paragraph, sharing my thought process along the way. Students observe how I work and rework my prose, and how I place a premium on concision. They also critique my work, which in turn helps them not repeat similar mistakes. Admitting my weaknesses helps my students become less defensive about their own work, and in turn more open to criticism.
4. The Writing Workshop
Create workshop environments, with multiple stations focusing on different aspects of writing. In my history classroom, I appoint a student who's great at transitions to staff the "transitions" booth, and a student great at topic sentences to staff the "topic sentence" booth. Of their own volition, or at my suggestion, students visit whatever booth fits their needs. As far as instruction goes, this maximizes utility while freeing me to meet one-to-one with the neediest students.
5. Seeking Feedback
Urge students to share their work with each other and online. Few writers have ever improved by keeping their work to themselves. As the teacher, I know that my opinions carry significant weight. But the same is true of what others think, especially one's peers. In an increasingly flat world and a digital age, students must feel comfortable and confident about sharing their work for the whole world to see. To that end, teachers should help students produce appropriate, high-quality content.
6. Real-World Writing
Most importantly, teachers must do whatever they can to convey the importance and usefulness of writing more effectively. No matter what craft or profession students wish to pursue, I make it clear at every turn that knowing how to write well will play a significant role in their success. From science, math, engineering, law, history, and journalism to anything else one can think of, the ability to express oneself clearly in writing is absolutely essential. Next year, to help get that point across, I hope to invite various professionals to speak to my students about the role writing plays in their lives.
How do you teach effective writing? I would love to hear your thoughts in the comments section below.