Literacy
Want to Take Over My Class? Be My Guest!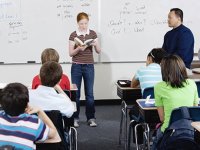 Nine years ago, I was starting my first teaching job as an ESL English teacher. Though my students were very well behaved, when it came to reading or speaking aloud in class, they would shut down completely.
I had to motivate my students to write or speak about anything. That's when I came up with the guest journal. I asked my students bring an object from home and then explained that they would tell us about their item and give the class a topic to write about. It would be a literary show-and-tell, I explained. To motivate them further, I told them that the guest journalist would lead the class in the prompt and share-out, while I would sit, write, and share like a student.
At first, getting volunteers for the guest journal was slow, but soon every student was scheduling a day for his or her presentation. As an ESL teacher, I was thrilled to see how the guest journal pulled my students out of their protective shells and enabled me to engage them in all of our class activities.
Finding Their Passion
A couple of years later, my husband was accepted to graduate school in Austin, Texas, and so I took the first local teaching job I was offered at a middle school in South Austin. Upon coming to the school, my new principal warned me, "This is a pretty rough school." She was not kidding. On my first day, when I tried to greet my students at the door, they either smirked or shook their heads in disbelief. They outright refused to read aloud or participate in class. I had never encountered students that were so obstinate.
When I tearfully expressed this to my husband one night, he said, "Maybe it's time to bring back the guest journal." I thought he was joking. But after a few more days of their indifference, I decided that I had nothing to lose. I had to bring back the guest journal, if only for myself and the few remaining students in those classes that still actually cared. As I explained the guest journal, to my surprise, several students sat up straighter and looked interested.
Predictably, the guest journal began very slowly. Yet, sooner than I had anticipated, even the most reluctant students began volunteering to share. One girl who had walked out of my class at the beginning of the school year volunteered to rap for the class before asking us to write about our own passion.
As I wrote, I smiled into my page. These students who had fought to derail my lessons at the beginning of the year were now actually enjoying the class. I will never forget the look on the principal's face the day that she walked into a classroom that was attentively listening to a girl read from her notebook. At our next faculty meeting, she brought up my activity and expressed how impressed she was that I had been able to connect with my students through writing.
Developing Their Thinking
When we left Austin two years later, I found a teaching job at an Early College High School. I introduced the guest journal once again, but to increase the rigor, instead of an object, my students were to bring in a news article for discussion and then ask the class an open-ended question relating to society.
My students began presenting on varied topics from vaccinations to foreign policy -- and I noticed a great change in their writing. Now that they were reading the news on a regular basis to search for journal topics, they had a great deal more background knowledge to pull from for their academic essays.
As my students brought various news articles to present, I realized how helpful the news guest journal could be for other content areas like history, health, or science. Because schools are now advocating for writing in every course, the news guest journal is an opportunity for teachers to introduce course-related articles to their students while motivating them to write.
No matter how busy I get during the school year, I always come back to the guest journal because it gives me a chance to show my students that writing is not just a task, but also a venue for expressing their thoughts and ideas. The reason why the guest journal is so successful with all kinds of students is that it gives them back their agency. They feel that the class is theirs for a moment -- and they should, because the purpose of our classes is to develop our students' thinking, not our own. The guest journal is so valuable because it teaches my students to be excited about their writing, and it reminds me who my class really belongs to.
I've created instructions on how to use a guest journal in the classroom. How have you gotten your students excited about writing? Share your ideas in the comments below.