Maker Education
Supporting Maker Education District-Wide
To effectively implement maker education in a school district, educators and administrators need to consider everything from mindset and methods to pedagogy and professional development.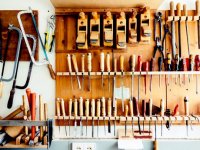 Editor's note: This post is co-authored by Gina Silveira, Principal of Schaefer Charter School in Santa Rosa, California, and Jessica Parker, Associate Professor in the School of Education at Sonoma State University.
The maker movement has gained momentum over the last year, especially with the Call to Action from the White House and the President's second annual Nation of Makers event and proclamation. This year, Maker Ed, Digital Promise, and AASA (the School Superintendents Association) gathered commitments (PDF) from school leaders to expand making in districts and schools throughout our nation. In order for the maker movement and maker education to take shape and become truly embedded in schools and classrooms, district and site-level administrative leadership and support are essential.
Mindset
Implementing maker education is less about space than it is about mindset. A core component of making is empowering students to create something meaningful and to see the impact of their work in the world around them. If we are committed to creating this kind of learning for all students, then we need to cultivate the conditions for adults who work with them to adopt a maker mindset that promotes risk taking, creativity, persistence, and reflection when working through challenges. The key to district-wide implementation is providing multiple entry points for educators to engage in maker-based activities and professional development, reflect on their experiences, and share their inspirations and hurdles with colleagues.
Methods
Teachers need permission to take risks and explore new teaching methods. It is essential that this message comes from both the site administrator and the superintendent. In order to lead maker education with purpose, district and site leaders must model risk taking. Leaders' actions speak volumes when they display a growth mindset, take part in professional development alongside teachers, participate in maker-based activities and events, and help teachers find meaningful connections between making and standards. It is one thing to talk about the benefits of making on learning -- it is quite another to see or experience it for oneself. Infusing an element of tinkering, problem solving, and hands-on learning into staff meetings and professional development opportunities are good starting points. By moving away from the traditional "sit and get" sessions and creating the space for staff to collaborate on design challenges and invest in their passions, site administrators provide educators with opportunities to develop their own maker mindset.
Professional Development
Professional learning must be differentiated, and teachers need opportunities to document and share projects, activities, and events. The Piner-Olivet Union School District (POUSD) has been fortunate to access a variety of professional learning opportunities offered through our county office of education, ranging from Make and Take Workshops to a weeklong summer institute. We also organized a North Bay maker meet-up where educators meet monthly to share examples of best practice, delve into specific skills, and partake in rich dialogue about making. POUSD has benefitted from collaboration with the Sonoma County Office of Education, Sonoma State University, maker educators in other school districts, and community organizations. The Development and Growth of the Maker Movement in Sonoma County Schools Across K-12 case study (PDF) documents the work of this county-wide partnership. Additionally, researcher-based organizations and museums such as Agency by Design, The Tinkering Studio at the Exploratorium, and the Bay Area Discovery Museum provide further resources for sharing and learning new skills.
Leadership
Building leadership capacity at school sites and districts is key. Dr. Jessica Parker, an Associate Professor at Sonoma State University, has spearheaded the first Maker Certificate Program. This program provides training for both teachers and administrators. In POUSD, three teachers dove headfirst into maker education and earned their certificates through this program. One is now teaching a K-8 Next Generation Science Standards course within Sonoma State's program, and the other two have started a maker program at their middle school. For this upcoming school year, a Teacher on Special Assignment (TOSA) position has been created to provide teachers across the district with coaching and support to implement making in their classrooms.
Observation
Observing students engaged in making helps teachers develop a deeper understanding of the benefits for learning. POUSD offers a Maker Camp for students in grades 2-6. The camp has a powerful impact on teachers, as they have the opportunity to see their students' capabilities in a new light. Witnessing students engaged maker-based activities immediately highlights the 21st-century learning principles and skills that make engineering, design, and the active process so important for today's learner.
Assessment
The traditional report card just doesn't cut it any more. Thoughtful assessment of making should be less about the "right answer" and how student products fit into a box, and more about a continuum of mastery. We are not fond of linking assessment in the traditional sense of the word with making. At the White House Maker Education Roundtable, where school and district leaders met to talk about maker education, we found that many across the U.S. shared this sentiment. Maker educators have been testing out several different ways in which to link meaningful forms of assessment with maker education. The shared interest was in clarifying that student creativity is not stifled whichever way we plan to shift assessment in our schools.
Pedagogy
Making is not simply an add-on or fun activity on the side. Teachers must feel confident about bringing making into their classrooms with a purpose, and leaders must feel confident that they can devote the required time and support to make room for maker education. This means that change must happen on a number of levels: pedagogical, curricular, organizational, and spatial/material.
There is not a one-size-fits-all approach to making. Making invites a cultural and curricular shift within schools and districts, and it requires the time to develop a rationale for why making matters. It is important to explicitly connect a school's mission with its expectations, the standards, and the socio-emotional benefits of maker education. It is essential that we build in planning time for teacher groups to develop and share lessons and practices, and that we create feedback loops among leaders, teachers, parents, and students.
We welcome your thoughts in the comments section below.