Literacy
Strategies to Help Struggling Writers
Student writers often struggle because they lack connection with the assignment or an authentic audience. Relevant topics, blogging, and brainstorming with peers can remedy this.
November 30, 2015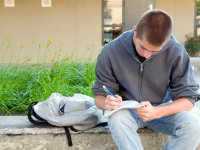 It's the day that my first-year college students are sharing the outlines/rough drafts of their final essays with their peers. As I walk around the classroom, a few students put their hands up for me to take a look at their work and give feedback. I look at 5-7 students' work and feel so proud that their outlines are detailed, meticulous, and clearly structured. I pause and think, "This is amazing. They're writing really well and even enjoying it!" I look at other students' work, the ones who are sadly gazing down at their outlines or laptop screens, and the ones still reviewing the stories to pick a topic to write about. These students are my struggling writers, and they need my help more than the others.
The most challenging part of being a writing teacher is more than teaching struggling writers how to write -- it's teaching them how to love writing. According to data from the National Center for Educational Statistics, four out of five students are not proficient writers. Those stats reflect my students' stats in the classroom -- 5-7 out of a class of 35 students were proficient writers and did not need any further assistance from me. But what about the rest of my students? How can we help students who struggle with writing?
Assign Authentic Topics
Many struggling writers experience a disconnect between what their writing assignment is focused on and what they perceive to be relevant in their lives. Students' passion is often ignited by completing work that relates to who they are and what they truly care about in and outside of school. Allow students to choose topics that are within their interests. It might help to provide topics that are broad, which they can focus and narrow down in relation to what they want to discuss.
Introduce Students to an Authentic Audience
Even when students are writing about a topic that is authentic and relevant to their interests, it's also important to note that struggling writers often have a hard time writing for their teachers as their sole audience. Many students feel discouraged and under pressure to meet the teacher's expectation. This type of pressure can shut them down and can be the source of their struggle with writing. To help your students overcome this, provide them with an authentic audience. Introduce blogging as part of their writing practice. In this way, students are still writing, but the audience is authentic and real. Have them write for their peers, classmates, and other classrooms. Have them collaborate with each other. This motivates students, engaging them in writing something that they can share with real people. (If you need help or have questions about blogging with your students, please don't hesitate to ask me, either in the comments below or by connecting with me on Twitter.)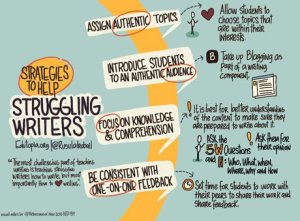 Image Credit: Rebeca Zuñiga (Click image to view larger version)
Focus on Knowledge and Comprehension
Some students struggle with writing because they lack comprehension of the material related to the assignment. Your best remedy for this is checking for students' understanding of the content to make sure that they're prepared to write about it. Here are a few ways to check understanding:
Ask the 5 W questions (plus one H).
Everyone is familiar with these questions: who, what, when, where, why, and how? It's OK to make this part of students' shared brainstorming process for their topic. It will help remind them of the important themes in the text, and will also allow you to see the areas in which they need further explanation.
Ask them for their opinion.
What did they find interesting about the topic? How do they relate to it? How do they not relate to it? Do they have a story to share about the topic?
Be Consistent With One-on-One Feedback
Once you've provided some sort of guidance, it's vital for writers to have consistent feedback on the work that they produce after your meeting. This ensures that they'll stay on track in terms of completion and motivation. Of course, consistent feedback is often hard to do with every student in the classroom, which is why peer-to-peer feedback becomes essential. Schedule time for students to share their work with their peers and to get feedback from each other. Here, a teacher's role is to facilitate peer-to-peer feedback by providing students with guiding questions to ask and elements to look for in each other's work. Consider the following questions:
Does the author have a strong main idea about what he or she will be discussing throughout the essay?
What is the thesis statement or main argument? Write it out in your own words.
How does the author support his or her thesis/main ideas?
What is the single most important thing that the author needs to work on before submitting the paper?
For struggling writers, it often takes a lot of effort from both the teacher and the student to start writing with ease and even to love writing. It is doable with a strong teacher-student relationship and a consistent understanding and communication between students and their peers.