Technology Integration
Storytelling With Wearable Technology
With wearable technology like Google Cardboard, Fitbit, GoPro, and the Apple Watch, students can gather data and inspiration to record their world or tell their stories.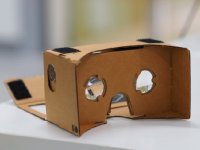 Wearable technology is incredibly exciting for educators and students of all ages. In the past few years, mobile devices have found an essential place in the classroom. If you've used smartphones and tablets as instructional tools, you know how powerful these devices can be in the hands of students. Will this also be true for wearable technology?
When we think of wearable technology, products like the Apple Watch and Google Glass might pop into your mind. Although there are teachers who have done exciting things with Google Glass -- and I'm sure many will find ways to bring the Apple Watch into the equation -- teachers are examining their options as they explore how wearables can transform their classroom.
So what does this have to do with storytelling?
One exciting feature of wearable technology is that it can change our view of the world and collect information about our interactions in different spaces. This means that students can explore virtual environments to prepare for informational writing or to find inspiration for personal narratives. Children can collect and analyze data from wearables and tell the story behind a set of numbers. At SXSWedu this year, I had the opportunity to share some of the ways that both scannable and wearable technology are transforming learning spaces with fellow Apple Distinguished Educator Courtney Pepe. Wearables can help your students grow as storytellers, and it's easy to get started.
Google Cardboard
Virtual reality might seem like it falls into the science fiction category. Products like Oculus Rift have taken centerstage in most recent discussions on this technology. The Google Cardboard is an inexpensive, educator-friendly option for bringing wearables into your classroom. Made from cardboard and assembled with a few folds and sticky tape, Google Cardboard uses a smartphone to give users a virtual reality experience. You can purchase a Google Cardboard kit for about $15 on Amazon and download compatible apps onto your smartphone. Place the smartphone into the Google Cardboard, and students can explore Yosemite or ride a roller coaster using a variety of virtual reality apps. With this wearable, students can write stories about their experience, find inspiration, or gather ideas for research writing projects.
Fitbit
The Fitbit is one of my favorite wearables, and just one device can bring storytelling to your classroom. This pedometer tracks the steps that a user takes, as well as his or her activity level. The data gathered is a rich source for storytelling. Instead of having students take a pet hamster home over the weekend, let them use the Fitbit to track their steps and tell a story about their soccer game or long walk with a special family member. Ask a local nurse, firefighter, or mail carrier to wear a Fitbit while you track their data. Use the graphs to create stories around the events in each person's day. It's a neat way to have students tell stories based on data -- an important math concept and great for English language arts.
GoPro
This wearable camera can help students capture their perspective. It would be perfect for a field trip or sporting event. Kids can write a story about a special day using GoPro footage to accompany their published piece, or create a tale based on a video clip filmed from someone else's perspective. Integrating this tool into your ELA instruction can help students understand point of view and get them thinking about sights and sounds when writing descriptive language.
Apple Watch
I've had my Apple Watch for less than a month, but I can tell you that my storytelling wheels are turning! This option is definitely more expensive than the Google Cardboard, Fitbit, or GoPro -- all of which are great choices for DonorsChoose projects. Whether students tell a story based on fitness data like the Fitbit or use the Apple Watch's heart-rate data to write about an exciting day, providing meaningful context for storytelling while engaging students with new technology can help them think outside of the box.
The world is changing. If we truly want our students to be college- and career-ready, we need to prepare them to work, learn, and grow in completely new ways. Instead of thinking about new technology as trendy or gimmicky, let's think about the ways that it can inspire and engage learners of all ages. Students can tell stories -- whether their own stories or stories about the world around them -- using wearable technology as a source of data and inspiration.
What wearable technology-enabled projects have you done (or would like to do) with your class?