STEM
STEM and Writing: A Super Combination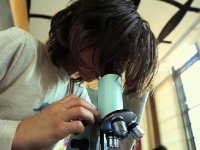 I brought a superhero into my classroom the other day. He wasn't wearing a cape. He didn't have an alias. But he had the greatest superpower of all: inspiration.
When you teach using project-based learning (PBL), one brings outside expertise into the classroom. My eighth graders begin the year creating science fiction based origin stories for original superhero characters as an introduction to a greater advocacy unit. Therefore, it seemed natural to bring in an actual scientist. Which brought me to CalTech and Dr. Spyridon Michalakis.
Besides having a name that, in itself, could have come straight out of the pages of a comic book, Spiros (as the kids could call him) himself has the perfect origin story. After all, he is a quantum physicist by day and a consultant on the new Marvel comic movie, Ant-man, by night. Perhaps I exaggerate, but the fact that he inspired my students, enriched their fact-based stories, and injected them with new enthusiasm for their characters, surely indicates a latent superpower.
We met for tea and spoke online before he came into my classroom, and our little chats soon moved beyond joyously geeking-out about the science of superheroes to more passionate discussions about the vital need for science and writing to co-exist.
We recently continued a more formal online conversation about the fact that STEM must be coupled with communication skills to bring out the greatest innovation and success from our students.
Science and Communication Skills
As a writing teacher, when I advocate for more writing and speaking in the STEM subjects, it can cue an eye roll or two. After all, why wouldn't I think that? But here, from the mouth of a mathematical physicist, comes a similar message supporting the need for a more blended pathway through our content areas.
Edutopia: How do you, as a professional scientist, use writing everyday? Any particular genres you use over others?
Spiros: As a quantum physicist, maintaining the public's interest while discussing quantum mechanics requires the use of every genre of writing I can think of. On our blog, I can be funny one week and share a painful journey towards a solution the next. I may even wax philosophical about the nature of space and time [illustrating] subtleties at the intersection of mathematics, physics and computer science. Writing affords me an exquisite freedom in both style and subject matter.
Looking down the rabbit hole, what happens if we only focus on STEM-related subjects? What happens to our students if we haven't focused on communication as a key skill?
Spiros: How can you tell an introvert from an extrovert at a scientific conference? The introvert looks at their shoes for the duration of their talk. The extrovert looks at yours... It is the job of my scientific tribe to prove theorems about physical reality...theorems and proofs generate allergic reactions even to the most seasoned theoretical physicists. Which is why I decided to stop looking at other people's shoes during my presentations and start sharing my enthusiasm for my work with anyone who would listen.
The world is an amazing place, full of powerful ideas waiting to be discovered, analyzed, synthesized, made into movies, video games, gadgets, or life-saving, world-changing technology. The people that are changing the world and having fun while doing it are the ones that recognize what an incredible asset the creative arts are to humanizing and disseminating science...If one day we figure out how to time-travel, the question will still remain: Who would you like to visit and why? STEM cannot answer that question.
How would you encourage a student who claims they aren't interested in science to rethink their opinion?
Spiros: People think that scientists are professionals who wear lab coats and work with beakers. If that is true, then I am not a scientist. Scientists must then be nerdy thinkers with wild hair, like Einstein. That is not true either. Still, we stereotype in order to make sense of the world...The public cannot relate to the Nietzschean super-scientist whose only goal in life is to roam the dessert of the unknown in search of Truth. Science is not the pursuit of Truth. It is the pursuit of the unknown, an incredible adventure that challenges you to your core, like when Frodo had to take the Ring to Mordor.
So many of us feel like we are not cut out to be scientists, because we don't like math, or we are not good at solving problems. We are all born with curiosity and tenacity, which are the only requirements for falling in love with mathematical reasoning and problem solving. Some of us love crossword puzzles; others like to solve Sudoku. We are all born scientists. There is no other way to put it. Go out there and explore and have fun figuring things out!
What are three qualities that you think all students should learn if they wanted to play a role in the scientific community later on?
Spiros: Spiros: Three qualities you need if you wish to be part of the scientific world are Empathy, Curiosity and Integrity. Empathy allows you to see the scientist as a human being. Curiosity invites you to see their science as an exciting adventure upon which you wish to embark. Integrity helps you experience that journey fully, with eyes that see clearly the value of things and a heart that has the patience to savor deeply what the journey has to offer.
Opening Classroom Doors to Visitors
As a result of his visit to my classroom, a door has been opened for my students. They have met, perhaps not a Superman, but a super man who wishes for them all a more empathetic study of science combined with the power of eloquent communication.
As a secondary teacher, I work to integrate other content areas into my classroom. As a result, not only do my students learn, but I get to learn as well.
How do you desegregate the subject areas in your own classroom? Please share in the comments section below.
For a longer discussion on STEM and writing, see the full version of this interview that can be found on Heather's tweenteacher blog.