Student Engagement
Starting the School Year With a Party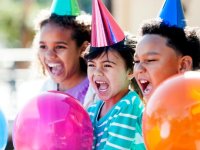 My daughter Sadie-Belle just had her birthday, and as tradition demands in our family, we must decorate her door with crepe paper, balloons, and candy before she wakes up that day. The difficulty this year was that we were visiting her sister in Missouri, and the birthday girl was sleeping on an air mattress in the front room.
One of my other creative daughters found a way around this. She found a foam presentation board, drew a door on it, and wrote, "Happy Birthday Sadie!" We put all the candy on this and laid it beside her air mattress. We then decorated the archway into the kitchen with strands of crepe paper and balloons to satisfy the tradition.
The power of this tradition is that every time anyone, especially the birthday child, goes through the decorated door into the room, they have to remember that this is a special day.
Putting a Fun Spin on Pre-Testing
Imagine something similar at school. Start the school year with a party -- a celebration of learning, as teacher and education writer Harry Wong suggests. As every elementary teacher can tell you, enticing student participation often depends on what kind of spin you put on the learning activity.
Envision students that are enthusiastically engaged in discovering how much they know as they take a diagnostic of some sort -- on paper or via computers or tablets. Rather than a "testing day," students realize that it's a special occasion because the room is decorated with crepe paper and balloons, and they are given party hats. Some unimaginative folk might call this assessment a simple pre-test, but in fact it's a great opportunity to bolster and build a child's academic future.
Why Diagnostic Testing Matters
Blended learning tools can make this an easy and enjoyable experience for the student and the teacher, rather than a nonessential chore that is often skipped in the course of learning. If the students have tablets, the teacher can possibly send each student a knowledge and skills test that will preview what the students will be learning this semester. Most textbook companies include diagnostic testing with their textbooks and curriculum resources. Teachers can also utilize the commercial diagnostic tools to which many school districts already subscribe.
Having a pre-test party is only part of the celebration. The most important element of the fiesta is providing individual feedback by taking the time to show each student what he or she has already learned and mastered, and then giving the student a preview of the learning during the coming semester or course.
It's so incredibly important to establish a baseline for each student at the beginning of the year. How can we expect to be successful in inspiring learning if we don't know what our students already know and where the gaps in their learning might be? How do we know if they have learned anything from all our effort in creating engaging learning environments and activities unless we determine what they know to begin with?
A teacher must find the answers to these questions, and this has to happen the first days of school. And as Harry Wong convincingly suggests, it should be a celebration.
Pep Talk Follow Up
It seems obvious, but when a teacher takes the time to give a pep talk, explains why the students should try their best, and shows confidence in their ability to overcome difficulty, students are more apt to be resilient and persistent when learning gets more difficult. The conversation that follows the pre-test is a perfect time to give those one-on-one pep talks. As education expert Carol Dweck reminds us, learning is hard work, and even gifted students need encouragement.
Not only can we prep students for success with pep talks, but with the information gathered from each student, we can design custom learning plans to help them accelerate their own learning -- and fill in gaps where incomplete learning has occurred.
In what ways do you assess, encourage, and prepare students at the start of the year for their upcoming learning?