Teaching Strategies
On-the-Spot Scaffolding for Students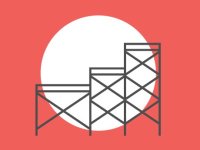 Scrambling in the moment to figure out what students need when they just don't get it is one of the exciting challenges of teaching. Being able to respond to learners' needs on the spot is hands down one of the greatest tricks of this trade.
And when lesson planning, we can't always guess how many steps we will need to break a lesson into and how much support will be needed for each chunk. I know I've made assumptions about what students will "get" and then in the middle of the lesson, I've had to stop, think on my feet, and add something to help move the learning forward.
Just to be clear: Scaffolding a lesson and differentiating instruction are two different things. Scaffolding is breaking up the learning into chunks and then providing a tool, or structure, with each chunk. When scaffolding reading, for example, you might preview the text and discuss key vocabulary, or chunk the text and read and stop and discuss as you go. With differentiation, you may give a child an entirely different piece of text to read, you might shorten the text or alter it, and you may modify the writing assignment that follows.
Simply put, scaffolding is what you do first with kids, then for those students who are still struggling, you may need to differentiate by modifying an assignment and/or making accommodations for a student (for example, choose more accessible text and/or assign an alternative project).
3 Scaffolding Strategies
On-the-spot scaffolding and differentiating are essential skills for teachers. And the longer you teach, the better you become at both.
So when do we do it? Well, if we get The Look from students (a distant stare, a furrowed brow) this means it's time to stop, check for understanding by asking questions or in some other way, and then review. If that doesn't work, we need to add a step -- bolster what has already been shared by adding something more.
Here's some ideas to consider when the learners in the midst of a lesson need a little extra something:
Idea #1: Sentence starters. These writing training wheels work wonders for any struggling writer, whether elementary or secondary school students (heck, I use them with university students). So if a student is sitting there and says with words (or simply with a look) "I don't know what to write," take your pencil and write a few words out with a line that follows. Here's examples: "One thing I don't understand about the civil war is____," "People disagree about this issue because____," "Something important to know about photosynthesis is____." If many students are struggling to get started with a writing task, create a few sentence starters on the white board for all to see.
Idea #2: Use an image or short film clip. In the middle of a lesson, when the thinking is stuck in the room, I've jumped online to find a short film clip or a photo. One example is a time we read about and discussed McCarthyism and my eleventh grade students needed more to really get it. I quickly went online and found and projected a few anti-communism propaganda advertisements. These over-the-top messages really made the hysteria surrounding this era come to life for them. After that, our discussion deepened and so did their questions about McCarthyism and The Cold War.
Using visuals for on-the-spot scaffolding (for an individual student or for the group) is unquestionably a best practice. Research shows that the population is made up of 65 percent visual learners. And only 10 percent of students are auditory learners yet 80 percent of instruction is delivered orally (University or Illinois, 2009).
Idea #3: Give them time to talk with a guiding question. Never underestimate giving students time to talk. As learners, we need to make sense of what is coming at us -- new information, new ideas, and concepts. If you see The Look from many, stop the lesson and invite students to engage in low stakes discussion with each other and focus it on a guiding question. The question can be framed, for example, so as to clarify the information they've already received or to compare or to connect the new information to what they already know. For example, "If someone were to walk into this room right now, how would you explain McCarthyism?" Or, "What does McCarthyism remind you of? In what ways is it different (or the same) in government/politics today?"
How do you on-the-spot scaffold? What tools and tips do you have worked well with students? Please share in the comments section below.