Media Literacy
Social Media Can Be Your Ally
Remind, Twitter, and Instagram are just a few of the kid-friendly tools that teachers can use to enhance student learning within and beyond the classroom.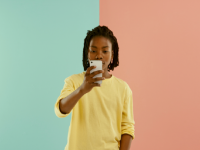 There are still many questions about the role of social media in the classroom. Some teachers and administrators are concerned about how (or if) educators should be interacting with students outside of the traditional classroom. I was hesitant when it came to social media and my students, but I learned how certain tools could help expand the learning outside of my classroom. For me, social media is about alternative ways to communicate. There are so many great tools that allow us to connect. Here are some that I've used as a teacher for connecting with my students when the school day is done.
Remind
Remind is a great tool that allows teachers to connect to students through their mobile device. Teachers create a group on Remind that students join with their phone number. The teacher can send text messages to groups of students without anyone having access to anyone else's numbers. It's one-way communication, not a potentially annoying group text message.
I use Remind to connect with my students after school, sending them messages about work that's due the next day or something to lift their spirits. Sometimes a silly message is the perfect thing after a long day of testing. Remind allows users to attach pictures and PDFs, so I can send documents via text in case students lost the paper copy that went home with them. Remind gives me the opportunity to keep them informed of what's going on at school. These messages are short and to the point, and the kids have said that they love getting those reminders.
Twitter
Twitter has been another great tool for sharing and connecting. When it comes to my classroom, I use Twitter to announce the day's homework and share random thoughts and ideas with students. It's also an easy way for students to ask me questions. It's important to become familiar with your district's policies about "following" students on Twitter or interacting with them through any social media site. My district doesn't allow it, so the only Twitter communication is through public mentions. If there is no district policy regarding this, you could lead the initiative to write it.
Over the years, Twitter has become a medium for students to expand their learning in the classroom. They've used Twitter to share something they saw outside of school that related to our class conversation. A student visiting Baltimore once tweeted a picture of Edgar Allan Poe's grave because we'd just completed a unit on his stories. I've also had students reach out on Twitter to set up a time to meet before or after school to discuss their classwork. As a communication tool, many students prefer it to email because of how quickly they can get a response. Twitter allows students to contact teachers and share more of their learning that happens outside of the classroom. I've also had students live tweet class discussions and our mock trial. These interactions allow students to feel more connected to the learning, and that's what teachers really want to see from their students.
Instagram
Instagram is a fun site for taking and sharing photos, and the kids love it. Some students are much more active on Instagram than they are on Twitter. I'm a pretty avid Instagram user, and students love to check out my photos. Instagram has different filters for altering the photos that you post. It's a simple and quick tool that any teacher can use in the classroom.
One great way to extend learning beyond the classroom with Instagram is to assign a learning scavenger hunt and have students post pictures of their finds with a specific hashtag. The scavenger hunt can revolve around a specific unit or theme, and students can post photos over the course of the unit or marking period. The final piece is a discussion to see how the photos connected. This is a very cool plan that lets students use a tool they're already familiar with and connect it to their learning. This isn't a graded assignment, just something fun to add another level to the classroom. The more opportunities we give students to think about the content we're teaching, the better their understanding of the material.
Blogging
Blogging is a huge part of social media. It's not just about the writing -- it's about the commenting. If students aren't connecting with others who are writing and sharing their thoughts, it's just an online journal. There's a place for journaling, but blogging offers the chance to make connections with people from all over the world. Using Twitter with blogs has been key in connecting students to conversations outside of the classroom that enhance the learning in the classroom.
One great hashtag that every teacher should explore is #Comments4Kids. This Twitter hashtag is designed to connect people to students who are blogging, and it really works. Every time I use this hashtag with my student blogs, students and other educators have left comments. When students see the notification that they have a comment, it blows their mind. They get to read the comment, respond to it, and think more deeply about what it is they're communicating. Reading and writing for their blog is no longer limited to just the classroom. They can now use their time at home to continue thinking and interacting about the day's topics that interest them. Blogging allows for powerful connections that can enhance student learning outside of the classroom.
Another way to use these tools is reaching out to students if there's a sudden cancellation in school or change in events. Michigan is one of those states where we've had to cancel school due to severe weather. Social media has connected us with our students during these times. Teachers can change assignment due dates, reschedule tests, and let kids know what will be expected of them when they return. Keeping students connected is good for everyone.
Social media allows teachers to pass along information in ways that weren't possible before. It knocks down the classroom walls and lets learning happen anywhere and at any time. It's important for teachers to start considering how they can use social media for connecting their students to support learning in a connected world.
The tools I've discussed here are only a few of many out there. Do you have a cool way to use one of these or any other social media tools? If you do, leave them in the comments sections below.