Technology Integration
Smartphones: From Toy to Tool
Since students already have smartphones in hand, why not build classroom activities around them? Be sure all stakeholders are on board, and set some ground rules.
In classrooms, smartphones are slowly shifting out of the toy-and-liability-to-attention category, and into the tool-and-engaging-students category. It's part of the movement to "meet students where they are" that's being embraced by teachers who believe in a non-standardized approach to education. Jeremy Mettler, social studies teacher at Batavia (New York) High School, puts it this way: "Students all have them and they love using them, but they don't realize they're walking around with a computer in their pocket."
Yet computers, helpful as they are, can be a distraction. So how do you incorporate smartphones into the teaching process without compromising the learning process?
I talked to a number of teachers around the country to see how they're addressing this challenge.
A Powerful Participation Tool
Mettler finds smartphones helpful to encourage participation in class. He observes, "Kids are shy or ashamed to ask questions because no one wants to look like an idiot. So they text me their questions. Eventually they become comfortable with not knowing something and they stick their hands up to ask a question." One place he's found smartphones to be invaluable are his outdoor classes. "I really like to take my class outside when I can. It breaks things up, and it can really bring things to life for my students."
Example
In a recent unit on cultural diffusion and physical geography, students spent the morning visiting the mountains (aluminum bleachers in the football field) and the desert (baseball diamonds). Everyone used their smartphone for note taking, either typing or using a voice recording app to dictate. Mettler's motivation for incorporating their phones is simple: "I want my kids to enjoy my classes. If they're stressed, they're not learning. This way, they get to use their phone, which they love. And I have a roomful of eager, engaged kids. Plus I don't have to deal with loose or blowing paper or forgotten pens."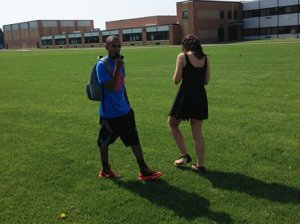 Photo credit: Jeremy Mettler
Batavia High School students use smartphones for note taking during an outdoor class segment.
Mettler also encourages his kids to use their phone for taking pictures of class assignments or lecture images. He notes, "I want them to have different options to access information. This is just another tool in their tool belt."
Enhanced Literary Units
Meredith Tabscott teaches high school English at Granite City (Illinois) High School. She uses smartphones with literary units. "I choose a particular piece of literature, The Grapes of Wrath or Lord of the Flies, for instance, and create a Google+ community for my class. The students use smartphones to access and participate in that community."
Example
During their unit on The Grapes of Wrath, the students need to understand the difference between Hoovervilles and Government Camps. Tabscott asks her class to read excerpts from the novel demonstrating differences, using their smartphones for research. Then they post pictures of Hoovervilles and Government Camps in Google+ for discussion.
Cooperative Learning Through Apps
Jessyca Matthews, another high school English teacher, employs apps in her classroom, incorporating phones into weekly lessons. "My students work in groups. It's easier to manage from a logistics perspective, and students who don't own smartphones aren't singled out," she explains.
Example
In a recent study of the novel The Great Gatsby, groups of students became movie producers for a week, using apps such as iMovie and Videolicious. They created a movie, movie trailer, or some other visual representation of the novel, demonstrating their understanding of the narrative and key themes. The project concluded with the "JMatty Awards," modeled after the Academy Awards -- students voted for Best Actor/Actress, Supporting Actor/Actress, Musical Score, and Picture. One project that combined technology, creativity, collaboration, and critical thinking to deliver it ended up spanning far beyond the in-class lesson.
Keeping the Focus
Keeping students focused on the task at hand can be challenging. When she notices students doing something else on their phone, Tabscott often says, "I see you typing, and I look forward to seeing what you have to say about. . ." And she will, because she sees who posts in Google+ and responds to surveys in her forums.
Mettler also builds breaks into his class because, as he says, "If they know a break is coming up, they're less likely to use the phone for personal stuff during class time. Plus the breaks are good for the brain." Matthews spends a lot of time walking around during smartphone units, because, as she notes, "Once you give ownership and responsibility to someone, they tend to want to please you in doing the job correctly. If a person isn't using the smart phone for the right reason, the other team members will usually say something."
Tips for Getting Started
Tabscott, Mettler, and Matthews suggest that you follow these steps to begin incorporating smartphones into classroom activities.
1. Get Comfortable With Your Smartphone
We all know that smartphones can be used for more than making calls and texting. Spend some time learning how, from basic browser usage to downloading apps, from note-taking functionality to editing photos and videos. Your comfort level will set the tone for your students.
2. Start With a Conversation
Meet with school administrators and parents to discuss your plans and address concerns. Solicit input from students -- how would they use smartphones in class?
3. Rules of Engagement
Develop, with the help of your students, an agreement or contract governing the rules for smartphone usage in class. Clearly outline consequences if the agreement is broken.
4. Set Expectations
Accept that there are going to be times when students are off task, just like when they talk in class.
5. Periodic Check-Ins
This is uncharted territory for everyone. Monitor the progress of your students and revise the agreement as necessary.
Technology is changing. Our knowledge of how the brain learns is growing, and information is freely accessible. Let's meet our students where they are, and together, let's use all of the tools we have to understand the information and employ it to meet our collective needs.
How do you use smartphones in your classroom? Please share in the comments below.