Technology Integration
One Small Change: A Sixth Grade Teacher Tries Technology to Inspire Science Learning
INTERVIEW WITH LAUREN MOYER
For this week's STEM theme, I wanted to share an email interview I conducted with one of my 6th grade teachers who used some tech to enhance her Science instruction. Our school has little access to technology and this teacher did not have extensive PD or training before the lesson described, but simply expressed a desire to 'give it a shot.' Hopefully her story shows how even a small change in instructional approach through the use of technology can have a large impact for both the students and the teacher.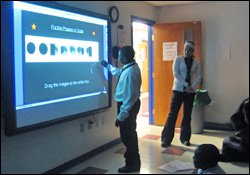 Student learns the phases of the moon
What grade do you teach?
6th Grade
Describe a lesson in which you used technology.
I used technology in a lesson that involved teaching the phases of the moon. The students had an interactive lesson in our computer lab. The students got to come up to the interactive board and move the moons into the correct phase order.
How much technology do you have in your classroom for your students to use?
We have one computer in the classroom.
Why did you want to bring technology into your classroom?
I wanted to bring in more tech because I see the students excited about learning the few times that they got to experience it. I also think that there would be more interest from the students if they got to see things through tech, use more tech, and have interactive lessons.
Do you think the technology made a difference in how successful your lesson was? Why or why not?Yes, it was successful because I was teaching the rotation of the planets and phases of the moon using different color tin cans in my classroom or just showing unrealistic pictures out of a book or worksheet. Technology allowed my students to paint a picture in their head and actually find a way to relate the words they were hearing to something.
Did you have any apprehension about using technology?
Not really. I am willing to learn and get ideas about anything that involved technology.
Would you use it again? If so, what kind of lesson do you think you would plan?
I would love to use it again! Lesson on Egypt for Social Studies would be cool.
Any other thoughts about using technology with students?
The more the better. It is how our world functions now. White boards and markers are ok sometimes but all day has got to be terrible.