Game-Based Learning
Historia: Game-Based Learning for Middle School History
Students can learn social studies through a paper-based simulation game that incorporates a world cultures curriculum aligned to state standards.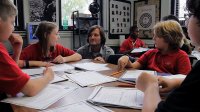 [Editor's note: Historia, the game described below, is no longer available.]
History is the greatest story ever told. However, what makes history so compelling a story too often gets lost in translation in the classroom. As a result, students start tuning out social studies -- sometimes as early as middle school -- despite their teachers' best efforts.
As public school teachers turned game designers and entrepreneurs, my partner Jason Darnell and I know of what we speak. Like so many others in the teaching profession, we struggled to find ways to bring history and social studies to life for our middle school students.
That is, until we folded learning games into the mix.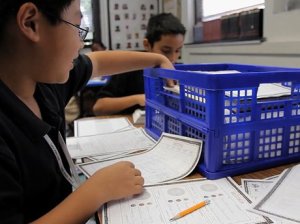 Photo credit: Institute of Play
Whenever we used learning games, the classroom atmosphere was electrified, and our students were seemingly hooked on history. Game-based learning excited them -- and it showed. So we asked ourselves a very simple question as a teacher/game-design team: "Why can't our classes be fun and compelling like a learning game every single school day all year long?" And we set out to make a curriculum-aligned social studies learning game that would take our middle school students through the coursework for the entire school year.
We thought it might take a single summer to build a game like the one we imagined. Instead, it has taken us nearly eight years to perfect our classroom-ready game, Historia.
Curriculum-Aligned Gameplay
Historia is a curriculum-aligned social studies simulation and strategy game that teaches middle school world history and cultures, economics, geography and government through interactive gameplay. The game covers over 4000 years of history -- from before 2000 BCE to 2000 CE -- so it connects the ancient past to the present day.
In the beginning, student teams form governments that guide their citizens through the triumphs and tragedies of history. The Historia timeline is divided into 21 Epochs, or rounds of interactive gameplay, which include a tutorial Epoch that teaches students how to play the game.
Anything that happens in history can happen to the people they protect as a government, so they must be prepared for everything that comes their way, Epoch after Epoch. If they make good, wise decisions as a team, their people will prosper and their civilization will grow bigger and stronger. If they don't, their people will suffer and their civilization will grow smaller and weaker.
Each government's wisdom is dependent on knowing as much as possible about the people, places and problems encountered in Historia, so students conduct rigorous, content-based research and use the lessons they learn along the way to solve problems, shape strategies and create their very own people's history. For this reason, we like to say that Historia teaches the human experience through the human experience. And yes -- it is as much fun as it sounds!
Building Skillsets via an Interactive Graphic Novel
After conducting research and settling on a strategy as a team, each government crafts a balanced budget and spends the money their economy produces on advancements and improvements that prepare their people for their times. In other words, students learn the lessons of history and then apply them in the gameplay.
From there, Historia unfolds like an interactive graphic novel in which students shape their people's history by making timely decisions and solving historically accurate problems called Dilemmas -- again, all as a team. For example:
Will their civilizations make peace with Alexander the Great -- or not?
Should their people pay the price to produce an architectural wonder of the world?
Or should they spend big on science and win the space race instead?
Anything is possible within the game, so students learn history by leading history.
How Does the Game Work in the Classroom?
Historia was designed by classroom teachers for classroom teachers. It will be playable on PC, Mac and interactive white boards.
Eventually, Historia will be loaded with digital curriculum content and formative and summative assessments embedded in the gameplay experience, possibly replacing textbooks in many history classrooms. The game can also give new life to traditional textbooks if teachers want to pair it with a favorite that they're already using. The game will be elastic enough to be used daily for an entire school year, or episodically, starting and stopping at strategic spots. Additionally, teachers can tailor the timeline to fit the scope of their state curriculum, so if your class ends with the Fall of Rome, Historia can end there, too.