Service Learning
How to Change the World: Service PBL in the Common Core Literacy Classroom
The language arts are the building blocks when applying Common Core literacy standards to tangible, effects-driven actions in the real world.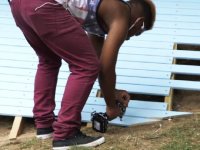 The Common Core literacy standards ask educators to do something exciting. At the same time, Common Core asks us to coach students to write something real. As adults, we know that writing is more exciting, meaningful, scary, and engaging when we write to achieve our own goals. Real writing mashes genres together to captivate readers and ensnare specific audiences. Common Core necessitates educators to create reading and writing tasks that require mixed, complex reading for student-generated, real-world writing tasks.
This is an invitation to something lovely. This is an invitation to change the world.
Language Arts as Real-World Building Blocks
Many schools are investigating project-based learning to provide holistic and relevant learning challenges. Service learning empowers and inspires students to take their place in their communities, making both stronger. When we create opportunities for service-learning PBL in our writing classroom, we invoke the magic of using language arts skills for students to create real, lasting, tangible change in their communities.
A key to creating a service-learning English project is setting students up for success. My school explicitly teaches the skills for a good project:
Professional email etiquette
Dense reading of complex text
Professional greetings
Elevator speech
Credible research
Proposal writing
Professional meetings and discourse
Public presentations
Reflection
Critique.
We use the Expository Reading and Writing Curriculum from the California State University, but there are other ways to get there. Every year, I'm surprised by how much practice they need to achieve a great handshake. Thankfully, we practice every day.
Fortuna High's culminating Change the World Project allows every senior to develop his or her personal strengths and passions through unique service projects, connecting with and benefiting their local community and world as a whole, one project at a time. Culminating PBL encourages seniors to take what they know about the world and their passions, and connect it to their strengths, skills, and futures to challenge themselves to grow. The parameters of the project have been simple:
They must connect their passions and strengths to the world.
They must challenge themselves.
They must in some way make the world better.
That's a lot of leash. We received ideas as disparate as pro-nutrition posters for elementary school cafeterias featuring high school athletes in uniform, working with the Bureau of Land Management to remove non-native species from our local beaches, hosting middle school fun nights, installing new school benches, historic preservation, and after-school tutoring.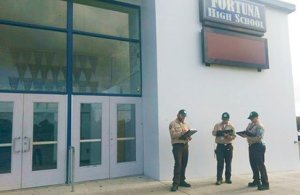 Photo credit: Amy Conley
2014-2015 seniors just planted crops to overwinter in the school garden created by a 2013-2014 Change the World Project.
Dream Bigger
The language arts skills transfer to real changes in the real world. At the end of their first semester, students write their Congressional representatives and often receive responses.
The course and the project foster intrinsic motivation -- the writing process, the interpersonal skills, and also the deadlines. It's not uncommon to see students in the library after school, finishing work or researching projects so that their lesson plan is complete or their fliers catch the eye. Although they might begin hesitantly, or even question their ability to change the world for the better, the chance to dream big and exercise control over their reality empowers them. Seniors routinely expand their projects, deciding that real projects are worth commitment.
As the PBL research suggests, if anyone knew the skills and creativity needed to complete big projects, we'd never try. Adult coaches know that there will be roadblocks, that students will need to problem solve and innovate, like the letter writing campaign to get a city battery recycling program that became a bake sale to fund a campus battery recycling program. Invention and innovation are encouraged. Like much PBL, most of the actual learning comes when students invariably have to improvise and problem solve. As proto-adults, it's powerful for them when we trust them to figure it out, trust them to come up with ideas that make them passionate, recognize that they can think through the steps, and have faith that, despite the obstacles, they will persevere. Mentors coach seniors while encouraging them to make as many of their own decisions as possible.
Assessment and Accomplishment
With the Common Core's emphasis on authentic writing and thinking tasks for real audiences and purposes, as well as its emphasis on college and career readiness, the Change the World project and curriculum enables seniors to plan, write, work with others, interview community members, and accomplish real tasks. Critical thinking, interviewing, and formal letter writing are all explicitly taught in the first semester, giving them the skills necessary to rock the proposal and project. Multiple measures are used to assess students on all parts of their project:
Authoritative research
Project proposal letter
Project execution
Communication with mentors
Final presentation to community.
School gardens, afterschool chess clubs for second to fifth graders, mentoring at a Native American community center, petitions for a community aquatic center, science fiction for soldiers, childrens' books for the local hospital . . . 170 seniors worked together to complete 84 projects. What could your students do if you gave them the power to write the future they want?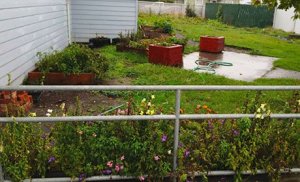 Photo credit: Amy Conley
A 2013-2014 Change the World project wrote a grant to get a California Conservation Corps energy audit for area schools, in order to work for our Advanced Placement Environmental Science's goal of making our high school a zero net energy school.