School Climate
Restorative Justice: Resources for Schools
Explore resources and case studies that demonstrate how to bring restorative justice to your school or classroom.
October 4, 2013
Updated October 29, 2015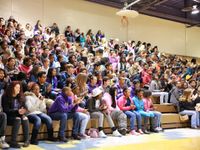 Photo credit: The Chapman Cultural Center via flickr (CC BY-ND 2.0)
Restorative justice empowers students to resolve conflicts on their own and in small groups, and it's a growing practice at schools around the country. Essentially, the idea is to bring students together in peer-mediated small groups to talk, ask questions, and air their grievances. (This four-part tutorial from the Centre for Justice and Reconciliation is a wonderful primer.)
For the growing number of districts using restorative justice, the programs have helped strengthen campus communities, prevent bullying, and reduce student conflicts. And the benefits are clear: early-adopting districts have seen drastic reductions in suspension and expulsion rates, and students say they are happier and feel safer.
In practice, these programs vary by district, but inclusion, bringing affected parties together, making amends, and reintegrating students into the classroom community are traditionally common pillars. Whether you're new to restorative justice or well-versed in the subject, looking at the evidence and examples of successful programs can be fascinating. We've compiled a range of resources to help you learn more, see programs in action, and develop an implementation plan.
Restorative Justice: Guides for Successful Implementation
Rolling out a restorative-justice program, whether in the classroom or across a school or district, requires comprehensive planning. Fortunately, there are a range of valuable resources that will help educators learn more about the subject and develop a plan that fits into their objectives. Here are a few guides from restorative-justice practitioners and advocates that offer insight:
Examples of Successful Restorative-Justice Programs
Oakland Unified School District
Oakland Unified School District first implemented its restorative justice program at one school in 2007. Since then, it has expanded, and the district has seen promising reductions in suspensions, in addition to increased attendance.
The program is broken down into three tiers. In the first, entire classrooms come together in community-building circles to talk about problems and voice their concerns, which encourages peer-to-peer respect. For specific conflicts, though, smaller groups are used, which bring together the harmed student, the person causing the harm, and a group of their peers or adults. A third tier is reserved for student reintegration following suspension.
Ypislanti High School
The restorative-justice program at Ypislanti High School engages students in peer mediation in a "conflict resolution center." These interventions are designed to help resolve conflicts before they turn into bigger issues. For conflicts that have already happened, say a fight, all students involved as well as their peers participate in a "restorative circle," which allows the student who has caused the harm to hear the views of peers.
Glenview Elementary School
In 2013, Edutopia visited Glenview Elementary School in Oakland, California, to learn about their use of dialogue circles. In dialogue circles, students sit facing each other to facilitate open dialogue. Glenview uses these gatherings to check-in, to settle disputes, and for academic interventions. Check out a document the school shares with parents to introduce them to restorative justice.
video
Restorative Justice: Tips and Resources
Research on Restorative Justice