Student Engagement
5 Ways to "Remove the Walls" From Your Classroom
By rearranging students across the usual groupings and grade levels, you can redirect bored expectations and harmful behaviors into a refreshed, energized will to learn.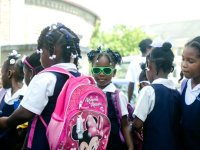 After the first day of school this year, I couldn't believe my luck! My seventh grade math and science students participated eagerly, worked well in groups, and followed our agreed-upon classroom procedures. With the deck stacked in my favor, I was sure that this was going to be my best year of teaching thus far. However, after three to four weeks, the on-task behaviors waned across the grade as students seemed to focus more on personal squabbles than their classwork. Simply put, the students were getting tired of one another. Even when I changed up the seating chart, planned purposeful groups, and taught interactive differentiated lessons, the students' bickering continued to get in the way of their learning. The honeymoon period was officially over!
5 Best Practices
I quickly realized that we needed to approach our classes in a drastically different manner to ensure that this school year would be successful. During collaborative planning, my colleagues and I decided to swap some students for an upcoming lesson to see if altering their routine and separating some conflicting personalities would have a positive behavioral impact. We were astounded by the results. The students' participation skyrocketed, they interacted appropriately within their new peer groups, and best of all, they mastered the lesson. I asked myself, "Have we just discovered the key to resetting the glorious honeymoon period?"
Over the school year, our students made strong gains as we continued dabbling with purposefully regrouping them across our classes. I've compiled a list of five successful strategies so that you, too, can remove the walls from your classroom and work smarter, not harder, to see more effective results.
1. Empower students with challenging behaviors as leaders.
I've found that my most disruptive students have a lot of raw leadership potential. Other students follow them, even when they bring a lot of negative attention onto themselves.
As a special education co-teacher, I frequently pull heterogeneous student groups for lessons. During planning, my general education co-teacher and I decided to utilize my pull-out group as an opportunity to separate some students whose challenging behaviors feed off of one another. Prior to the lesson, I assigned roles to the student leaders, such as group facilitator, timekeeper, and outcome checker. By pairing these student leaders with others who struggle academically, we observed that both groups stayed on task and improved their test scores. With permission from the other seventh grade math teachers, I started rotating students from other classes into my small group.
2. Regroup students based on standard deficits.
If a group of students has already mastered a specific standard, they are more likely to become bored and disruptive, especially if forced to sit through the same lesson with everyone else. My grade-level content team successfully pooled the students from the three seventh grade science classes into homogeneous groups based on standard deficits. In only one class period, the students mastered multiple standards that would have otherwise taken three days. In order to determine groups, we formatively assessed the students' mastery of the standards through pre-assessments, warm-up (or activator) questions, and exit tickets (final questions at the end of class), which typically involve one or more multiple-choice or open-response questions aligned with the lesson outcome or standard.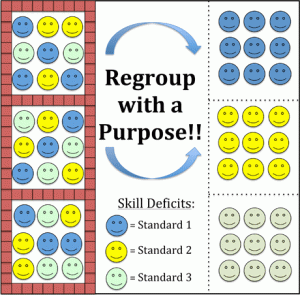 Image Credit: Alex Byland
You may be wondering how your advanced students who have already mastered the standards fit into the mix. If so, then the next two tips will help.
3. Challenge advanced students with extension projects.
I have found myself mostly differentiating down to meet the needs of struggling learners, to the detriment of my more advanced students. By pooling select students across different classes to complete real-world projects, I have been able to more effectively challenge these advanced leaders. For one full week last January, I taught a small group that included students across the grade level who scored highly on an algebraic equations and inequalities pre-assessment. By participating in a pseudo-business competition, the students collaborated in rival business firms to analyze and develop creative and cost-effective strategies for a social media marketing plan by directly applying their algebraic knowledge. As these students discussed their excitement about the project with their friends, many formerly apathetic students began working extra hard to qualify for the next unit's advanced project.
4. Pair struggling learners with students who have mastered the content.
In my experience, students learn most successfully when they take an active role in leading the lesson. Therefore, my co-teachers and I frequently empower advanced student leaders to teach a lesson or skill to classmates who have not yet mastered the material. This approach, which we refer to as the navigator-tourist model, works well for test prep and review lessons. While the tourists work on mastering the standards, their navigator partners, who already know the content, develop their communication and leadership skills. After partnering up the students, I review their individual roles and responsibilities. The navigators must ensure that their tourist understands the directions, clarify any confusion, and encourage their partner not to fall behind as a means of guarding against possible apathy or learned helplessness. The tourists' job is to ask clarification questions and to collaborate with their navigator partner to answer the problems. To review for our last math test, I pooled navigators and tourists from other classrooms to compete in "Are You Smarter Than a Seventh Grader?" Not only did the students have fun, they also performed well on the test.
5. Form cross-grade-level alliances so that older students can tutor those in lower grades.
Most of the curriculum standards are spiraled so that each year the students review previously mastered material before delving deeper into the content. This provides a unique opportunity for teachers to form mutually beneficial partnerships. For example, last year the advanced eighth grade STEM math class spent two class periods teaching my seventh grade math students how to use a protractor and compass to measure and construct unique triangles. While my students benefitted from the individualized help and age-appropriate examples from their peer tutors, the collaboration also further enhanced the eighth grade students' content mastery level, critical thinking, and communication skills.
It Starts With a Plan
Give it a try. You'll be surprised at how simple it actually is to "teach without walls." During collaborative planning, agree upon a common formative assessment. Then, at the next meeting, determine purposeful student groups for an upcoming lesson based on the results. This approach will likely save you time in the end, as it promotes student engagement with lessons aligned more specifically to their individual needs. Additionally, purposeful regrouping across classroom borders protects the students (and teachers) from getting tired of the same old routine and peer dynamics.
I challenge you to remove the walls from your classroom. Not only will your students enjoy it and be more engaged, but you will have fun, too!