Arts Integration
Stretching Your Curriculum Canvas: Reading the World Through Art
An effective art museum visit begins with teaching students art history, getting them to consider multiple perspectives, and applying the idea of close reading to visual literacy.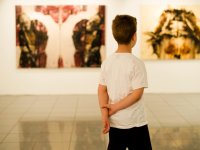 A few years ago, I traveled to Guatemala to study the Maya with Tulane's Latin American Studies teacher institute. I met Denise Tullier-Holly, a Louisiana art teacher who showed me how to bring art into the ELA classroom. In doing so, I discovered that few of my students had taken an art class in seventh grade. Since NCLB began, math and reading interventions have taken the place of the arts in our schools, so I proposed that we integrate art across the disciplines and visit The Art Institute of Chicago (AIC).
Getting Started
I had never organized a field trip, and with close to 400 eighth grade students, the first step was to work through the logistics:
1. Cost: The Art Institute of Chicago offers free admission to students. Not all museums do this, but many do.
2. Time: With all the testing (MAP, ACCESS, PARCC) and popular field trip months between February and May, we decided that January was the best month for our school (as long as it didn't snow). I called in September to reserve the dates.
3. Travel and Supervision: How do we get 400 students and chaperones to and from Chicago in the middle of winter with lunches? For a sense of the students' experience, I visited the museum a month prior to our trip and met a few of the volunteer docents who would lead the tours. They showed me the small folding chairs that students carry between galleries, a place to store lunches and coats, and the dining room with a view. The museum requires one chaperone for every 15 kids, so we asked parents to join the teachers and principals. A dozen parents volunteered. The museum's visitor guidelines were a big help to assuage supervision anxiety. I found that some parents were so excited about the trip that they felt more like guests than supervisors. And our cafeteria staff agreed to make sack lunches -- teachers took the order during homeroom, and we stored them in rolling coolers.
4. Expertise: How are we supposed to teach with art if we don't know anything about it? Field trips are an opportunity for an educator partnership. I talked in depth to the museum education coordinator about our curricular goals, and she assured me that teachers don't need an art history degree to talk about art. The museum website is filled with many great resources. I also emailed the docents with a link to our class blog and the names of artists we were learning about. The docents planned to show us some of our favorite pieces. During the tours, our docent referenced specific students' blog posts.
I collected these findings in a proposal, which I shared with the staff and administrators, and then we planned how to integrate art across the disciplines.
Visual Literacy: Integrating Art
Teachers across all the disciplines had to believe in the project to make it meaningful for the students. Each discipline looked for ways that art could enhance their curriculum, but we agreed to focus on two literacy curricular goals based on the Common Core State Standards (CCSS):
Evaluate the advantages and disadvantages of using different media (e.g., print or digital text, video, multimedia) to present a particular topic or idea (ELA.RI.8.8).
Present claims and findings, emphasizing salient points in a focused, coherent manner with relevant evidence, sound reasoning, and well-chosen details (ELA. SL.8.4).
With the help of Denise and our school art teacher, we practiced visual literacy (or reading art) as one way to work toward these goals and prepare students for their docent-led discussions at the AIC. A great source for visual literacy is Philip Yenawine's Visual Thinking Strategies: Using Art to Deepen Learning Across School Disciplines. He says, "VTS allows non experts to lead rigorous discussions about works of art, the rigor coming from the questions -- especially the one asking for evidence."
4 Steps and 15 Minutes
What's going on in this picture?
What do you see that makes you say that?
What more can we find?
As some students contribute comments, others listen to their peers describe the picture and figure out what is going on. The teacher's paraphrasing clarifies and reinforces the ideas. To assess what all students are hearing and noticing, it's helpful to pair the discussion with a writing activity. Phil Yenawine says that what art museum visitors need is "permission to be puzzled." Image reading engages their eyes and minds. In class, we can offer time "to noodle and figure things out" so that students can use what they already know to reflect on what they don't.
When selecting images, Yenawine says, "What is key especially at the start is to select art to connect with the experience of the group having the discussion; they will use what they know to figure out what's going on as well as the basis for considering what might be puzzling to them." This means that teachers do need to find culturally relevant work to ensure everyone's participation.
Each department committed to finding art related to their content, working toward the literacy goals, and developing visual literacy in their own classrooms between September and January.
Examples From the Classrooms
Teachers found their own way into art. Some displayed art posters, e.g., Hopper's Nighthawk (History), Kandinsky's Transverse Line (math), and Van Gogh's The Bedroom (ELL). Others incorporated cartoons, photography, and film. One teacher gathered art books to learn about the museum's featured artists. This turned into a great mini-research project. For reading, we looked at art about once a week (more as enthusiasm grew). On classroom blogs, students put into conversation their reading of paintings and photography with songs, poems, books, and articles like this post comparing Sia's "Elastic Heart" and Picasso's Femme Aux Bras Croises. For writing, students rendered paintings into poem and story form, trying different points of view. Read Emily's poem inspired by Picasso's The Old Guitarist and (scrolling down from the poem) her story inspired by Van Gogh's Prisoners' Round.
Once you learn a little bit about art, you start noticing it everywhere: in commercials, the newspaper, calendars, on the train. The students will, too. It just so happened that two Hollywood films, Woman in Gold and Big Eyes, premiered during this project. Some of our eighth grade kids chose these over the latest slasher movie.
The Field Trip
As January approached, the assistant principal and I finalized bus lists, checked in with parent volunteers, and encouraged teachers to review museum etiquette and introduce the word docent during homeroom.
video
On the day of the field trip, students saw firsthand the masterpieces they'd read. They all had specific pieces that they wanted to see and knew how to engage in discussion with the docents, presenting their claims about the art with sound reasoning and detail. But seeing the art in person meant that they could compare the digital and the real. The lines, textures, lighting, size, proximity, and sensors that sound if you get too close are all central to experiencing art. For example, one group gathered in the corner of the American Art Gallery to see Albright's Ida, Bolotowsky's Grey Diamond, and Evergood's The Indestructibles. About this latter painting, Sam wrote:
Seeing the art in person -- alongside one another, in the museum, in the great city of Chicago -- was an aesthetic experience that defied measurement. We surpassed the CCSS goals. We learned a way of seeing and being in and beyond our own experience.
What I Learned From Art
In the end, art became my teacher. Here's what I learned and what I'd do differently:
We're Not Alone
Planning a field trip is a lot of work, and you can't do it alone. Our experience was a partnership between museum staff, teachers, students, administrators, parents, bus drivers, and cafeteria personnel. Teachers often put a lot of effort into building relationships with students and have little energy left over for reaching out to others, but this project motivated me to work with parents and colleagues, and many memorable conversations taught me about my school as a community. Parents emailed me after the trip to express their gratitude and share some of their own art discoveries.
Further Inquiry Needed
Although visual literacy methods made art accessible to teachers and students unfamiliar with it, I would have worked more closely with our district's art teachers to bring their expertise into the classroom. (Our school's art teacher's time on the project was limited by paternity leave.) The video "I Could Do That" by The Art Assignment emphasizes that "every object is created within circumstances that are important and is distributed in ways that add to its meaning." The thought that the artist brings to the form requires work beyond image reading. Why did the artist do this? What are the social, political, economic, and even personal circumstances that drove the artist to create this object and find an audience for it? These questions go beyond the scope of our project this year, but I see them as spaces for further inquiry. Therefore, we have proposed making this interdisciplinary project a two-year study.
Beyond January, students continued to blog about art they discovered, and some are now in high school art classes. Art grapples with the familiar and opens our eyes (and hearts) to ideas about how we've lived. Art moves us to experience our world beyond words. It teaches us to imagine. And don't we want students to be able to imagine a world that is, well, better?
Does every student in your school have access to art education? I encourage you to check in with your local art museum for resources, and to consider organizing a field trip or making time for image reading to bring art to your students. You don't have to be an expert, and you don't have to do it alone. Stretch your curriculum canvas.