Student Voice
Prioritizing Student Voices
In order to find value in their learning, students need to find their voices. Teachers can encourage student participation by enabling rather than enforcing it.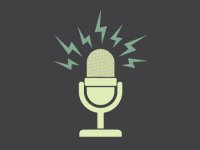 I once taught a student whose self-confidence was so low that often, after submitting assignments, she would send several apology emails. Milly (not her real name) would write that she was sorry for the low quality of her work. (The work Milly submitted was generally excellent.) She was sorry for wasting my time with ideas that weren't interesting. (Milly's thinking was complex, and her ideas were regularly impressive.) Lastly, she would write that she was sorry for wasting my time with the previous apology emails.
A particular class period with Milly remains etched in my mind. Before class, I had scanned students' drafts for a monologue project. Milly's draft stood out for the depth of the character she had created and the dramatic tension throughout the piece. As students entered the classroom, I stood by the door and asked Milly if she would be willing share her draft with the class. Milly never made eye contact, but from the side of her face I could see the smile as she shrugged assent.
When I called on Milly to read her draft aloud, she left her slumped, seated position, where she normally spent much of her time staring down at the table, and stood to face the class. She kept her focus on the laptop screen in front of her and read in a voice louder and clearer than she had ever used in the classroom. Students applauded the draft and offered affirmations and ideas for revision. Milly's body language alone made it clear that the process of sharing work and receiving widespread recognition helped shatter a piece of her shell and challenged her to see herself in new, positive ways.
The Importance of Student Voice
Opportunities to share work and ideas in meaningful ways can transform students. These processes are often scary and can be fraught, but when class norms include space for student voices and responses to authentic student ideas, learning becomes a self-affirming process of risk taking, experimentation, and growth.
It is important to create space for student voices strategically, and we must not underestimate the depth and profundity of what we are asking of students when we ask them to share their work in public. I still regularly get nervous before speaking to groups -- I often feel insecure about how my ideas will be received. It is useful for me to recognize these feelings in myself, and to remember that students have less life experience and thus much more at stake than I do when presenting to their peers or to wider audiences.
If important ideas in a classroom only come from a teacher, or if ideas are evaluated only by a teacher, opportunities for amplifying and valuing student voice are limited. Teachers must facilitate as many opportunities for student participation as possible while providing the structure and modeling necessary for high-quality student work and discovery.
Amplifying Student Voice
This school year, I plan to maintain a clear focus on increasing opportunities for meaningful student participation. These opportunities present themselves in different ways at different times of the year. I am hoping that this list will help me remember to prioritize student voices as much as possible:
Have students share their work out loud.
Speaking one's ideas is a powerful act. Audre Lorde describes "the transformation of silence into language and action [as] an act of self-revelation." Students sense the risk involved in this process, but when supported, they reap the benefits of sharing both rough and polished ideas with a group.
Have students generate questions and facilitate.
Once classroom norms are established and students understand the expectations for discussion and participation, they are capable of developing their own ideas and running their own discussions. This can be an alternating classroom role, or students can develop systems for collectively-run discussions. Classes can self-evaluate their performance and learn more about discussion and facilitation skills in the process.
Have students evaluate their own work.
Students' own opinions about their strengths and struggles are always insightful. Having them evaluate their own work provides an opportunity for reflection and metacognition, gives them the final word on their learning, and allows them to define their own areas for growth and improvement.
Integrate presentation into projects.
Sharing one's work with larger audiences provides opportunities for students to publicly claim their learning, defend their ideas, and respond to questions and feedback. Opportunities for growth increase when student work is seen by more than one set of eyes.
Remember to get out of the way!
Teachers have captive audiences, but we must remember that the most important work involves making space for students to speak. We must also create conditions that allow them to do their best work. It is not enough to expose students to information -- deep learning happens when we make space for students to do creative, challenging work in response to meaningful content. And while that learning is happening, we must offer ample opportunity for students to speak their thoughts and discoveries.
The Right Words
For many of us, finding our unique voice will be one of the most challenging tasks we face. School should be a place where student voices are prioritized and young people are encouraged and challenged to discover truths about themselves and their beliefs about the world around them. In her essay "The Transformation of Silence," Audre Lorde asks questions that we should challenge all of our students to answer:
"What are the words you do not yet have? What do you need to say?"