Literacy
Poetry Month: The Practical Applications of Self-Expression
Poetry can boost adolescents' language skills and fulfill their need for self-expression — if presented as an art form that has relevance to their lives.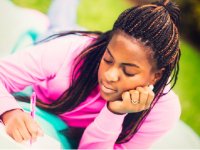 April is National Poetry Month, which is paramount for students throughout the United States. Not every student in our nation will need to express him- or herself through poetry, but for those who do, learning about the poets who came before them and learning to find their own poetic voice will stand out as a beacon of self-expression in a sea of core subjects.
The Basics
Poetry is a fabulous way for young students to find their creativity. It's a considerable way to expand vocabulary -- which helps with both self-expression and English classes -- and it can help students through the difficult teenage years. Many teens find that they can express themselves on paper better than they can verbally. It's also meaningful for young students to know that they don't have to be published or famous in order to be a poet. With today's technology, just about anybody can share original poems with other artists through social media and online forums. Learning about a list of lesser-known poets and those who may not be officially published is great inspiration to any budding writer or student of self-expression.
Lesson plan idea
Each student writes a poem in the category of his or her choosing. The class can participate in constructive critiques (this also teaches resilience and kindness), and then students can submit their poems to an online student contest.
A Contemporary Spin
Many students moan at the thought of a poetry lesson because they think of poems only as an art form of past generations that contain words and feelings from time periods they can't relate to. Of course, poetry has continued to speak to current and emerging generations through song lyrics, rap, and hip hop. From John Lennon to Tupac, many contemporary music lyrics are beautiful poems that express thought-provoking ideas about current society and critique the way that society treats our fellow humans. Our rap and pop artists have become the voices and role models for recent generations, and many students are not only surprised but ecstatic to discover that rap "counts" as poetry.
Lesson plan idea
Middle and high school students are in love with pop culture. (Admit it -- we all were.) Teachers can enhance their chances of spreading the wonderful world of poetry by providing some contemporary examples. Students can listen to the beautiful lyrics of the song "Birdie" by Millencolin, the inspirational words of Wyclef Jean, the idealism of John Lennon, and the liberating realism of Tupac. Teachers can play the songs in class, providing a more interactive, multi-sensory experience.
Vocabulary Expansion
In addition to the contemporary aspects of poetry, this art form is a wonderful way for students to expand their vocabulary. By the time college entrance exams come around, many students find that their current vocabulary is more limited than would be ideal. Reading and writing poetry introduces students to an amalgam of words with different emotional meanings. Many of today's high school students struggle to choose the word that best represents what they intend to express. Writing poetry in particular will help students search for these words while experiencing creativity. Vocabulary expansion through poetry sounds a lot more fun than looking up a list of words and writing them in a sentence. Learning should be fun whenever possible. The difference between somber, melancholy, mournful, and sedate is something that an experienced poet will know instantly. These skills will help young people from the most avid poet to the student of English who is simply experimenting with a new art form.
Lesson plan idea
Teachers can have each student write a poem in the simplest language they can think of and then ask them to tab over to Thesaurus.com. They can update their word choices to find the most poetic, expressive language. Now the students are not only better poets, but also closer to success on their college entrance exams.
Creative Outlets
In addition to vocabulary expansion, students who want creative expression and students who require creative expression often feel more relaxed when they have a way to express their words. We ask so much of the American student -- and students worldwide -- so it's our obligation to offer them a creative outlet while they experience their teen years. Some students will choose painting. Others will choose drawing, photography, or sculpting. Some students will find that a picture is not -- for them -- worth a thousand words and that they would rather write a thousand words of poetry to express their ups and downs, their lights and darks, and everything that they feel throughout this time of life.
Lesson plan idea
This is the hardest actionable aspect to teach. Many middle and high school students are plenty verbal in their emotional expressions, while others simply prefer to keep their feelings inside. Teachers with students on the shy side can take this opportunity to showcase the profound words of our nation's historical poets as well as encourage globalism by introducing poems and poets from around the world.
How do you celebrate Poetry Month with your students?