Social & Emotional Learning (SEL)
What Are You Teaching Today? Poetry That Inspires!
Reading poetry is inspirational! And teaching it can be even more so. If you haven't thought about using poetry in your daily work with students, I really want you to re-think that whole idea today.
April's theme of National Poetry Month can be a great way to kick-start the use of poetry in your classroom. I'm keeping this book on my desk in April: She Walks in Beauty: A Woman's Journey Through Poems, selected and introduced by Caroline Kennedy. It's a reminder to myself to read poems from it daily, and enjoy the experience. Do you have a favorite book on poetry? Can you think of one, dig it out and start to share it with your students?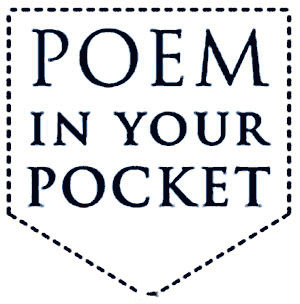 Credit: Poets.org
As I take the time to seek out the power that poetry can bring to our daily lives, I continue to ask these questions: How can I get back into reading poetry on a regular basis? How can I share this journey with other educators? How can I encourage new educators to use poetry as part of their everyday work with students in the classroom?
In celebration of that pursuit, I'd like to share this great movement with you: National Poem In Your Pocket Day, which will be next Thursday, April 26, 2012.
Here's how it's described at Poets.org: "The idea is simple: select a poem you love during National Poetry Month, then carry it with you to share with co-workers, family and friends. Poems from pockets will be unfolded throughout the day with events in parks, libraries, schools, workplaces and bookstores."
I think this is an amazing, fun and easy way to begin integrating poetry into your daily/weekly classroom curriculum. Having said that, today I'm going to share three simple ways to celebrate a Poem In Your Pocket Day with your students!
1) Create Your Own Poem in Your Pocket Day Event
Using ideas from Poets.org, you can bring this alive in your classroom very easily. For example, on that day have your students create bookmarks with favorite lines from a favorite poem. Also on that day, project a poem on the wall or on your interactive whiteboard (IWB) and have students read it aloud with you or to each to each other. (Maybe you'll turn this into a daily activity!) If your students blog, have them blog in the form of a poem that day. Skype with a buddy classroom (maybe international) that day and read some poems aloud to each other. You get the idea? The list could go on and on!
2) Invite Parents to Bring a Poem in Their Pocket to Share
Parents are our children's first teachers and, in my experience, most want to be a part of their child's daily classroom experience. Maybe they have been reading poetry to their kids from day one? Our students' parents frequently have hidden talents that we as teachers rarely discover. Why not seek them out by inviting them to visit your class this month and share a poem from their pocket? You may be surprised to find a resident poet in the group who will be thrilled to share!
3) Share Some Great Poetry and Post to YouTube Teacher
I love the idea of using video content with our students via podcast and "vlogging." YouTube now has a safe way to access video content to share with our students via YouTube for Schools. What I'm disappointed to discover is that there is very little content for poetry! Why not take the time to video your budding classroom poets, and upload your content to YouTube Teacher? If that's not an option, use your own (or create your own) YouTube channel and start a regular poetry feature. Here is my channel as an example: Teaching with Soul YouTube.
If you have older students, let them be in charge of the filming and uploading poetry read by, and maybe written by, your very own students. Be sure to get any permissions your school may request, and to screen for content. You'll be surprised at how fun this can be, not to mention providing a great participatory learning experience for your kids! Don't underestimate the power of poetry to bring out deep emotions in our students, emotions that will give you better insight into supporting their needs.
On Poem in Your Pocket Day, I will be sharing some fun poems with my sister's middle school math and science class. I'm not sure just yet which poems I'm going to unfold from my pocket. I do, however, have one in my pocket to share with all of you today.
The Journey
By Mary Oliver
One day you finally knew
what you had to do, and began,
though the voices around you
kept shouting
their bad advice --
though the whole house
began to tremble
and you felt the old tug
at your ankles.
"Mend my life!"
each voice cried.
But you didn't stop.
You knew what you had to do,
though the wind pried
with its stiff fingers
at the very foundations --
though their melancholy
was terrible.
It was already late
enough, and a wild night,
and the road full of fallen
branches and stones.
But little by little,
as you left their voices behind,
the stars began to burn
through the sheets of clouds,
and there was a new voice,
which you slowly
recognized as your own,
that kept you company
as you strode deeper and deeper
into the world,
determined to do
the only thing you could do --
determined to save
the only life that you could save.
© Mary Oliver. She Walks in Beauty: A Woman's Journey Through Poems, by Caroline Kennedy
Are you inspired by poetry? I recommend you consider starting today by planning to participate in a Poem In Your Pocket Day! As we celebrate National Poetry Month, share with us how you're using poetry to make a difference in the lives of students in your classroom.