Student Voice
Penn-Finn Learnings 2013: Does Student Voice Translate in Finnish?
As schools around the world focus on how best to prepare students for success in the 21st century, there's been much debate about what approach works best. Educational experts -- from classroom teachers to university professors, from parents to politicians -- have weighed in on what schools should look like and how they should run. Opinions about how to "reform" schools or introduce new innovations dominate the literature. Yet one perspective, perhaps the most critical, has been missing from much of the conversation -- the student.
What Students Want
Over the course of the last few years, I've had the pleasure of visiting many high-performing schools in diverse communities. Time and again, one major feature they all share is a focus on what is in the best interest of students, with formal mechanisms that allow students to engage in the overall governance and culture of the school. As educators, we hope to develop students' ability to take ownership and responsibility of their learning, yet many schools fail to provide authentic learning experiences and don't help students see the relevance in their learning. Schools that place a heavy emphasis on voice create opportunities for students to inform what they learn, how they learn it and in what ways they will demonstrate that learning. Students have a natural disposition to desire "taking action" and expressing their beliefs in constructive and meaningful ways. As such, we need to find ways to provide them a place at the table when discussing the ways they will be educated.
Many schools and local communities in the United States have embraced this notion of student voice. Students themselves, such as Zak Malamed (@zakmal on Twitter) and student colleagues from across the U.S., created the Student Voice movement to focus attention on the need to involve students in the decision-making process when it comes to education policy and practice. As I visit schools throughout Finland this week, I'm wondering if this notion of student voice transcends cultural boundaries and exists in high-performing countries such as Finland. Is student voice important to them? And how do they foster this type of student engagement? Over the course of this week, we'll have the opportunity to visit several schools, and I hope to explore this concept and how it manifests in their system, if at all.
Cultural Disconnect?
Wherever we have gone this week, we have been told about the "Finnish personality." They have described themselves as a quiet, reserved and somewhat introverted people. And each morning as we ride the city buses or trams, people are indeed reserved, quiet and basically keep to themselves. This carries forward to the school hallways, where students travel relatively quietly, in small groups and only socialize when there is free time to do so. One student described this lack of "outgoing" personality by saying:
This practical sentiment made me also wonder if the notion of "student voice" would even register with Finnish students. Is it possible that having a voice and advocating for one's position in decision-making isn't desirable in some cultures? For me, this notion was quickly put aside after speaking to the students. Just talking with them made it clear that not only do they have a say in how they learn and the way their school runs, but they want more of a say.
As one teacher explained: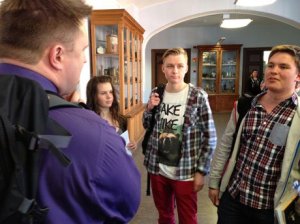 Credit: Joe Mazza
PennFinn13 team members speak with students between classes
Student Voice in Action
Our inquiry into the Finnish education system has involved visits to several schools in Helsinki, including the Helsinki Normal Lyceum and Helsingin Suomalainen Yhteiskoulu, or SYK for short. The Normal School teaches about 550 students between the ages of 14 and 19, while also serving as one of 11 teacher practice schools in Finland. SYK has approximately 1100 students in grades 3-12, and offers a high-performing International Baccalaureate program.
After meeting with officials from the University of Helsinki, we came to understand that a great deal of autonomy regarding curriculum, instruction and assessment resides at the local level. In essence, teachers are viewed as experts in the "art and science" of teaching, including an expectation that they will continue to engage themselves in scholarly work. With this autonomy also comes a high degree of responsibility to ensure that students are held to a rigorous standard and progress in their learning. This sense of autonomy was confirmed as we interviewed teacher after teacher. While teachers do have freedom to design their own curriculum and assessments, there are national curriculum frameworks they are expected to address. I decided to go directly to the "customers," though, and spent time speaking with students about their experience at the school and what role they play in shaping the learning.
In general, students reported that the school provided a relaxed, casual atmosphere, where students develop relationships with their teachers. For example, students often address teachers by their first name and view them as facilitators of learning, more so than an as an authority figure. Students described the most effective teachers as those that "get to know you as a person and show you who they are." Another student who previously attended an American school shared that she saw the Finnish school system as very different because:
A great emphasis was placed on creating a safe, nurturing learning environment, but one that expected students to take a significant role in their learning. When asked to give an example, students shared that their input was often sought out by teachers regarding course content and how they would be assessed. Since teachers are responsible for crafting their curriculum and creating their own assessments, having student input in the process helps personalize the learning and meet the needs of each cohort of students. By including students in the design of instruction and course expectations, they are more likely to have greater ownership and relevance for the learning. One teacher explained that this also helps her customize the learning to the skills and talents of her students.
She explained her decision by saying:
Trust and Transparency
Formal structures, such as a student council, allow students to make suggestions to the school leadership and teachers. Students shared several examples of school-wide events and practices that they have influenced through this mechanism. The key is not just involving groups of this nature in cursory or low-level decisions; students also engage in determining and perpetuating school-wide celebrations and traditions. One example shared was the use of weekly whole-school meetings. This time was originally reserved for the administration to address the student body, but has since evolved into student-led meetings, times for celebration and opportunities to express their views.
Another example shared by University of Helsinki professor and veteran school principal, Dr. Atso Taipale, is the inclusion of students on teacher teams. In his former school, teachers were organized into teacher teams that focused on various aspects of the school from culture to pedagogy, such as increasing technology integration. At least two student representatives sat on these faculty teams and offered their perspective on how the changes or decisions made would impact them and their peers. Student representatives sometimes participate in the hiring process for new teachers, as well.
In the early stages of our visit, two themes have emerged for our team -- trust and transparency. By trusting teachers to serve as the "experts" and providing them time to collaborate, there is a pervasive tone of professionalism, but also responsibility. When students are involved in the decision-making process and school governance, that tone raises transparency and trust to a new level. The strong relationships that appear to exist between teachers and students help open the door for students to express their ideas, hopes and needs -- all of which are important parts of fostering student voice. Finding more ways to involve students is one key to creating a truly innovative, relevant learning environment.
Over the next few days, I'll share out other examples that represent how Finnish schools incorporate student voice into their everyday practice on our group blog, http://pennfinn13.wordpress.com, and through Twitter (@bwileyone and #pennfinn13).