Project-Based Learning (PBL)
PBL Pilot: Rolling It Out to Parents and Students
The PBL pilot program rollout continues as two adventurous teachers open lines of communication with parents and engage their fifth graders with a driving question.
Editor's Note: Matt Weyers and co-author Jen Dole, teachers at Byron Middle School in Byron, Minnesota, present the second installment in a year-long series documenting their experience of launching a PBL pilot program.
The Situation
When our fifth grade PBL pilot was approved this past spring, we realized immediately that we would need to spend significant time and energy on messaging and brand-management. We knew that it would be vital to brand this idea in such a way that project-based learning would become an accepted method capable of meeting all of our students' needs. To do this, we acknowledged that we needed to create a consistent, positive, and supportive message so that grassroots support would germinate across the community.
As educators, we fundamentally understood that our PBL approach was going to look drastically different than more traditional classrooms. In addition, we were cognizant of the fact that human nature often makes us gravitate toward a mixture of excitement, trepidation, and awe when we encounter something new or different. The aforementioned understandings left us with a major decision to make: How might we brand our message so that it best communicates to parents that their children will still be receiving a well-rounded, standards-based education?
The Rollout: Parents
After looking at our school calendar, we came to understand that our two best opportunities to share our message with parents were during the fifth grade transition night (when our students are invited to hear a message from our principal and tour the school in preparation for making the transition from elementary to middle school), and our "Walk the Halls" afternoon when students and families are able to meet their teachers and drop off their school supplies in their lockers. Both of these events take place in the second half of August. We decided to hold two separate informational meetings describing our school year, with the hope that parents would be able to attend one of the two. Having a deadline to meet helped us immensely, as it forced us to promptly begin planning and coordinating the many facets of this program.
By the time the end of August rolled around, we had created a 30-minute presentation briefly describing our teaching philosophy, and elaborating on significant points in our program. Some of these points and our reasoning for them included:
1. Extreme Focus on Group Work
The 2014 version of the annual "Job Skills" survey given by the National Association of Colleges and Employers listed "Ability to work in a team structure" as their number one desired trait in future employees.
2. Explicit Teaching of Soft Skills and Critical Thinking
Recent literature by Dr. Tony Wagner and Paul Tough demonstrates the need for students to be as adaptable with their physical, emotional, and cognitive selves as they are in understanding core content knowledge.
3. Learning Would Be "Non-Googleable," Authentic, and Revisionist
We wanted to move students away from the idea that all questions only have one correct answer, and toward the idea that learning never stops. Our grading policy was that students would receive an A, a B, or a "Not Yet." A grade of Not Yet indicates that students can do their work at any point in the school year to demonstrate learning growth.
Interestingly enough, the dichotomous response to our presentation was greater than we ever expected. On one hand, there was an astounding amount of support. Parents saw a great deal of value in authentic experiences and the idea of learning through "failing forward." But on the flip side, we heard from multiple parents asking versions of, "If traditional schooling allowed me to become successful, why are you attempting to do things differently?" or "How will this approach affect my child when he or she returns to a more traditional setting?" We knew that while we experienced a level of success with this presentation, we would need to communicate frequently with parents throughout the year to grow our brand in a positive way.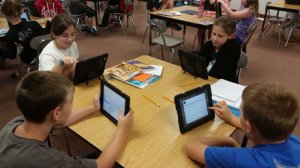 Photo Credit: Matt Weyers and Jen Dole
Students pondering their project's driving question.
At the time of this writing, we have just begun rolling out our first project to students. We're asking them to fundraise for and manage a portfolio utilizing microloans from Kiva.org. Anticipating that this type of learning would be different than any other they have experienced, we asked students to generate a "need-to-know" list (concepts that need to be considered and understood) around this practice driving question: "How might we improve our school's playground?" The immediate responses from students were "Tire swing!" and "A new slide!" We found that we needed to shift students into thinking more along these lines:
How much money do we have?
Who needs to approve spending the money?
How can we find out what the majority of students actually want?
As a result of our practice with driving questions and need-to-know lists, we now appreciate the amount of time it will take to shift students toward less egocentric, more macro-level thinking. We'll know that the time we spent frontloading this macro-level style of thinking will have paid off when people around the globe begin receiving microloans from funds raised and appropriated by our fifth grade students. By that time, our students should be showing palpable excitement -- and we cannot wait to see it!