Technology Integration
PBL Pilot: Apps, Tips, and Tricks
Fifth grade teachers share some of their favorite apps for rubrics, editing, and assessment that are streamlining the classroom workflow in their PBL pilot program.
Editor's Note: Matt Weyers and co-author Jen Dole, teachers at Byron Middle School in Byron, Minnesota, present the seventh installment in a year-long series documenting their experience of launching a PBL pilot program.
Project-based learning is a complex teaching method that, in our experience, requires a clear and established workflow to seamlessly accommodate the needs of teachers, parents, and students. Throughout this school year, we have found several apps, add-ons, and programs that have helped us best manage our workflow. Before we provide brief descriptions and links to each of them, it is important to state the current situation in our classroom:
Students in our classes have individual iPads to use during the school day (they stay at school).
Every student has a school-generated Gmail account.
The majority of students have access to the internet outside of the school setting.
Favorite Tool #1: Google Apps
The Google Apps suite is an invaluable tool in our classroom. The ability for multiple users to collaborate on a document, spreadsheet, or slide is priceless. In addition, Google Apps provides us the opportunity to go approximately 80 percent paperless, and quickly push out any information that we need the students to have. The feedback from the students, who were relatively new to Google Apps before this school year, has been positive. Having said that, we had to spend significant time at the beginning of this school year learning and teaching how to best use and organize their Google Drive for future reference.
Favorite Tool #1.1: Doctopus (Google Apps-Related)
Doctopus is a Google Sheets add-on, produced by New Visions Cloud Labs, that allows us to quickly and efficiently share teacher-created Google Apps templates (Docs, Sheets, or Slides) with our students. Teachers have the option of sharing identical templates with individual students or groups, as well as creating multiple templates to share with selected students, allowing for differentiation. This is done by automatically populating a Google Spreadsheet with links unique to each individual student. Other unique features of Doctopus include:
Embargoing student work for grading (automatically changes Google sharing permissions so that students can no longer edit a document)
Identifying the last time a student edited a document
Attaching online assessments using a "Goobric" (see below)
A link to a YouTube video on how to use Doctopus can be found here.
Favorite Tool #1.2: Goobric (Google Apps-Related)
Goobric is a web app that can be integrated with Doctopus to ensure seamless -- and paperless -- grading. Teachers are able to create their own Goobric (rubric) using a Google Sheet and attaching it to a Doctopus assignment during the "Assess" step of setting up a Doctopus assignment. When a teacher chooses to grade an assignment using a Goobric, the Goobric will automatically paste itself to the bottom of the document where the assignment is located. A link to a YouTube video on how to use Goobric can be found here.
Favorite Tool #2: Air Server
Air Server is a small computer program that can be downloaded onto your PC. It allows you to project an iPad screen onto a PC, which in turn can be projected through a SMART Board. This is similar to the "mirroring" function on Apple devices. We find that Air Server is a helpful tool, as we are able to quickly and easily project student work and other information onto a large screen for class viewing. This is particularly useful with the Nearpod app described below. It is available for download here.
Favorite Tool #3: Nearpod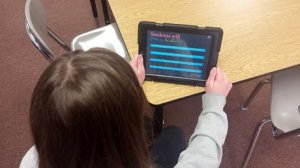 Photo Credit: Matt Weyers
The Nearpod app, which can be used on personal learning devices, is an essential tool for facilitating workflow in a PBL environment. We specifically like this tool for formative and summative assessments. Nearpod allows teachers to put a question on the board and immediately send students a blank, PowerPoint-style slide where they can write down their answer to the problem. Their response is then sent to directly to the teacher's computer where he or she can see each student's individual work. Additionally, teachers can use Nearpod to send out an example of a common student mistake, ask the class to discuss, and submit their solutions to the problem.
As educators, do you have any favorite tools that can enhance or streamline classroom workflow? If so, we would love to read them in the comments section of this post.