Project-Based Learning (PBL)
PBL: From Civic Engagement to Student Reflection
Students in one PBL class look outward to examine how the legislative branch of government works, and then turn inward to reflect on their learning.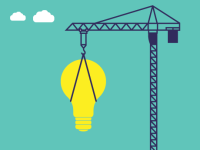 Over the last seven years, I have found numerous ways of incorporating project-based learning into my curriculum to make learning come alive. I've discovered that, while teaching the content is critical, the larger challenge involves creating educational lessons that are stimulating and meet the needs of my students as they actively explore real-world problems and challenges and acquire a deeper knowledge. A few of my past projects have ranged from students creating public service announcements about an interest group, to recreating the 1920s including the music and dance, to creating a senior digital portfolio project.
A Civic Engagement Project
I recently developed a unit about the legislative branch of government. My students addressed two challenges through a PBL approach, which applied my civics content in a meaningful way. I began planning my unit with the end goal in mind. Through a UbD approach, I started with the classroom outcomes and then planned the curriculum choosing activities and materials that fostered student learning (Wiggins). My students were asked to create solutions to real-world problems related to the legislative branch. Some of their projects included tracking a bill, proposing and sending a bill to our congressional representative, redrawing a congressional district, writing an email of support to a member of Congress, creating a Facebook page as a congressional representative, and making a political cartoon that could appear in the local newspaper to support or criticize the legislative branch.
One of the many benefits of PBL is that students start to see learning as interdisciplinary. They learn to collaborate with others because they have the opportunity to be creative in how they think about a problem and then put their own spin on a solution. For example, a student that normally struggles in my class became the expert with our redistricting game. Another student who is normally very reserved is able shine through her artistic ability. Students make connections between different content areas as well as developing deeper critical thinking skills while they are learning content. After learning about Lyme disease in health class, one student wrote a letter in support of a related bill that is currently being proposed in our state legislature. Another student contacted Congressman Schumer to express an opinion about a Federal minimum wage increase. Both students received a formal response to their letters from our congressional representatives, which made this project a valuable experience.
A Different Way of Teaching
I no longer stand in the front of the room, but maneuver between different groups of students. As a teacher, you cannot just throw a project at a student and expect him or her to be successful. PBL requires careful planning, preparation, and scaffolding. Every time I create a project, I provide a clear checklist of requirements, goals, helpful tips, and rubrics to support success in the classroom. It's very important to plan ahead and anticipate any challenges that students may encounter.
In this case, knowledge becomes relevant when applied to real-world situations. It's critical for teachers to build opportunities into the classroom to insure that all students are successful. At the end of the project, I had students share their products in small groups through an edcafe presentation. This "bottom-up approach shifts energy, engagement, and opportunity for exploration to the students, and transforms the teacher into expert facilitator instead of gatekeeper/manager" (Kennett). An edcafe is a way of structuring class to promote student choice and ownership over learning.
The Power of Reflection
Effective PBL incorporates student reflection into the learning process. After the legislative project, students were asked to share these thoughts:
What is the most important thing you learned in the project?
What do you wish you'd spent more time doing?
On what part of the project did you do your best work?
How could your teacher change this project to make it better next time?
Students need time to reflect on and assess their own learning, because reflection is the key to a meaningful learning experience. Overall, I was very impressed with the level of dedication and motivation that my students put into their projects. Their learning made connections beyond our classroom. My hope is that they become lifelong learners who are civically engaged in the world around them.
If I were to do this project again next year, I would incorporate a showcase night where students could educate the public about the legislative branch. I would also like to bring in our local congressional representative as a guest speaker or a "judge" of their final projects.
Works Cited
Kennett, Katrina. "EdCafe in the Classroom." EdCafe in the Classroom. N.p., n.d. Web. 03 Dec. 2014.
Wiggins, G., & McTighe, J. (2011). The Understanding by Design Guide to Creating High-Quality Units. Alexandria, VA: ASCD.