Arts Integration
Over the Rainbow: History Through a Pop Music Lens
An era's popular music, whether the Great Depression or the turbulent 1960s, can help students grasp historical events through the emotions of those experiencing them.
July 9, 2015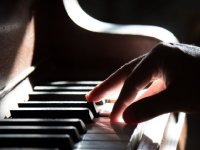 I urge more history teachers to embrace music, including rock'n'roll, as effective and legitimate primary sources. In eight years of teaching, I have found no other way to engage student interest as quickly and effectively -- pushing the door wide open to other types of learning activities and assignments. Consider a few of my examples when teaching the following units.
The Great Depression
In a lesson about the Great Depression, to help my students get a better sense of much of the nation's enduring faith and optimism -- even in the face of tremendous, persistent adversity -- they analyze Ted Lewis' 1933 song, "There's a New Day Comin'":
New day's comin',
As sure as you're born!
There's a new day comin',
Start tootin' your horn,
While the cobbler's shoeing,
The baker will bake,
When the brewer's brewin',
We'll all get a break!
To drive this point home, students also listen to and dissect Harold Arlen and E.Y. Harburg's 1939 song, "Over the Rainbow," famously performed by Judy Garland in The Wizard of Oz:
Someday I'll wish upon a star
And wake up where the clouds are far behind me.
Where trouble melts like lemon drops
High above the chimney tops
That's where you'll find me.
Soon enough, students begin to understand why this song resonated so profoundly with listeners still reeling from the Great Depression. Indeed, many struggling Americans also longed to forget their troubles and took delight in picturing themselves beside Dorothy, "high above the chimney tops," flying with bluebirds over a rainbow.
From there, my students analyze more traditional primary sources, including selections from Studs Terkel's Hard Times: An Oral History of the Great Depression. To bring these voices alive, I also play several of the oral historian's recorded interviews, many of which are available free online. This piques student interest in learning about President Franklin Roosevelt and to what extent he and his New Deal policies helped America rebound from one of its darkest eras.
Civil Rights Movement
Each year, I also ask students to analyze a stanza from a "poem" as the class moves to examine the early 1960s Civil Rights Movement:
How many years can a mountain exist
Before it's washed to the sea?
Yes, 'n' how many years can some people exist
Before they're allowed to be free?
Yes, 'n' how many times can a man turn his head
Pretending he just doesn't see?
The answer, my friend, is blowin' in the wind.
The answer is blowin' in the wind.
There is always at least one student, frustrated with the poet's rather vague final two lines, who demands to know what the "answer" is. I agree that it's vague, but before inviting others to chime in, I play "Blowin' in the Wind," written by Bob Dylan in 1962. The song, with Dylan's plaintive delivery, pulls the students in, making the frustration of civil rights workers palpable. The artist's words and music have opened a door to deeper understanding.
Afterward, I assign students Martin Luther King, Jr.'s Letter From Birmingham Jail (PDF), in which the famous civil rights activist promotes combating racism and injustice through nonviolence. The document also illuminates the significance and context of "Blowin' in the Wind," with King calling out Birmingham's "ugly record of police brutality" in addition to several other "hard, brutal, and unbelievable facts." This lesson dovetails naturally with having students consider the views of history's forgotten lunch counter sit-in participants, voter registration drive volunteers, and freedom riders.
The Cold War
When launching my unit on the Cold War, I play Barry McGuire's 1965 hit rendition of "Eve of Destruction." This icebreaker helps my students engage with the palpable fears of the time:
Don't you understand what I'm tryin' to say?
Can't you feel the fears I'm feelin' today?
If the button is pushed, there's no running away.
There'll be no one to save with the world in a grave.
After singing along with McGuire, and encouraging others to join in -- undoubtedly, to some of degree of chagrin -- I pass out song lyrics. The first part of class is spent analyzing each stanza, with students connecting their learning to what McGuire is singing about, such as the threat of nuclear annihilation, violent world conflict, and ineffective government. One student wonders what McGuire thinks of President Truman's decision to drop the bomb, while another puts her fears about today into perspective.
From there, more students are eager to read Paul Fussell's Thank God for the Atom Bomb (PDF), in which the World War II veteran acknowledges and proceeds to discredit critics of the weapon's use to put a quick end to the conflict -- thereby saving countless lives above the total casualties, however horrific, in Hiroshima and Nagasaki. I also try to assign John Hersey's Hiroshima, a short but powerful book about several survivors of the atomic bomb. Together, these accounts offer students a striking comparison.
Do you use music in your history classroom? I would love to hear your thoughts in the comments section below.