Technology Integration
Online Poetry Resources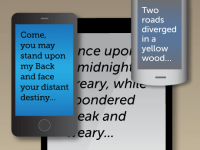 Poetry can take so many forms, and sometimes it's hard to know where to start when planning a unit of study. You might focus on figurative language with third graders, you might want seventh graders to look at rhyme sequence, or you might simply want to introduce classic pieces to high school students.
There are some great tools on the web for teachers gathering resources to use with their students. Here are a few worth checking out.
LearnZillion
LearnZillion is a fantastic website for teachers seeking material aligned to the Common Core State Standards. With a free account, you can access visual lessons that can be shared with students or used as a refresher before teaching a unit on poetry. This sixth grade lesson helps children notice figurative language in a poem, and this third grade lesson will prepare students to read a poem the first time. Teachers can access resources for each lesson, including anchor texts and assessment materials.
Frolyc
With Frolyc, teachers can create an activity for students and send it straight to their iPads. Children will be able to read passages, complete graphic organizers and answer questions. Frolyc lets teachers design and publish their own activities, but also gives them access to premade materials including some resources that can be used to teach poetry. This fourth grade lesson helps students understand how a speaker is feeling in a poem. This fifth grade lesson asks them to compare the speaker in two poems.
ReadWorks
This website contains tons of lesson plans, passages and resources to help educators teach reading comprehension skills. ReadWorks lets users access entire units of study as well as individual activities. This third grade lesson teaches figurative language using two poems, while this first grade lesson helps students understand that poems sometimes have a rhythm.
ReadWriteThink
ReadWriteThink has lots of detailed, high-quality English language arts lesson plans for K-12 students. Their website makes it easy to search by grade level, skill, and standard. In this high school lesson, students will connect the sound of listening to a poem with the mood and tone established by the author. This middle school lesson asks students to identify the differences between poetry and prose.
Poets.org
A wonderful site by the Academy of American Poets for all things poetry, Poets.org has resources for educators. Not only can you explore their site for information on National Poetry Month events, but there are also lesson plans and units of study designed for students to think deeply about poetry. This high school unit of study focuses on women in poetry, and this high school lesson asks students to examine poems about ghosts and spirits.
More About Poets and Poems
If you are interested in studying specific poets with your students, check out these resources:
Biography.com has a whole page dedicated to poets. They have video clips on Maya Angelou, Shel Silverstein and Jim Morrison.
The Poetry Foundation lets users search by name, region and date of birth to learn about different poets.
There are also some great iPad apps for helping children understand poetry:
Poems by Heart introduces famous poems and gives students tools to memorize each one.
Explore Shakespeare is a comprehensive app with tons of resources to bring Hamlet, Romeo and Juliet, and Macbeth to life.
Have you used any of these online poetry resources in your classroom? Do you have a favorite that should be added to this list?