Student Wellness
National Nutrition Month: Best Web Resources for Teachers
March 1, 2013
Updated March 11, 2015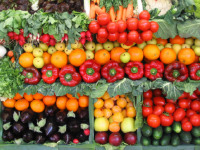 Along with Women's History Month, March is also National Nutrition Month. If you're planning on incorporating nutrition lessons in your classroom, we've compiled a few of our favorite resources here. You'll find lesson plans that cover the science of cooking and digestion, as well as links to a variety of helpful source materials from around the web.
Of course, we just touched on a few, but we'd love to hear if you have plans for incorporating National Nutrition Month into your lesson plans. What resources are you planning to use?
Recipe for Innovation K-12 Interactives: This Discovery Education-produced resource is a great source for useful lessons that cover nutrition and food production. Included are virtual field trips to farms and food production facilities, lesson plans, and other resources that will help students learn more about the journey our food takes from farm to table.
 
My American Farm Agriculture Lessons: Understanding where food comes from is an important step in learning about nutrition. The American Farm Bureau Foundation produced these resources to help students explore the origins of our food. The resource features games, a long list of educator resources, activity sheets, and much more. My American Farm is a wonderful source for learning about food production.
 
Food Literacy Learning Resources: Nourish, a nonprofit that seeks to educate students about the food we eat, has developed several useful resources for educators. A great place to start is their Food Literacy Quiz, which can help students gauge their knowledge of food and healthy eating. Plus, there is also a list of short films that cover agriculture and food and other free resources for teachers.
 
Science NetLinks Nutrition Science Lessons: This collection from Science NetLinks features lessons that look at healthy eating and exercise. Here you'll find resources that cover everything from the science of our digestive systems, to how our bodies absorb nutrients and the USDA's MyPlate resource. The lesson plans provide preparation for teachers and materials, and there is also a section in each lesson that provides ideas for assessment. Additionally, there are links to some great nutrition learning tools.
 
Nutrition Lessons for Every Grade Level: Fuel Up to Play 60 produced these useful lesson plans. Although the majority are designed for elementary students, there's something here for every grade. Interactive games are also a part of the collection, as are at-home tools for nutrition learning and relevant research.
 
10 Free Things for National Nutrition Month: This National Education Association article features a useful list of resources from around the web. The article includes links to teaching guides, lesson plans, and other engaging educational resources, and there are resources for each grade level.
 
Science and Our Food Supply: What causes food poisoning? And what is pasteurization? These are just a few topics covered in these middle school and high school lesson guides from the FDA and the National Science Teachers Association. Included in each downloadable guide are hand-on activities, ideas for labs, and other engaging food science explorations. Plus, some other great governmental resources include MyPlate and other suggested curricula from the USDA.
 
Discovery Education: The Good Egg Project: The Good Egg project offers teachers tons of valuable resources for teaching kids about healthy eating. A few areas of focus include healthy breakfast options and the farm-to-table food movement. Some of the highlights include lesson plans, a virtual field trip to an organic farm, and healthy recipes.
 
Healthy Eating Resources for Kids: Teachers and kids will find plenty of great resources from Nourish Interactive in the "Free Printables" tab, where there are ideas and materials for teaching students about food labels, healthy cooking, gardening, and vitamins.
 
Nutrition Lessons for Elementary, Middle School and High School Students: This resource comes from the John Stalker Institute of Food and Nutrition, and it includes links to a number of great nutrition learning activities for every grade level. A variety of resources are included, like the Center for Disease Control's middle school nutrition curriculum and high school agriculture lessons.