Teaching Strategies
Nurturing the Innovator's Mindset in Your Classroom
Teach the mindset of innovation through example, iteration, failure, and reflection, and cultivate your students' curiosity and determination to try something different.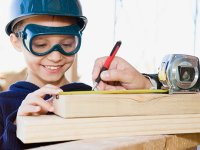 Galileo Learning's California-based programs have been developing K-8 innovators for the past 13 years. This summer, more than 20,000 kids worked with 1,300 educators to build go-karts, print 3-D projects, program Java to modify Minecraft, paint Italian frescoes, engineer bridges, and design fashion lines.
One thing that we always come up against, and I'm guessing it will sound familiar, is that students are often reluctant to engage in creative work because they fear making mistakes and are overwhelmed by open-ended design challenges. They can also be quick to give up when they experience a setback.
To counter this, we identified a set of attributes required for innovation, and we call them the Galileo Innovator's Mindset:
Visionary
Courageous
Collaborative
Determined
Reflective.
These attributes are prominently visible in every one of our classrooms. But the words are just the starting point. Dozens of practices and rituals come together to make our culture of creativity and innovation real for students. We find that, after just a few weeks in this setting, students are willing to imagine new possibilities, take risks, build off each other's ideas, and keep going until they reach their goals.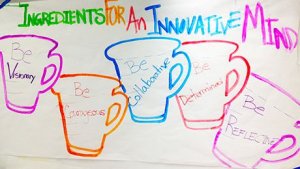 Photo credit: Glen Tripp
Taking a measure of the Innovator's Mindset.
8 Strategies for Teaching Innovation
Many Galileo teachers have taken this framework back to their schools and have incorporated it into their teaching, which we believe is something that can work for you, too.
Your first step is to place the five elements of the mindset (or your own version) prominently on your classroom wall. Simply naming these attributes and teaching your students what they mean will emphasize that your goal is bigger than imparting knowledge. You're making a statement that you see your students as people who have the power to chart their own course, rather than being victims of circumstance.
Next, make it real by adopting practices and rituals that reinforce the Innovator's Mindset:
1. Assign meaningful projects with multiple drafts or iterations.
When students have the experience of trying something multiple times before ultimately succeeding (and then comparing the first draft to the final product), they learn to embrace the power of failure in the creation process and are more willing to try new things and stay determined.
2. Highlight a Mindset of the Week.
Reference the mindset element when discussing that week's assignment, and describe how students might practice the mindset in context. Throughout the week, ask students to share times when they (or others) exhibit the mindset, and facilitate peer recognition. Make time for a wrap-up discussion where students can reflect on how applying their Mindset of the Week impacted their work and their experience.
3. Use the "Two Stars and a Wish" feedback tool.
Build reflection time into your class time. With the Two Stars and a Wish exercise, ask students to share two things they appreciate about a peer's project, and one idea they have for improvement. This builds the ability to give and receive feedback, supports critical thinking, and creates a collaborative learning environment.
4. Celebrate failure with a "Marvelous Mistakes" wall.
When something doesn't work in a student's design, have them jot it down on a post-it and put it on the wall. Have them include a sentence describing how the mistake is informing the next phase of the work. Lead your students in applause (or another ritual) whenever the wall is used.
5. Engage in reflective conversations with your students about their work.
What was your vision? What was most challenging? What is and isn't working in your first attempt? What would you do if you had more time or different resources? This practice supports learner agency and helps students think of themselves as actors and creators in the world.
6. Personify the mindset.
Make it real for students by sharing human stories from history and your students' communities that exemplify different elements of the mindset. Show that the mindset is important in and out of school.
7. Set the example.
We can all continually strengthen our Innovator's Mindset, so show students that you're willing to take risks, imagine new directions, and innovate in your classroom. Ask them for feedback and share your own struggles and learning with them.
8. Enlist parents.
Share with parents that you are emphasizing the Innovator's Mindset, and encourage them to do the same at home. Get students to self-evaluate against this mindset and then go over it at parent conferences.
It Starts Here
Creating a culture of creativity and innovation in your classroom is absolutely possible. But it's not something that happens on Tuesdays from 1-2PM. Look for ways each day to highlight the Innovator's Mindset, and you will change the way that your students see themselves and their role in society.
How do you teach your students to innovate?