Family Engagement
Making the Most of Back-to-School Communications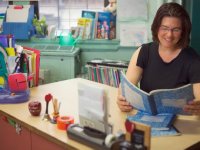 We all know that the back-to-school season is exciting -- not just for students and educators, but for parents, businesses, and the media as well. It's a time when the greater community is primed to pay attention to its schools. As Nora Carr, Chief of Staff for Guilford County (NC) Schools and former president of the National School Public Relations Association (NSPRA) has written, "In terms of PR heaven, it doesn't get any better than this."
So it's important that educators consider back-to-school communications a key part of their work, taking advantage of this once-a-year opportunity to spread the word about what's happening in their school (or district) and set the tone for the engagement of families and other stakeholders for the rest of the school year.
Reaching the Community
So what should you do? Carr offers a number of tips, including:
Blow out your back-to-school campaign.
In addition to what you normally do, try something new. From August to mid-September, talk about the great things happening for children in your school. Send senior staff and administrators to canvas the community and speak at community gatherings wherever they may occur (Rotary Clubs, faith-based organizations, chamber of commerce meetings, and so on).
Leverage every communication channel at your disposal.
Consider school open houses, school supply lists, cafeteria menus, websites, social media, cable television shows, school marquees, posters, banners, and other ways to get your message across.
Beat the bus home.
Ask every teacher to send a positive note home about every student during the first two weeks of school. And be sure to share good -- and bad -- news quickly. Let parents and other relevant stakeholders hear of important happenings directly from you, without waiting for their students to get home.
Package stories daily for the print, TV, and radio outlets that cover your district.
Showcase expertise as well as school- and district-specific announcements. For example, topics like helping students deal with homework stress or getting children to go to bed earlier can position your staff as a "go-to" resource for information that applies to all, not just those who attend your school.
Tell your story.
Every time you hear a positive story about a student, teacher, parent, or other person that highlights what you are doing well, share it -- at least six times and in at least six different ways. If enough people in your school and district do this, you'll find yourself driving the conversation about education in your community.
Flipping Family Communications
When it comes to family communications in particular, the start of the school year is a great time to try something new. One idea to consider: flipping parent communication for your back-to-school open house.
As Principal Peter Dewitt has written on this topic in the article Flip Your Leadership, the rationale is the same as for flipping classrooms or faculty meetings -- to maximize face-to-face meeting time. By sending out the information that you want to discuss in advance, parents and families have time to digest it and come to the meeting ready to engage.
DeWitt experimented with this idea in informing families about the Common Core State Standards and the Dignity for All Students Act (DASA). He created a five-minute video on the issues and sent it out to parents, hoping that a few would watch it before the open house. While some did not, many did. The open house was standing room only, and parents came with questions. DeWitt calls it the best open house he ever participated in.
After that success, his school staff began flipping additional communications, creating engaging videos to highlight key partnerships, professional development opportunities, individual students, and more. The videos have allowed them to cut their five-page newsletter down to one, which more parents read, and have increased participation on the school's parent portal.
Starting From Scratch
As you consider how to best leverage back-to-school communications, you might question how to find time for embarking on a large-scale plan, particularly if you've never done something like this. One general communications tip from Nixa (Missouri) Public Schools' award-winning Director of Communications Zac Rantz: Start small and grow -- "the idea that 'it's better to do a few things well than many things poorly' applies here."
Some low-hanging fruit: promoting student work, be it academic, artistic, athletic, or extracurricular. As Baltimore County Public Schools' award-winning Chief Communications Officer Mychael Dickerson says, that's "key to getting students, families, and the external community excited about what's happening within the system." For those who don't have a full-time communications professional on staff, he suggests identifying staff (and students) who are active social media users and willing to spend time communicating positive stories and activities taking place.
If you have another strategy to help plan back-to-school communications on a shoestring -- or an innovative idea that you're contemplating for the coming year -- please share in the comments section below.