Maker Education
Middle School Maker Journey: Preparing for the Capstones
In part nine of his year-long series, Kevin Jarrett details four culminating, integrative, real-world design projects that will conclude the first year of his middle-school makerspace.
In architecture, a keystone (also known as a capstone) is the central stone in a rounded arch required for it to stand. In education, according to Wikipedia, a capstone course (or experience) "serves as the culminating and usually integrative experience of an educational program." In this post, I'll share our Digital Shop capstone experiences, what they'll entail for each grade level, why they matter, how they support our educational mission, and how to refine this approach for next year.
Why Capstones? Why All Grade Levels?
"What if you could bring back shop class, but orient the projects around things the community needed?" Emily Pilloton's words hit me light a freight train when I heard them over a year ago, and they have informed our work ever since. To be sure, making and creating is great. Making and creating things that matter is even greater. This determined the ethos of our program well before our students first walked into Digital Shop. We wanted our kids -- in every grade -- to have an authentic maker experience, to be connected to our community, to make a difference in the world. Since restricting capstone experiences to the upper grades seemed unfair, we planned them for every grade.
I say "planned," but we had no idea how to plan a capstone project. We knew that we wanted each one to:
Be a genuine design thinking experience
Allow kids to showcase the skills and dispositions they worked to acquire all year
Be based in and help people from the community and the world
And here's how the capstones came together in an unlikely combination of luck, professional networking, serendipity, and the power of our school community.
5th-Grade Capstone: Jake (and the Power of Social Media, Part 1)
Facebook is a powerful tool for building social connections. I've used it effectively for years as an educator. While I don't send unsolicited friend requests to parents in my school community, I always accept the ones that I get. Over the years, I've built a fairly substantial public Facebook presence and share frequently about my work and education-related topics. Accordingly, my feed was full of updates last summer as we built our makerspace and created our middle school's new Technology, Engineering, and Design program. I got many encouraging comments about the constant stream of updates.
One day, I received a message from Dori, a parent of two boys, one still in elementary, the other in fifth grade. She'd read my posts about our program's focus on human-centered design and our desire to give kids the chance of solving real-world problems. Her youngest son, Jake, has worn a hearing aid since he was very young. He loves sports, like most kids, but discovered that he couldn't wear his hearing aid while playing many of them because helmets generated loud and painful feedback. As a result, he had to leave his hearing aid out while playing, making it next to impossible to hear his coaches or his teammates. Understandably, this affected his playing experience quite significantly. His mom thought we might be able to help design a solution. She agreed to have Jake be the focus of the fifth-grade design study (his older brother Andrew is in fifth grade), and so a capstone was born!
6th-Grade Capstone: Miss Cindy (and the Power of Observation)
Miss Cindy, a teacher in our district, has for many years walked using crutches and with the aid of an assist dog. Though she works on the ground floor of our facility, she has quite a distance to cover from the parking lot to her desk and often needs to carry a lot of daily supplies. Though Miss Cindy never complains and is always smiling as she makes her way in, her struggle is evident -- so evident, in fact, that one of our sixth-grade teachers wondered if our students might come up with a few ideas to make it easier for her to get around school with her supplies. We approached Miss Cindy and offered the assistance of our student designers. She enthusiastically accepted, and the sixth-grade capstone was born!
video
7th-Grade Capstone: Making Hospitals Less Scary for Kids (and the Power of Social Media, Part 2)
Twitter is clearly a powerful tool to connect like-minded educational professionals. I've used it since 2007. Unlike my Facebook following, which is predominantly local and people that I know personally, my Twitter network is largely comprised of people who live far away, the majority of whom I've never met. As we built our program this past summer, my Twitter feed was full of photos, articles, and stories relating to the project (and our focus on design thinking). Something that I posted caught the attention of Dr. Pam Moran, Superintendent at Albemarle County (Virginia) Public Schools. She messaged me, suggesting we needed to connect with Bon Ku, MD, MPP, at Thomas Jefferson University in nearby Philadelphia. Bon teaches design to medical school students at Jefferson, and Pam thought we should talk. It took several months, but we eventually connected.
Bon and several of his colleagues visited our school in January 2016, touring our makerspace and speaking with our students. They immediately expressed a desire to collaborate, but we weren't sure how. At a brainstorming meeting weeks later, we came upon the idea to have our middle school students advise Jefferson's medical students about how to make hospitals less scary for children, possibly incorporating a maker emphasis. Bon's team, led by Dr. Robert Pugliese, has created an incredible opportunity for our students. They'll bring a team of medical professionals to our school with specialized medical equipment, supplies, and two videos custom-produced for us -- all designed to help our students empathize with pediatric patients and generate ideas for making the hospital experience less scary for kids. Boom! It's the seventh-grade capstone!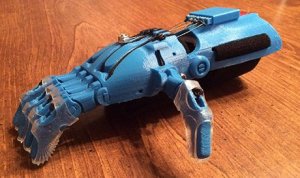 8th-Grade Capstone: 3D-Printed Prosthetic Hands for Kids
3D printers went mainstream a while ago. While still undeniably cool, they're losing cachet in some K-12 circles due to the simplicity with which some schools implement them. The appeal of these devices is understandable -- they're fascinating to watch and can generate things born in the imagination. But a 3D printer doesn't make you a great designer any more than a laser printer makes you a great writer. School projects are often too simplistic, leading to complaints that the devices just produce expensive novelties. Well, not at our school!
I'd heard about 3D-printed prosthetic hands and was intrigued. I knew that many young children needed and were getting them. Thinking about a connection to our students, I did some research and learned about the Enable Community Foundation (ECF), a non-profit that matches individuals in need with a person or group of people who can produce the hands. We reached out to the ECF and are now being connected with recipients, for whom eighth-grade teams will size, customize, produce, assemble, pack, and ship over 25 prostheses to kids around the country and the world.
Each team of students will work with an assigned recipient, getting to know them via email and other means of correspondence, to find out all about them personally -- such as what they enjoy doing, their favorite music and movies -- and what life is like without a limb. We'll also note their wishes for color, style, and special features or enhancements that we might be able to integrate into the design. The hands will be sized precisely for the recipient, 3D printed, then assembled, tested, and packed with care before being shipped out. In the end, our kids will apply the design process in a powerfully meaningful way that will make an enormous difference in the life of another person. Even though the hard engineering part is already done, this is still human-centered design at its very best.
The Tragic Flaw With Our Capstones
Let me first say that our capstones this year are pretty darn fantastic. They align powerfully with our Manifesto -- mindful, purposeful, and authentic. They will allow the kids to show what they've learned this year about design thinking and technology. They'll challenge students to question, create, and communicate in ways and at a depth that they haven't before. Two of the four capstones directly impact our local community. And finally, the capstones will make a difference in people's lives. In short, they matter -- a lot! I'm really looking forward to reminding the kids how, at the beginning of the year, I told them they could change the world -- and they are about to.
There's just one problem that I didn't realize until it was too late. The students didn't create the capstone projects. We provided them. How do we expect students to have genuine empathy for the people in these situations? I think they will, and I'll certainly do my best to make it happen, because they'll have plenty of agency when it comes to designing creative solutions to these problems. But there's a substantial risk that, for some kids, this will end up being just another assignment, a class project, perhaps a bit more interesting than most, but still something they were told to do in school.
Next year, I'm sure, things will be different. Will we be able to somehow, in some way, successfully channel and scale Emily Pilloton's vision so that 400 students in four grade levels are making things that the community needs? I'm mind-blown just trying to conceptualize it. But hey, I'm a sucker for a challenge!
By the time this post goes live, we'll be several weeks into the empathy-seeking and solution design Experience of our capstone projects. (The second capstone Experience will be prototyping and feedback.) Any questions about the process? Suggestions for us? We're all ears. Thanks for reading!