Technology Integration
Live Stream School Events to Boost Community Outreach
Reaching out to your community
We exist in a world where almost everything in real time is streaming online -- from concerts and sporting events to breaking world news eight time zones away. Technology has truly made the world a smaller place. Yet schools are slow to catch the technologies available for streaming, due to shrinking budgets, personnel cutbacks and training voids.
As your school lays the groundwork for the upcoming year, the adoption of live-streaming a few of your significant events might be a good topic to propose at the first Home and School Meeting this August. Highlighted below are some examples of schools that have found great success in live-streaming special events and, in turn, removing barriers to engaging families and the community.
Free and Available Tech Tools
On June 20th, New Milford High School held its annual graduation ceremony in New Milford, New Jersey. As with many graduations in June, the weather doesn't always allow for outside venues where thousands of prideful families can watch. Principal Eric Sheninger (@NMHS_Principal on Twitter) held his graduation ceremony in the air-conditioned auditorium, while live-streaming every second for families unable to attend or as far away as the Philippines.
While Eric is a leader in the ed-tech world, live-streaming special events at schools doesn't have to be costly, nor does it require a tech guru to make it happen. UStream is a tool that provides free streaming. Streaming can take place using everything from high tech video cameras to mobile handheld phones using the free UStream app for tablets and cellphones. It takes a few minutes to set up a free account and school/class channel, but wouldn't the busy parent working out of town or the grandparents unable to attend appreciate "almost being there?"
Other special events that could be streamed for school families include Home & School Meetings, concerts, school board meetings, classroom/school newscasts and principal updates on Back to School Night. Each of these takes some thought, planning and rehearsal, but providing a live stream and differentiating for the busy schedules and diverse needs of school families will go a long way in building that ever important relationship between home and school. Family and student alumni volunteers serve as good camera technicians, and students can sometimes earn service hours for helping out at these special events.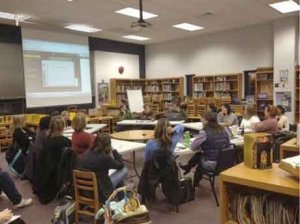 Credit: http://www.knappwiki.wikispaces.com
Knapp Elementary parent & staff meeting
Reaching the Community
Since March 2011, K-6 Knapp Elementary School parents and staff have provided a monthly stream to its Home & School meetings. Prior to implementation, parents and staff discussed and elected to add this feature as a way of reaching out to our families. Some organizations can be fearful of providing a LIVE transparent meeting, but our parents and teachers felt that providing this option was "best for kids and best for our diverse families."
Over the last year, meeting attendance has risen from eight to ten parents who did not accurately represent school demographics to over 40 parents and teachers from all over the school's sending area. Teachers pop into the hour-long meeting to offer thanks and share ideas. Parents chime in from home in the midst of cooking dinner or doing household duties. Community members watch on to get the pulse of the school's learning community. Each of these stakeholders can log on using an Anymeeting link (another free tool, no ads) and interact in similar fashion to a webinar or online class. (Screensharing and presentation modes are also available.) Parents complete online polls, respond to and pose questions during the meeting, and feel connected even when their physical presence isn't possible due to baby-sitting, lack of vehicle or other family reasons. With the stream being held remotely, meetings can take place anywhere in the community, including venues such as local churches and mosques. (See my "Connecting" Cultures post on the Connected Principals blog.)
Like differentiating for varying student needs in the classroom, Home and School 2.0 opportunities take some extra thought, planning and practice. If we're truly invested in building a solid partnership between home and school, offering a streaming option for big events or those that require collaboration is a no-brainer.