Project-Based Learning (PBL)
PBL Science Empowered by Discussion Forums
ELLs are better positioned to learn science through the COPPELLS model of PBL, which provides online and asynchronous forums for reviewing and discussing course material.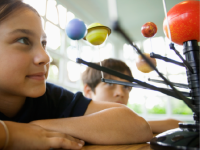 Editor's Note: Emily Walden and Carolyn Knox, research associates at the Center for Advanced Technology in Education at the University of Oregon, contributed to this post.
Middle school students talk about everything, but getting them to engage in a serious discussion about science can be challenging, especially for less confident students. English-language learners (ELLs) may struggle with conversing about science since they are simultaneously trying to learn English (Lee, Quinn, and Valdés, 2013).
Technology helps students discuss science in a motivating and supportive atmosphere. Learning science in digital environments allows them to collaborate, work on projects, and engage in discussions with others around them or even in other countries.
Online discussion forums are brought into focus with the Collaborative Online Projects for English-Language Learners in Science (COPELLS) Project at the Center for Advanced Technology in Education at the University of Oregon. In COPELLS, students engage in project-based learning (PBL), and like real scientists, they collaborate and share findings. Students in the U.S. and Mexico have used the online collaborative projects and asynchronous forums to create a learning environment where they discuss relevant and motivating real-world problems.
COPELLS was designed with funding from the National Science Foundation (NSF) with the goal of improving science literacy for middle school students, especially ELLs. Given our partnership with the Instituto Latinoamericano para la Comunicacion Educativa in Mexico, we decided to reach out to this population so that American ELLs could engage in meaningful forum discussions with students abroad. We then designed bilingual (Spanish/English) culturally relevant tasks to help ELLs learn science by letting them explore concepts on the project website, engage in interactive resources (e.g., videos and games), and conduct field exercises and lab activities. Furthermore, students upload projects to the forum and answer specific discussion questions.
Project-Based Learning
Crucial to PBL is student collaboration. Project COPELLS uses PBL to help students work in teams to create their own learning experiences, explore real-world problems and challenges, and simultaneously develop cross-curriculum skills. Bringing together different cultural experiences adds to the richness and depth encountered by students in conducting their investigations.
Instructional activities were designed to give students:
A driving question anchored in a real-world problem (e.g., "How can we reduce the factors that contribute to obesity?")
An opportunity to make active investigations to learn concepts, apply information, and represent knowledge in a variety of ways (e.g., research online about percentage of obese people in county versus nation)
The possibility of working in collaboration, both within and between classrooms, so that learning could be constructed and shared across groups (e.g., with team members, identify factors that contribute to obesity)
Electronic resources (e.g., computer-based laboratories, hypermedia, graphic applications, and telecommunications, including discussion forums) for sharing what they learn (e.g., post how to maintain healthy weight).
Forum Features
Forums provide students with a place to share their ideas through writing and graphics, read other students' ideas, and then write their own feedback. For ELLs in particular, the forum lets them engage with others both in their own native Spanish language as well as in strengthening their English literacy skills. Science discussion requires using both academic English and science concepts, which can be difficult for a student who is learning English. The forum makes discussion less difficult, as it lets all students express their thinking more calmly. A novice ELL may particularly need additional time for drafting and replying to posts, which is possible on the forum but not in verbal exchanges with other students.
In a recent COPELLS study, teachers from Oregon and Mexico participated with their students, generating over 1,800 forum topics by over 1,500 users. The forum bridges language and distance barriers between students.
The forum within the COPELLS Project includes several features necessary for PBL activities, including asynchronous communication and usability tools. Asynchronous communication means that students can work together on projects at different times, especially when students are in different schools and have different class schedules and/or if they are in different time zones. Students engage with each other more easily through usability tools, including a formatting bar, emoticons, and the ability to attach items (e.g., documents, pictures) to posts and subscribe to threads (e.g., discussions between students) (see below).
A sample online tool to use when students are in different schools and have different class schedules and/or if they are in different time zones.
Collaboration
Essential to PBL is collaboration, which the forum makes easy to manage by providing students with meaningful performance tasks. When students work together, their perspectives broaden and teamwork skills improve. Teachers facilitate collaboration by ensuring that students in each team have assigned roles and adequate time to complete projects.
For example, the class might discuss how to reduce the carbon footprint in their community. After thinking about how people use up resources (e.g., riding in a car instead of walking or biking to school), teams describe ways that people contribute to a larger carbon footprint. Students post these descriptions on the forum and give feedback for others' posts. Thus, they are discussing science content in ways that they normally would not without being supported by the forum.
Through this, we see how the use of online forums can enhance PBL. The forum in the COPELLS Project facilitated student discussion of science across classrooms, schools, and countries. Overall, it is a valuable tool for approaching PBL instruction.
Research
Lee, O., Quinn, H., and Valdés, G. (2013). "Science and language for English Language Learners in relation to Next Generation Science Standards and with implications for Common Core State Standards for English language arts and mathematics." Educational Researcher, 424(4), 223-233.