Professional Learning
Innovative Education: A Look at Training Teachers in Kenya
Learn about Dignitas, a non-profit program that aims to empower communities in Kenya by offering training and resources to its educators in an effort to build on the strengths they already have.
A belief I hold deep in my being and from which I act every day, is that we can transform our schools, in fact, that we can heal and transform our world. In order to strengthen this belief, I actively seek out stories that are a testament to healing and transformation that remind me of what is possible that inspire me and fill my reserves of hope. Knowing that we all need these stories, I want to tell you about the Dignitas Project underway in the Nairobi slums, and about how this project is touching the lives of hundreds of thousands of Kenyans, and about Tiffany Cheng, the young woman from Oakland, Calif., who founded this non-profit.
Mathare Valley, Nairobi
Let me first paint a picture of the slum known as Mathare, where hundreds of thousands of people live in about a three-square-mile area. There's no electricity or running water, the roads, housing and sewage facilities are inadequate, one in three people are HIV positive, violence is high, and less than 10 percent of residents have stable employment. In Mathare, there is no government funding or support for schools. Those that exist have few material resources and are understaffed. Most teachers and principals have had no schooling beyond their own secondary education. These are difficult conditions in which to affect change.
And yet for Tiffany Cheng, an urban educator from the San Francisco Bay Area, Mathare has been a place of possibility. "The slums are very intense," she says, "but they inspired me to think creatively." In 2008 she founded the Dignitas Project, an education development organization that focuses on transforming communities through education and opportunity. Of her years working in Nairobi, she says, "I've lived a dream."
I met Tiffany in July when she came (from Kenya!) to attend my summer coaching institute because coaching is an integral part of the work that Dignitas does. Over dinner one evening, Tiffany shared her story. I've met very few leaders like Tiffany -- transformational leaders whose humility is authentic and deep, whose aspiration to be of service surmounts all others. But first, let me tell you more about the Dignitas Project and what it has offered the residents of Mathare.
The Dignitas Project
Dignitas aims to empower the community by offering training and resources to Kenyan educators in an effort to build on strengths that are already present. Their theory of action is that by expanding the leadership capacities of those who are already working within the slums, by offering professional development, on-site coaching, and technical assistance to teachers and school directors, and by transforming the way leadership is conceived of, educators can lead high-performing schools in service of children and families. These educators become leaders in their communities, joining forces with other community members and organizations to expand support and create sustainable change in the slums. Let me reiterate this: Dignitas' goals are to raise the standards of education for children and to improve their experience in school, and to empower leaders to transform their community.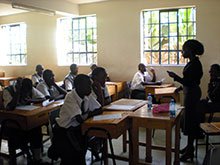 Photo credit: Eugenia Lee
Program Assistant Rose Kavuli goes over the expectations of the scholarship with the girls.
Tiffany Cheng, a Chinese-American woman, is the only non-Kenyan on the Dignitas staff. She has poured her own savings into this project and turns down money from big donors if she's wary of the strings attached or if the money might prevent her from being responsive to community needs.
Tiffany described how the Project works and the different tasks undertaken by her staff. They do massive trainings of teachers in a Leadership Institute that include goal setting, professional development on formative assessment, visioning and much more. Kenyan teacher leaders describe this Institute as transformational. David Ouma, a Fellow from 2012 says, "I feel that I've just gone through a complete change in my life, both in the way I think and the way I'm going to deal with issues. I feel that I now have what it takes to change the lives of pupils in Mathare Valley."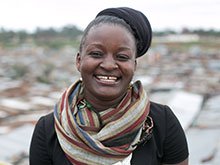 Photo credit: Will Swanson, Dignitas Project, 2014
Carol Owala, an instructional coach.
Coaches are on-site, in schools every day, working with teachers, modeling lessons, observing instruction and debriefing lessons. Staff members are also trained in various forms of data collection. Because of the informal and constantly changing nature of these communities, it's hard to even know where schools are. Dignitas staff literally follow children around the slum areas to see where they are going to school so that the school might be approached to partner with the organization. But not all schools do partner; Tiffany explained that if the head teacher (the principal) doesn't want to participate and only wants to send his/her teachers to work with Dignitas, they don't work with that school.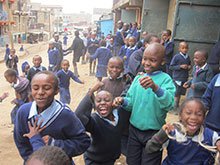 Photo credit: Eugenia Lee, Dignitas Project, 2012
Students from the NECl excitedly pose for the camera.
"It's like the wild west of charter schools working in Mathare," Tiffany said. And as she described the innovative, creative approaches that Dignitas takes, I really started to see the appeal. She described the town hall meetings where parents and community members are heard, the moments when school leaders recognize the ways in which they need to change in order to create the conditions where teachers want to stay and teach, (there's very high turn over rates in these schools) and the graduations that are held for teachers. She explained, "Graduations are a big deal. Many of our teachers never had a graduation. We try to model and create experiences that are inherently empowering so that they can transfer that to kids."
Filling Our Reserves of Hope
By this point, I was almost salivating over these descriptions. I became aware of how low my reserves of inspiration have gotten. But it's also so simple what Tiffany is describing, so deceptively simple. "What's radical about our work," she says, "is that we listened. We took their advice. We created a possibility based on what people were telling us they needed." Again, there are an estimated 300,000 people whose lives are directly and indirectly affected by the Dignitas Project.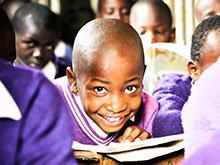 Photo credit: Jerry Zhu, Dignitas Project, 2013
Children receive new uniforms and desks.
I want to go to Kenya to see this work. I want to see what is possible when there's nothing, when a few layers of bureaucracy are lifted, when the hope that exists within all of us is spoken to and mobilized.
In the meantime, hearing from Tiffany made me realize how much I need to be attending to regularly filling my reserves of hope. Stories are one place where inspiration can be consumed, and Walk On, Walk Out is a beautiful book that does just that. So if you can't get to Kenya in the near future, and you're running low on hope, check it out.