Education Trends
Innovation: Significant Positive Change
Educational innovation means finding new, positive, impactful ways to rethink roles and responsibilities, create meaningful learning opportunities, and enable students to untangle complexity.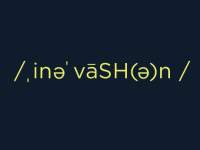 A call to action has been issued: schools and districts need to innovate. This statement is often accompanied by an assertion that teachers need to integrate technology as well as transform instruction. But what does this innovation actually look like? As 2014 comes to a close and we set goals for the New Year, how will we define innovation?
According to Oxford Dictionaries, innovate means "to make changes in something established, especially by introducing new methods, ideas, or products." This definition fits nicely with what is being asked of educators -- to integrate new technologies, practices, and concepts into the classroom. As teachers, however, we also have to ask the question: why?! We need to ensure that these changes are to the direct benefit of our students. For that reason, I prefer Scott Berkun's definition: "Innovation is significant positive change."
Significant Impact on Student Learning
In What Innovation Means, Scott writes, "It's not the results that are necessarily innovative, but the way the group goes about doing its work." How a student leverages the available tools to support his or her learning may be even more innovative and impactful than the resulting product or event.
Consider a teacher who provides an article to her students via paper, as a PDF, and with a link. Her students can then use the tools that best support their learning of the associated content. Maybe they draw, type, or even talk into the PDF via an app such as Notability or OneNote. Perhaps they choose to actively read in their browser so that they can incorporate text-to-speech and leverage tools such as Diigo or Clearly in order to save their notes across devices. Finally, think about the student who reads the printed copy, writes notes in the margins, takes pictures of those notes, and then curates them into Evernote so that they can be saved and shared.
At first glance, the act of reading an article may not appear to be innovative. And yet, by providing students with multiple formats and empowering them to take ownership of the process, the teacher supports not only their mastery of the content, but also their growth as independent learners -- changing the way the group goes about doing its work.
Significant Impact to Roles and Responsibilities
Lisa Palmieri, Director of Technology & Innovation at The Ellis School, defines innovation as "a growth mindset that results in identifying and solving challenges by taming complexity." In a traditional setting, the burden of this task fell to the teacher as the sole disseminator of content. Now, given the flexibility of new tools, this responsibility to identify and solve challenges can be distributed to the students -- creating a more student-centric learning environment.
For example, during a recent inquiry unit about animal habitats, Kristen Wideen combined the use of a RAN graphic organizer (Reading and Analyzing Nonfiction) with a Padlet wall to empower her primary students. First, she asked them to share what they knew about habitats by placing a virtual note in the Prior Knowledge column. Next, after watching a short video, the students added notes to the New Learning column.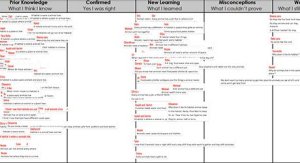 Image credit: Kristen Wideen
To conclude the activity, Kristen and her students moved their notes from the Prior Knowledge column to either the Confirmed or Misconceptions columns as they analyzed their initial ideas. Through this approach, Kristen empowered all of her students to take an active role in taming the complexity of the topic.
Image credit: Kristen Wideen
In an innovative classroom, teachers add context, guide learning, and push students to construct meaning and understanding. The roles of both parties evolve as the teacher places the responsibility of knowledge construction on the shoulders of the students and then leverages his or her own expertise to ensure that the class meets the desired objectives.
Significant Creation of Meaningful Learning Opportunities
In Lawrence Reiff's high school Language & Literature classes, students read a number of the classics, such as Animal Farm, Gilgamesh, and Fahrenheit 451. He asks them to keep journals, respond to writing prompts, and engage in class discussions. Although this may sound like a traditional English course where students analyze classic texts and engage in writing assignments, Lawrence expands his curriculum by incorporating dynamic learning activities that encourage his students to take risks and demonstrate their understanding through a variety of projects.
This fall, to culminate their study of Fahrenheit 451, his students could choose how they wanted to illustrate their knowledge of the content -- by collaborating to create a video trailer that would include mini-scenes and demonstrate persuasive writing skills, or by designing a graphic novel to showcase their ability to incorporate textual evidence. They might compile a music soundtrack that would reflect the emotional intensity of specific aspects of the novel, or film "cutaways" in which they'd recreate scenes and then interject with their characters' reflections.
In Lawrence's class, "anything goes" as long as the final product meets the designated learning objective. He offers choices that appeal to his students' learning styles and individual skillsets, provides context to help guide their knowledge construction, and orchestrates meaningful learning opportunities to create a truly innovative curriculum.
Defining Innovation
In writing this post, I tweeted out the question, "How do you define 'innovation'?" John Kao, author of Innovation Nation, responded with, "To me, innovation is the set of capabilities that allow for the continuous realization of a desired future."
As we look toward the New Year, I think we can all agree that we want our students to become successful learners who are capable of taming complexity. We wish for them to gain the skills that will allow them to enact significant positive change. So for 2015, our collective goal as educators should be striving to innovate our projects, activities, and curriculum such that we empower our students to develop into creative, insightful, successful learners who are prepared to become leaders in their desired future. What do you think?